Autobiography
Of
Zelnora Van Noy Olsen
I was born at Riverdale, Idaho on the 21st of February, 1879, the eleventh child of William Thomas and Agness Birrell Van Noy in the home my father built. Riverdale was formerly called, "The Falls," because of a fall in Bear River which flowed down thru the narrows from the north. The river formed a semi-circle around the land on which our home was built. Nine hours after I entered the world my mother died leaving a family of ten living children, one having preceded her in death. Father's first wife, Catherine Hendricks Van Noy, took care of me for a year and then she died leaving a family of ten living children, one also having died before her. Some of Aunt Catherine's children were married, but it was surely a responsibility for a man to be both a father and mother to so many children. (*This is current Riverdale, Idaho just north of Preston)
The first knowledge I had of my mother was given me one day while my father was playing with me. He took me on his knee and told me about my mother going to heaven. He nearly always took me on his work trips to water the garden, irrigate the fields, or to his blacksmith shop. I think it was so I could hand him the tools and carry his shovel because of his difficulty in getting around. When I was two years old, he had to have his leg amputated six inches below the knee as a result of being in a train accident. As I got older, my sympathy to father's condition increased and many times I would go by myself and cry.
We were handicapped when it came to getting an education, but father did the best he could. There were only a few families living in the Riverdale and father taught school in a building that served as a church and school. I don't remember of ever getting to attend school in this building, but when I was old enough to study, we had to get lessons in reading, writing, spelling and arithmetic. We couldn't go out to play until we had spent just so much time for that purpose.
I always slept with father when I was small and one night after we had been to bed for some time, he got up because he was worried about some of he boys and girls who had gone to a dance at the Ward House about four miles away. They were on horses and had to ford the river and he always worried until they were safely home. He was going to the river and after he had gone some distance, I slipped out of bed and followed him. He was quite surprised when I took hold of his hand, but I never liked to see him go alone to the river.
The entire family would come home some time during the summer and we would have a real celebration. Now we call these get-to-gethers, family reunions. One of these times, Frances, my sister's children had the whooping cough, but father told them to come and keep those children who had it on the West side of the house and the others on the east as the wind came from the east and as a result, no one else got the whooping cough.
When I was about five years old, Uncle Bird Harrison of Richmond, Utah (an uncle by marriage) gave me a little folding doll cradle, a plate with the A B C's on it and a doll twelve inches long. The doll had a china head, arms and legs and the body was stuffed with sawdust. I surely thought a lot of it, but one evening my brothers, Sam, Billy and Nathan talked me into letting them cut it open to see what was on the inside. Naturally the sawdust all came out. Becoming alarmed as to what father would say, they persuaded me that we must put it in the stove and burn it, doing away with all evidence. I let my niece Myrtle Rosenbaum take the cradle when she was two years old, with the agreement that if I ever wanted it for my children she would give it back. It was sent to me in 1902 for my little daughter, Burgetta, but in 1914 when our house burned down, it was destroyed. I have a picture of Myrtle and the cradle when she was small.
The soil on our land was very fertile and we always had a lovely garden and fruit orchard. Father used to make molasses. He would plant the sugar cane seed in the spring and in the fall he would strip off the leaves from the stalks and then put the stalks in a closed shed to cure. The seeds were left on the tips to help in the process. When it was cured it was put in a large grinder. I rode the horse that went round and round to turn it. The juice flowed into a large vat and then a fire was built under it. It was boiled and a green scum was taken off, then boiled till the steam or vapor from it looked blue, which was a sign that it was done. It was then poured into forty gallon barrels. We usually had two full barrels each fall for our use, along with two forty gallon barrels of sauerkraut make from cabbage we raised.
I recall one night I was with my brother Billy when he was milking the cows and a large cat jumped up on the corral fence. The cows and calves bolted over and thru the fence. We ran for the house, but I turned and ran back for the bucket of milk we had. Father chided me for going because he said he was sure it was a cougar.
Grandfather Birrell had built a lime kiln up north, a mile or more from the home. In the spring we would take our lunches and go up to the kiln for our May Day outing, which was a real spring treat for us in those days.
The year I was nine, I was staying with my sister Evelyn. It was Christmas and the Mink Creek Ward had a program and a Christmas tree. There were lots of presents on the Community tree as each family could put them on the tree for their own children. There was a beautiful doll on the tree about twenty-four inches tall. It was made with a wax head, arms, legs and beautiful hair. We girls were all wishing it would be ours and when the called out my name for it, it was the most thrilling thing that could of happened. I surely took good care of it, never taking it into a warm room for fear the wax would melt. Years later it suddenly dawned on my why father wouldn't let me take the key to the trunk to get a slate pencil. It was a short time before Christmas that I had wanted it and he said, "Sooky, I don't want you messing up the trunk." My feelings were hurt because he had always let me get things out of the trunk where he kept such supplies as shoelaces, pencils, candy, and other notions for the family. I guess that is where he had hid the beautiful doll until it was Christmas.
When the meeting house in Mink Creek was dedicated, my girl friend, Viola Walker, and I walked four miles to hear the services. When we arrived we were late and had to listen to the dedicatory prayer through the keyhole. President Wilford Woodruff was the man who dedicated it.
This same girl and I walked up to Mink Creek one May day to a social. We stayed with my sister Lillie Walker that night. It rained hard the next day and I couldn't get her to come with me, so we stayed another night. Father was very worried because we had to cross the river. When I did get home, my punishment was to say home for a month. Just such things as that made me respect my father very much.
One spring day when I was walking to Mink Creek, I jumped across a ditch and landed just beyond a rattle snake all coiled and sunning himself.
I remember one time my two sisters wanted to go to work and leave me to do the work at home. I thought it was wonderful to be able to do all the dishes instead of just the knives and forks and pots and pans. They came home in a week and I was very happy to do just part of the dishes again.
When I was about fourteen, my brother James came back from Montana where he had been working through the winter. This was in the spring and the water was high in the river. James was calling for someone to bring the boat across the river to him. I told father and he sent me to tell him, (not knowing it was James) that there was no one there to take the boat across as he was the only one home just then. It was some distance to the river and so hard for Father to walk. He gave me instructions not to take the boat and for the man to wait until Billy got back. When I got there, I found out it was my brother who wanted to come across. I told him what father had said, but he insisted I come get him and he would tell me what to do. So with the promise that he would make it right with father, I climbed in and landed the boat way below the landing place, but made it OK. I was glad that I had learned how to do this as it came in handy later. When my sister Rebecca's first twins were born a short time later, I had to take the boat across to get my sister-in-law, Addie Van Noy. On the way back, one of my oars broke and I had to row with one oar, shifting it from side to side. When we were near enough, I jumped out in the water waist deep and pulled the boat to shore. We were back in time, for Addie to help deliver twins, a boy and a girl. I was sixteen at this time.
I took turns staying with my sisters when I was about twelve years old. It was at this time that I learned something about housekeeping, they being my teachers.
The winter of 1896, I went to Preston to school at the Oneida Stake Academy. I worked for my room and board so it kept me busy. I attended school for six months.
In the spring of 1896, I was staying with my sister Frances in Preston. This particular night, her husband, Tom Smith was in bed. Sister Frances was undressing the baby. Ann Douglas and I were all in the kitchen. The outside kitchen door was slowly pushed open and in walked a big black dog. I shouted, "Look and the two women with the baby made a bolt for the bedroom, slamming the door shut. I stood screaming, thinking I wasn't making a sound. The dog slowly turned around and walked out. Frances and Ann finally came out and I said, "I was trying to holler at him to get out, but I couldn't make a sound." Frances said, "If that dog had killed you, I would have heard your screams to my dying day." Ann said, "Shame on you, that dog was just on his way to April Conference and was looking for a place to stay."
When I was fifteen, I went to Border, Wyoming to work for Lila Cook. We cooked for seventeen to twenty men. She always had such a time getting her baby to sleep and getting away from her. One day, I said, "Lila, let me take that baby and I'll get her so you won't have to be so careful and quiet." In a few days, I had her so I could put her to sleep and toss her on the bed and she'd stay asleep. Lila was amazed. She was one of the best women I ever worked for.
In November 1896, I left Preston to go to Ovid, Bear Lake County, and stayed with my sister Evelyn Rosenbaum who had a pair of twins at this time. I rode with Charles Brown in a white top buggy. I was a little frightened as he had taken his name off the church records. I remember hearing father tell about the time a number of church men had taken their names off the church records so they might get the franchise or the right to vote. After they exercised this right they were re-baptized and put on the church records again. Father did this, but Mr. Brown never did. We arrived at Eva's at Ovid, Idaho the same day that John Sorenson, husband of Elizabeth Skinner Sorenson was buried.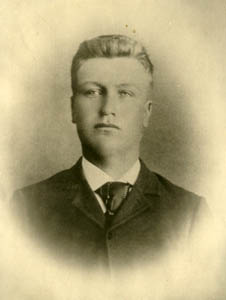 Joseph Olsen
I stayed with my sister and family for nearly two years and then came the second big event in my life. On June 15, 1898, I was married to Joseph Olsen in the Logan Temple. To this union two of our Father's choice spirits were given to us. My big ambition was to raise a large family, but I fell short as Joseph was called to the great beyond, two months before the second child was born.
After our marriage we moved into Joe's brother John's partly furnished house. Here Carlyle and Burgetta were born. Joe owned sheep and farmed. He also did carpenter work. My father, William Thomas Van Noy died on March 2, 1900 and Sister Eva and I went to Richmond on the train to his funeral. Joe's father, Christian Olsen, who died in September after we were married in June, gave me a cow and two pigs and said when he gave them to me that Joe couldn't sell them without my permission. The cow had twin calves and we sold them to Hodges for lumber to start on our new home. We saved enough money to buy another cow. Joe had the foundation in and the doors and windows all built. He went to inspect some sheep on Saturday, but it was too stormy to do it, so he went to Montpelier to the dentist and had a tooth filled. The Dr. put some medication in his tooth to kill the nerve and later cautioned him not to swallow after he had already done so. He took sick almost immediately and died on a Wednesday, four days later, on March 13, 1901. The trouble was diagnosed as appendicitis and bowel obstruction, but Dr. Poynter said that death was evidently caused by the medication that was put in his tooth.
Just a week before Joe's death, we drove a team of horses and a sleigh to Pegram to visit a sister-in-law and her husband, Mary and Nelse Bunderson. We were afraid to cross the ice on Bear River and Nelse rode out on it on a saddle horse to make sure it was safe for us.
Joe was in the Sunday School Superintendency at the time of his death.
I tried not to mourn to excess or complain, but time dragged and sometimes I wondered just what I would do. The Lord blessed me in many ways, thanks to my wonderful father who always taught prayer in his home. That was instilled in me and has always been a source of comfort in my life. I always enjoyed church activities and soon I had the privilege of working in different organizations.
I lived in John's house for two years after Joe died. The house was large and much of it unfinished. I spent many sleepless nights there. A niece of mine, Mary Clegg, stayed with me one winter which I surely appreciated.
When Burgetta was a baby, my sister-in-law, Kate Olsen who lived a short distance from me, had the smallpox. To keep Carlyle from running over there, I had to take his shoes off. Dr. West came to vaccinate us and Carlyle piped up and said, "Mama told me to put my overshoes on so you wouldn't see the holes in my stockings."
Relief Society block teaching was the first ward position I held and on March 6th, 1902, I was sustained as a Religion Class Instructor. Karl G. Maesar set me apart to this position. Heber C. Keetch was the Stake Superintendent at this time.
I moved down to a house belonging to Isaac Tunks and lived for a while paying $5.00 per month rent. I cooked dinners for a Mr. Whitman who was teaching school and did many other things to make a livelihood. Joseph's connections in the sheep business had turned out badly. While living there in 1903, I bought a three room house from Morris Rosenbaum, a brother-in-law. The house had belonged to John Johnson, the father of Nelse Johnson. Morris had taken it from Heber Johnson, a grandson, on a debt. I paid $250 for the house and three acres of land. I had this money from Joseph's father, Christian Olsen's estate.
My sister Eva and her husband Morris lived about an eighth of a mile from me. They owned and operated a general merchandise store. Later on they moved to Oregon.
In 1905, I was sustained President of the Ovid Ward Primary. I held this position ten years. I especially enjoyed working with the children. We put on little plays, operettas and flag drills. Two that I remember well were: "Fairyland" and "Snow White." When I was released, Nina (Johnson) Sorenson was sustained as president. The new officers gave me a beautiful throw rug.
In November 1905, I took my two children and went to LaGrande, Oregon to visit my sister Eva. On our way we stopped at Emmett, Idaho and had Thanksgiving dinner with my sister-in-law, Christine and Tom Pearson and their family. We stayed in LaGrande until February 10, 1906. My sister Agnes Mathisen and her children came at Christmas time and they had the whooping cough. Both Carlyle and Burgetta got it, but the change in climate when we came home seemed to cure it almost immediately. We visited Abraham Davis, a brother-in-law and his family in Union, Oregon. Abe died from blood poisoning while we were there. Orson, Joe's half brother came to Union and we came back to Ovid together.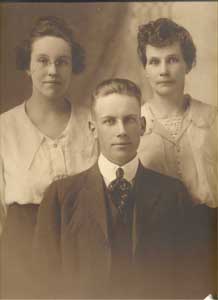 Burgetta, Carlyle, Zelnora
In 1906 or 1907 while living in Ovid with the two children, I had quite an experience. I was sewing late one night and about 12 o'clock a knock came on the door. I opened it and a strange man asked me to direct him to the John Myers home. He and some other men were delivering a band of horses to Myers and my light was the only one on in the community. The next day he came back and said I could have a little palomino mare for my own to ride. He said they had left it because I was so kind to direct them. We found out later that the horses were all stolen and the men were wanted outlaws and I never did get my pony.
One winter the jersey cow Joe had bought got in a water hole in the ice. Her back was broken when the neighbors pulled her out. That was quite a loss to me as hard a time as I was having to make ends meet.
To help implement my income I worked as a book agent. I traveled all Bear Lake County and as far north as Rexburg, Idaho. Elizabeth Sorenson would take care of Burgetta and Carlyle stayed with Joe's sister, Mary Bunderson at St. Charles. Mary had no children of her own. She taught Carlyle no to kiss women and when I came back he refused to kiss me. I decided then that I wouldn't do anything again that would take me away from my children.
Lottie Raymond from Montpelier stayed with me for three school years, 1908, 1909, and 1910 and taught school in the lower grades. She was a very pleasant girl and had a beautiful voice. We spent many happy evenings as I accompanied her on the organ while she sang.
April 2, 1909 after being a widow for eight years, I married Orson, Joe's half brother, in the Salt Lake Temple. To his union was born five children as follows: Twins, James and Jamie, born 7 September 1910; Emma born 9 August 1913; Joseph Heber born 3 December 1915; Evelyn Lenore born 8 February 1917 and who died 9 August 1920 of flu.
When the twins were six months old the Union Pacific railroad branch line was laid from Montpelier to Paris. I cooked three meals a day for ten men. They lived in a big tent in my yard and were quite a jolly group. One of the fellows, Pat, an Irishman, said one morning at breakfast, "Don't worry about how to cook my eggs, if they're too hard I put butter on them to make them soft and if they're soft, I put butter on them to make them hard." Emma Sorenson and Burgetta helped me and we cooked for them for nearly three months. The railroad was completed and on the 4th of July, 1911 there was a big celebration in Ovid, Montpelier and Paris. Everyone got a free ride on the train to Paris and back. John, Joe's brother, was the principal speaker at the celebration and Samuel Matthews.
Jim, Chris and Orson had taken up land under the Homestead Act and the children and I lived on it during the summer months. The first place we lived was Red Pine Hollow, about five miles from home. Bern was the nearest settlement. We were living up on a hill and had to walk down to the spring and carry water to use. We always tried to get to the spring early before the cattle came to drink so the water would be clean. The cattle were Herefords and quite wild. They would often chase us and we never dared get the milk cows without a saddle horse. Our house was just one room. Kate, my sister-in-law stayed with us some of the time. If I wasn't nervous about staying there, she would make me that way. Every night she carried everything into the house, the axe, saddles and bridles, then she would put the gun and the butcher knife right by her bed.
About this time Orson and his brothers, Jim and Chris built a dance hall in Ovid. It was the first one with a spring floor in Southern Idaho. A small refreshment room was built on and I sold ice cream and cake at the dances. The hall burned down in the spring of 1914. In May 1914, our home burned down. The fire was caused by a defective stove pipe. Ivan and Chauncy Sorenson were coming home from a dance about 2 a.m. and the whole house was in flames. They wakened us and we all got out alive in our night gowns. All we saved was Orson's clothes, and organ, trunk, rocking chair, a box of dishes and Carlyle's violin. About seven minutes after we got out the brick chimney fell and nearly every brick landed in our bed. I had been getting all my sewing done before we moved to Red Pine again for the summer and I had twelve little dresses and slips sewed for Jamie and Emma and they all burned. We had just had a primary operetta and I had the receipts, $45.80 tied in a handkerchief lying on a shelf on the organ. It fell into the fire, but afterward we found $45.75 when the ashes had cooled off. I had just churned that day and about eight pounds of butter was still in the churn. That and a fifteen pound of cheese made quite a grease pit.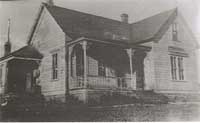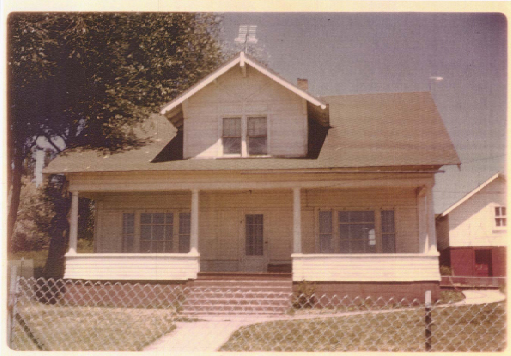 We moved to the Olsen ranch after the fire and stayed until we could get ready to go to Red Pine. This summer we had a large one room house built close to the spring and then a big tent to the side of it. We milked cows and separated the milk, giving the skim milk to a herd of pigs and sold the cream. One night as we were milking, it began to lightning and thunder. One flash was so close it felt warm on our faces. The cattle stampeded and went right through the fence. A Mrs. Wilson who taught school in Ovid came out and spent a week with us. She brought her daughter, Marguerite, who was the same age as the twins.
Another homestead we moved to in the summer was at Sagerses. It wasn't quite so far from home. There we milked cows and made cheese. It was quite interesting and if I do say it, we made some pretty good cheese and some not so good.
We built a new home right where the other one burned and moved into it early in October 1915. Orson and John Grimmett and Bob Shepherd were the builders. It was a nice size home compared to the one we had. There were four large bedrooms, living room, dining room, hall, pantry, kitchen and plenty of closets. We had a well drilled on the home place by Dennis and Smithers. This was just east of the house. Talk about mud! It was everywhere. Mostly blue clay. I couldn't keep anything or anybody clean. We never did get good water. It had a scum of oil on it and phosphate of iron in it. When I put bluing in it, it would turn green. It also turned coffee a green color. We piped it down to the corral to water the stock as it was a small flowing well. Ann Johnson worked for me at this time.
One day while the children and I were visiting my sister Agnes, in Ovid, James fell in the Paris Creek. His cousin Calvert pulled him out after he had gone down the second time. We were surely frightened, but thankful to Calvert for saving him.
My sister Evelyn and I started a Van Noy family reunion. The first one was held on August 1, 2, & 3, 1926 at the YLMIA Home at Lakota, Utah on Bear Lake. The second one was held at the same place August 11, 12, &13 1927. On August 25, 1928 the last one was held at the Girl's Camp in Logan Canyon. It was a good beginning but it died out.
Beginning about 1949, we have held our immediate Olsen family reunions, some at the Lakota YLMIA home, two at my home in Logan, Utah and the last two were held at Stalder's "Jamie Motor Lodge" and "Round-Up Motel" in West Yellowstone, Montana.
I was a Relief Society teacher and Sunday School teacher for fifteen years. I was a counselor in the Relief Society to Margaret H. (Mag) Jensen and later counselor to Hannah Peterson. Also Ward President of the YLMIA. In 1925 while I was living in Paris and sending James and Jamie to High School in and Joe and Emma to grade school, I was sustained as Bear Lake recreation leader on the YLMIA board. Later on I was a counselor to Sister Lizzie Welker and worked as such until she and Brother Welker were called to the German Mission. I was then called in as a stake genealogical worker the same time I was genealogical leader in the ward. I was next called to the Relief Society Stake Board as the work and business counselor under President Veda Lowe Shepherd from about 1938 to 1941. During this time we had a wonderful flower and art show. We also gathered and compiled the history of the Bear Lake Stake Relief Society from its beginning. We had pictures of all the former presidents and a life sketch of each one. Unfortunately they were burned before they could be published. I spent many, many summers with the girls of Ovid Ward instructing them in 4H work.
I joined the Mary Jane Davis Camp of the Daughter of the Utah Pioneers, in Montpelier in 1938 and was elected Captain for the years 1940 to 1942. It was during this time that we erected a pioneer monument at the 1st Ward Church on Main Street, placing it on the bell from the first school building which was located by the old Burgoyne Building at the east end of Montpelier. I took our truck and two men to help. We went up Montpelier Canyon and gathered the rock to build the monument.
I joined the American Legion Auxiliary Unit in Montpelier and served as its president for a year.
On February 25, 1936, my husband Orson passed away leaving me a widow again. Thanks to my Father in Heaven for the privilege of working in the church, it made my burden seem lighter to bear.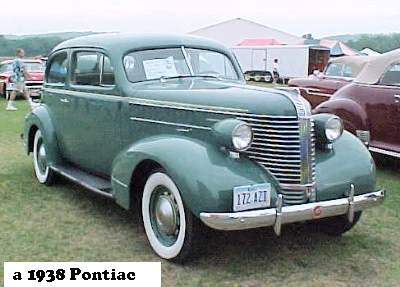 In 1938 I bought a Pontiac car for a thousand dollars. In 1942, I bought a home in Logan, Utah from Sven Wendenes for $7000. On the 18th of September, I moved there from Ovid. I started almost immediately to go to the Temple and to do ordinance work for the dead. In 1943, my name was sent in and on the 17th of February, 1944, I received a call to be an officiator in the Logan Temple. Brother Quinney was the President, with Brother Cranney and Brother Daines as counselors. Brother ElRay Christiansen was sustained as President of the Temple in May 1943 and I was called as assistant to Sister Luella Christiansen, matron, working every day. I served in this capacity until June of 1949. I really enjoyed my work and the association with the wonderful women there. During this time I supervised the making of some new drapes and window curtains for the Temple. Sister Christiansen, Emil Albrecht and I re-upholstered 38 chairs. Occasionally I had the privilege of instructing the brides, prior to their going through the Temple. I went on a trip to Hawaii and was released from the Temple for 14 months. On January 2, 1952 I was called again by Brother Christiansen as an officiator, being set apart by Brother Arch Egbert. In this position I worked two days one week and three days the next week. We alternated every other month. I was released 3 January, 1956 ending about twelve years as an officiator in the Logan Temple.
I was a visiting teacher in the 4th Ward Relief Society in Logan from 1943 to 1954 and was also called as a Missionary in the Logan Genealogical Society in 1947 or 1948. I surely learned a lot and met many wonderful people during this time. I think genealogy work is really my first love and I have done a great deal of it.
I have helped and done genealogical research for a number of other people besides my own. I have gathered, transcribed and compiled thousands of names on my family lines from the genealogical library and countries of Scotland, Sweden, Denmark, Holland, France and England. I spent over two years gathering family groups of my father's posterity to be placed in a family tree and in a book compiled by Joseph W. Hook of New Haven, Connecticut in whom we share a common ancestor.
I have always enjoyed doing handwork such as knitting, crocheting, textile painting, embroidering, making quilts and ceramic work. I have knit a number of sweaters and dresses and crocheted many doilies, chair sets, scarves and afghans. Among the many quilts I have pieced and quilted was a broken star quilt of many colors shading from orange to yellow. It went to the Idaho and Utah State Fairs. At Utah Fair, President David O. McKay (then an apostle) named it the "Sunburst Quilt." Then it went to Chicago to the World's Fair in 1932 where Sears, Roebuck & Co. offered $1000 for first prize and the quilt was to be given to the First Lady of the Land. This quilt would have qualified, but the material had not been bought at Sears. I have made several dozen ceramic pieces including fancy dishes, figurines and chocolate sets. I marked and helped quilt twelve satin bedspreads and did an afghan in a Swedish darn pattern. I embroidered a large tablecloth and napkins in cutwork.
I have taken some very wonderful trips. In 1939 or 1940 Geneva Hart, Deborah Rick and I went in my car to Los Angeles, San Francisco and up the coast route to Portland, Seattle, British Columbia. We came back inland through Baker, LaGrande, and Boise.
In February 1941, I went with Jamie and Bill Stalder to Detroit on the bus where they picked up a new car. Then we went over into Canada and out by way of Niagara Falls. Then on to Washington, D.C. and on through the Blue Ridge Mountains of Virginia and down to Memphis, Tennessee. We went west from there to Utah and back into Idaho covering 26 states and 4300 miles.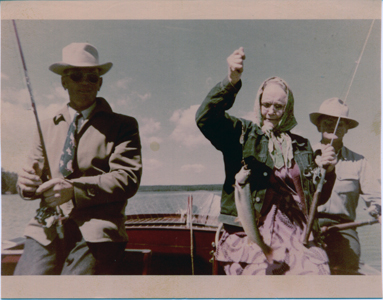 Dean Christensen, Zelnora, Bill Stalder
In 1947, I went on a Vida Fox Clawson tour called the "Historic Train". We left Salt Lake City, June 30th, on to Denver and then to Kansas City where we saw the sights and then visited Clay, Ray and Jackson Counties where was the Independence Temple site, David Whitmer's grave and Liberty Jail.
In Chicago we were conducted through Marshall Fields big store. We arrived in Cleveland, Ohio on July 4th and took a trip to the Kirtland Temple where we were welcomed by the Pastor of the Reorganized Church. On to Buffalo with a side trip to Niagara Falls and then to Rochester, N.Y. Here we drove to Palmyra and visited the Sacred Grove and the Hill Cumorah. We arrived in New York City on the 6th by way of Albany where we boarded the Hudson River Day Line boat and arrived in New York City at 6 P.M. Here we visited the residential and educational sections, also Fifth Avenue Shops, St. Patrick's Cathedral, Radio City and the N.B.C Studios.
The next day we went on a sight seeing tour of downtown N.Y. visiting the Statue of Liberty, the Bowery and the Empire State Building, 102 stories high, the tallest in the world. Here we could look down on the town with a population of over twenty five million people. We went to Philadelphia and saw many historic sights including Independence Hall, then on to Washington, D.C. where we visited all the government buildings. Then we went to Mt. Vernon, Alexandria and Arlington Cemetery.
On July 14th, we were back to Nauvoo where the Sons of the Pioneers put on a Pioneer Program. They also put on programs at Garden Grove, Winter Quarters and North Platte, Nebraska. We arrived back in Salt Lake City July 18th after a very wonderful trip where we saw ever so many things and made many wonderful friends of those who were on the tour.
On January 6, 1949, I went on an Archaeological expedition to Mexico and Yucatan by bus and plane. This trip was sponsored by Florence Pierce and conducted by Dewy Farnsworth, who was the author of "The Golden Plates," "The Story of the Book of Mormon," and "The Americas Before Columbus." We visited the Carlsbad Caverns in New Mexico which were very beautiful. We traveled thru Texas and into Old Mexico where we visited many interesting and historical places. Among these were orange groves and sugar plantations, an Indian Village, the ancient cities that have been uncovered such as Tula, the birthplace of the Toltecs, San Juan Teolihuacac, the great cement city where 21 structures have been uncovered, The Pyramid of the Sun, and the Moon Temple of Quetzacoatl, Hiway of the Dead, the Floating Gardens, A Bull Fight, Monte Alban, (covering 24 square miles where hundreds of tombs an temples have been excavated and a giant Cypress tree, the largest in the world.
We went by plane to Guatemala (the land of trees), Quirigua, the Lost City of the Jungle which was one of the older centers of the great Maya civilization, San Salvador, Copan in Honduras, Yucatan where we took many side trips such as to the Temple of Kulkolcan, Castillo, a Majestic Pyramid, Temple of the Warriors and the Thousand Columns. We arrived back in Salt Lake City on February 4th and when I got back to Logan, the snow was three or four feet deep. The deer were coming down from the canyon and eating the evergreens around town. Six or seven head walked across my lawn the day after I arrived home. They fed them on the Temple Grounds to keep them from destroying the shrubbery and trees.
In November 1950, I went to Hawaii with my son Carlyle, and his wife Perle to visit my granddaughter Billie V. Jenkins and her family. We were on the water four days and five nights, but I didn't enjoy the trip over as I was seasick all the way. We were greeted by the Mattson Lines with Hawaiian music and dancing, then were met by the Jenkins. While there we went to Laie and went through the Temple. Afterward we attended a Huki Lai. This was a feast where the food is cooked in the ground. Here we had our first taste of "poi"! We made a trip around the entire island of Oahu visiting Pearl Harbor and seeing the partly sunken ship Arizona, the botanical gardens, and pineapple fields. Our return trip to the states was by plane which was much more pleasant and only nine hours long. We were gone 16 days.
Brother and Sister A.J. Fuhriman and Brother and Sister Dan Reese and I went on a five day trip to the Mesa, Arizona Temple, visiting Hoover Dam and other sites.
During a summer vacation of the Logan Temple, a busload of 30 officiators and Temple Workers took a trip to the Cardston Temple in Alberta, Canada. On our way we visited the Glacier National Park and Lake Louise. We went through the temple twice just after President Wood had been released. We returned by way of the Craters of the Moon Park, having spent five days on the trip.
I have visited and gone through all the Temples except the Los Angeles and Switzerland to date, the Switzerland being the last one completed.
I drove my own car until October 22, 1953 at the age of 74 ½ years. I had been to Ovid to the ranch to get a beef for the temple and on my return trip near the mouth of Logan Canyon, I turned off the road a little too far in meeting an oncoming car and lost control of my car. I hit a tree and the car tipped over on its side. Luckily some people found me and took me to the Logan L.D.S. Hospital. I had escaped with only a cracked shoulder blade, a few cuts and many bruises. My face really wasn't a very pretty sight, the only part that wasn't black and blue was the point of my nose and chin. I spent eleven days in the hospital. The car was wrecked and I never drove again, but was never nervous about riding in a car.
On June 10, 1956, I moved to Salt Lake where I could be close to the Genealogical Library and do genealogical work. In September 1956, Nephi Bott of Logan bought my home in Logan. I have an apartment in the Eagle Gate Apartments by Eagle Gate.
In October 1956, I sent my grandson, James Gary Olsen on a mission to the Northern California Mission.
This history was collected and compiled by daughter Burgetta Olsen Christensen, as told to her by Zelnora Van Noy Olsen in her own words as she recalled the incidents in her life that had left lasting impressions on her.
On November 16, 1957, Mother had quite a severe coronary Thrombosis attack. This wasn't the first time she had been bothered with her heart, but she didn't go to the hospital until the 25th and was there 18 days.
Jamie and Bill Stalder moved into her apartment and cared for her until the last of April 1958. She made very little progress toward recovery and at this date is in a very critical condition.
Printed June 16, 1958
Mother departed this life on 8 July, 1958 in Salt Lake City at 79 years of age. She was buried at Ovid, Bear Lake County, Idaho, July 11 at the side of her husbands, Joseph and Orson and daughter Evelyn Lenora who had preceded her in death.
At her funeral many wonderful tributes were paid her by Sister Amy Shurtleff, Bishop Russell Sorenson of Ovid, Brother George Nelson of the Logan Temple and Jake Matthews of the Bear Lake Stake Presidency, and musical numbers. Many floral offerings were given in tribute and many friends and relatives attended her funeral.
She left a living posterity of six children, 19 grandchildren and 10 great-grandchildren. At the present time there are 23 great grandchildren and two more due.
We lost a most wonderful mother and grandmother but her influence on our lives and the lives of others will be felt for generations to come.
Burgetta Olsen Christensen
Grace, Idaho
March 15, 1961
Part of Mother's Patriarchal Blessing
Given in Union Oregon by James England, 8 February 1907
You will have the power of healing and will soothe and cheer the distressed. Will have the privilege to rear a posterity unto the Lord which shall be numerous. You shall remain upon the earth till the latest day. You shall be called to labor in the House of the Lord for both the living and the dead and it shall be revealed unto you so that you will know what to do and many of your ancestors will thus receive the ordinances of the gospel.
Patriarchal Blessings, Volume 544, Page 54