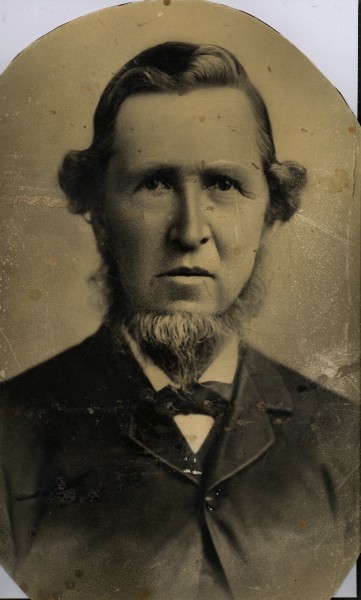 A SKETCH OF THE LIFE OF BENJAMIN CLEGG
The following is a sketch of the life of Benjamin Clegg given by his daughter Elizabeth Mary Clegg Brown before the Seventeenth Chapter of the Daughters of the Utah Pioneers, at their meeting held Monday, October 12, 1925, at the home of Mrs. Sarah E. Holt, 153 North West Temple Street, Salt Lake City, Utah.
My Father Benjamin Clegg was born at Oldham, Lankeshire, England, September 1,1827. He was the son of Joseph Clegg and Mary Ogden Clegg. His mother died when he was eight years old and he was bound out by his father to learn the shoe and clog trade, as wooden shoes were worn at that time.
As my father grew to early manhood a religion known as the Latter-day Saints was preached in his hometown. He was converted to the truth of it and, against all the persuasion and sorrow expressed by his father and his sisters, he decided to follow the Saints to America. His sisters came with him to Liverpool in the hope that he would change his mind.
He came to America and that was the last he saw of any of his kindred as none of them ever joined the Latter-day Saints Church. He left his home in 1948 and in 1849 he drove an ox team across the plains for a man named Ezra T. Benson. During this trip my father has some trouble with his ear that was not properly taken care of and he lost his hearing and was quite deaf throughout the remainder of his life.
He arrived in Salt Lake City in October 1849, and spent the following winter at the Old Fort which is now known as Pioneer Park. At the Old Fort he met a widow by the name of Elizabeth White, her husband having died while crossing the plains, leaving her with five young children. She was thirteen years older than my father but was a very charming woman. They were married and with a colony of saints went to settle the Tooele valley in the year 1850.
On account of the depredations of the Indians, it was necessary for the saints to build a mud wall around their settlement. This wall was eight feet high and very thick. There were corners in the wall in which there were windows or openings through which the men could keep watch and give warning in case of invasion. The men of the village took their turns in standing guard.
My father had been brought up in a manufacturing district and he knew very little about farming. His wife had lived in an agricultural district and knew a great deal about farming and she was willing and able to help with the work to be done on the farm.
In the year 1850. my mother Grace McIntyre left her native land, Scotland, for the sake of her religion. She came to America and was nine weeks in coming across the Atlantic Ocean. She arrived at St. Louis and remained there for three years. She was there during the cholera epidemic and saw many of the saints pass on from the ravages of the terrible disease.
In 1853, she came to Utah with the Shurtliff Company. Having a sister residing in Tooele, she went there. She met my father and they were married in December, 1853.
Elizabeth White, my father's first wife, had two daughters to my father. My mother had two sons and three daughters. Our father and mothers, as well as the children, all worked and passed through the hardships and privations incident to pioneer life.
My father was a clean, straightforward man and despite the handicap of his deafness was a man of wonderful intuition and foresight. Each succeeding year he would foretell what the harvest of the next year would be. Before the grasshoppers came, he told his family that something was going to blight or destroy the harvest. He said, "I passed through the fields last night in my dreams and I saw that everything was in a devastated condition, all was in ruins." What he foretold came true. The grasshoppers came in clouds that darkened the sun, and all that human hands could do could not stay the scourge. Nearly all of the vegetation was taken.
I must not take time to tell even a small portion of the many severe trials through which our parents passed. They were sustained in all their undertakings by the great faith that had caused them to 1eave their native 1ands and to pass through trials with cheer and thanksgiving to our Heavenly Father. I think that this is one or God's ways of colonizing the world. People will pass through all kinds of sorrow and privation with thanksgiving if they believe that it is the will of the Heavenly Father.
My father's life was many times miraculously saved by what he called his guardian angel.
My father was with many of our fathers one of the founders of our beautiful State.
Both of father's wives preceded him to the great beyond. He died in Tooele City, Utah, January 15,1907, having lived a useful and exemplary life.
Read by - Elizabeth Brown - October 12th, 1925,Camp 17