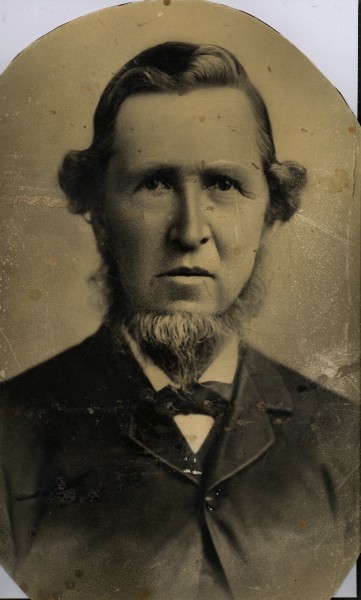 Tooele
Death of a Pioneer
Benjamin Clegg Closes Honored and Eventful Career in 81st Year
Special Correspondence.
Tooele, Tooele Co., Jan. 16. [1907]
In the death of Benjamin Clegg, which occurred here yesterday, this city loses one of its earliest pioneers, he having been a resident of Tooele for over 56 years. Mr. Clegg had been in his usual good health until about two weeks ago, when he complained of a numbness and tingling in his foot and leg, which continued without much pain until circulation stopped and gangrene set in, which resulted in death as stated.
Mr. Clegg was born in Oldham, Lancashire, England, Sept. 1, 1827; joined the Mormon Church in his early manhood, emigrated to America in 1848; remained in St. Louis until the following year, when he came to Utah, crossing the plains in Ezra T. Benson's company; lived in Salt Lake City until the spring of 1851, when he came to Tooele and has resided here continuously ever since. Two wives have preceded him to the spirit world. He leaves behind him two sons and four daughters, one of his sons is State Senator Peter M. Clegg. The other is Benjamin Clegg of Gentile valley, Ida. His daughters are Mrs. Moroni Pickett of Marion, Ida.; Mrs. John Hale of Gentile valley, Ida.; Mrs. James S. Brown of Salt Lake City, and Mrs. Grace Henderson of Tooele.
These, with numerous grandchildren and quite a number of great-grandchildren, are left to mourn his demise. Mr. Clegg's death will be felt keenly by all who knew him, as he possessed a kind and lovable nature, together with the highest integrity and honesty and all the nobler qualities which go to the make up true manhood, and as he remarked just before he passed away, he hadn't an unkind thought or feeling towards a living soul. He was firm and faithful as the rock of ages to every principle of the gospel. Funeral will be held at the ward meetinghouse on Saturday.
There has been an unusual amount of sickness here this winter. The public school opened again on Monday, having been closed since the holidays on account of the continued spread of scarlet fever. The winter has been one of the mildest so far, for a great many years, the lowest mark reached being about 14 degrees above zero.