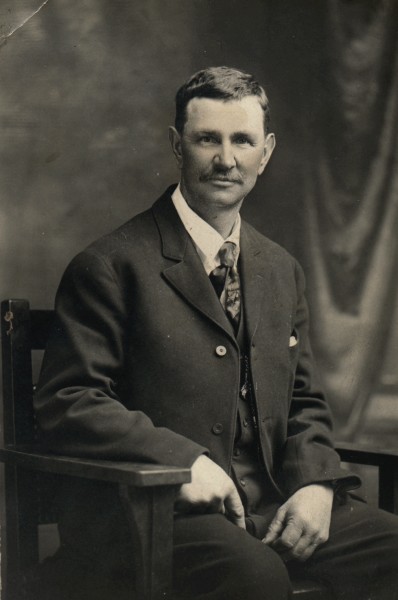 Benjamin Clegg Dies of Heart Disease
Benjamin Clegg, 78, pioneer, Grace farmer and active in the L. D. S. church since early youth, died Monday at the home of his son, Joe Clegg, of heart disease and complications after several months illness.
Funeral services will be held at 1 p.m. today in the Grace Tabernacle. Interment will be beside the remains of his wife in the local cemetery. Mrs. Clegg died several years ago.
Mr. Clegg is survived by four sons, Robert, Don W., William and Joseph Clegg, all of this section: a daughter, Mrs. Annie Davis, Salt Lake City; two sisters, Mrs. Eliza Hale, Logan, and Mrs. Grace Belle, Tooele; and a brother, Peter M. Clegg, Tooele: and 16 grandchildren. [He was ???] baptized by President Hugh S. Gowans at Tooele, and later ordained to the priesthood.
The following review of Mr. Clegg's life was prepared by Mr. Jensen, ward historian.
A prominent and faithful Elder in the Church was born April 29, 1857, in Tooele, Tooele County, Utah, the son of Benjamin Clegg and Grace McIntyre. He was raised in Tooele where he attended the public schools and at the age of eight years he was baptized by President Hugh S. Gowans at Tooele, and later ordained to the priesthood.
When 28 years of age he moved to Gentile Valley, and while residing there in the Mound Valley Ward, he became acquainted with Anna Jane Williams, the daughter of Bishop Williams, and later married her in the Logan Temple. This union was blessed with six children, namely, Benjamin O., Robert Williams, Joseph, Donald Willard, William Dale and Anna Louetta. Soon after his marriage Brother Clegg located in the Trout Creek Ward, and after being ordained a high priest by George C. Parkinson he acted as a counselor in the Ward Bishopric for 13 years.
He filled a mission to Australia in 1897-1900 where he labored nine months in Queensland and later one and a half years in Adelaide in South Australia where he, together with Alexander A. Carr reopened a missionary field after a period of thirty years during which no missionary labors had been performed by Latter-day Saint missionaries in that part of the country. Elder Clegg acted as president of the district thus opened. Together with his missionary companions he became an instrument in the hands of the Lord in bringing eleven converts into the church. After his return from this mission he again acted as a bishop's counselor in the Trout Creek Ward. And had ever been active in the church affairs, besides filling a number of civil offices in the community.
He has been blessed with good and faithful children who are all active in the church. His eldest son Benjamin Orson has filled a mission to Great Britain. Another son, Robert W., now acts as bishop of the Bench Ward in the Bannock Stake of Zion. His fourth son, Donald Willard has filled a mission to the Northwestern States and later a short mission to the Western States. His daughter, Anna Louetta, has filled a mission to the Eastern States and in all instances Brother Clegg has assisted these missionaries financially. Brother Clegg is a farm and stock raiser by avocation. His fourth son, Donald is a counselor in the Bannock Stake Presidency. Brother Clegg has devoted the past few years of his life working faithfully in the Salt Lake Temple. Truly, this is a man of great faith and great shall be his reward.