San Juan Islands
August 2000
I don't know if it's even possible to 'plan and execute' the perfect trip--I really doubt it. But this one, though it didn't go as originally planned, became the perfect escape and will go down as one of the most memorable vacations of my life. It was not only the opportunity to see new country but the wonderful experience of feeling it through the eyes of my young friend Michael.
Earlier in the summer, I was talking to Mike and told him that I felt cheated that we hadn't been able to go on even one Priest's outing together. Even though he was now graduated and a prospective Elder, I reckoned he owed me at least one trip. We had become closer friends as we equipped his new car with a new stereo, amp and a kickin' sub system. I had given him a magazine with several ideas for getaways but we had decided on Lake Powell and he was going to bring a couple of his buddies. A few days before, his friends ended up in enough trouble that a week on the lake wasn't going to happen so Mike and I revamped plans and just the two of us headed to the great Northwest.
Monday I finalized some work projects while he got his car licensed and we were ready to roll by mid afternoon. We stopped for gas only to realize we had forgot probably one of the most important articles of the trip--Mike's CD collection. I had mine but a quick examination of it by Mike convinced him we needed a wider selection so we backtracked. We met his Dad in Salt Lake to pick up one of those handy bike racks that fit in the receiver slot of the trailer hitch, grabbed a lock and bungee from ShopKo and were off… or so we thought. Traffic was heavy and it seemed like every exit on to the freeway was blocked for construction. We crossed from the west side to the east side of the freeway and headed north. I finally called my brother Steve who worked nearby and asked him for the closest entry. By now we were hungry so before getting on at 33rd South, we stopped for the first of many fast food meals.
Mike drove as we headed up I-15 and into thinner traffic…. leaving the ant pile as my brother calls it. We turned off at Brigham City and climbed over Sardine Pass. The evening was beautiful with the greens and golds of the trees and August grass. Through Logan, Preston and on to the unpatrolled stretch of highway between Treasureton and home. As we pulled into the ranch, Dad was puttering around the house, Mignon, Kiana and Danielle were walking in the evening air and Kent was up swathing hay.
I had been telling Mike about growing up on a ranch and the great experiences of work and play. We only had a few minutes before sunset so we commandeered the tractor and he finished up the swathing in the field above the house. We then moved a wheel line of sprinkler pipe in the alfalfa--not a real 'pipe moving' experience but about as good as you to get these days because hardly anyone has hand lines any more.
It was dark by the time we finished and Kent let us take the four wheeler up through the canyon. We went about half way until it got so rocky that it was difficult to continue with two people. It's a narrow road, just wide enough for a 4-wheeler in the summer and a snow mobile in the winter. As we were coming down, a skunk appeared running in the road ahead of us so we hung back until it exited the trail and was a safe distance away so we could race past.
By now the near full moon was up so we unloaded the mountain bikes and headed out to the west desert. The night was beautiful with the stillness and quiet of the countryside. We switched bikes on the way back and raced. Mike beat me--not sure if it was because he was on my bike or just in better shape but it was a good ride. We pumped back up the lane to the house and Mom had stew and biscuits ready.
We both woke early and so were off by 6:30. Mike drove to Pocatello where we stopped for gas and a breakfast of Burger King cini-minnies. We calculated gas milage at a whopping 13 miles per gallon! Oh well, on up the freeway.
We had decided to go up through Idaho to Montana just so we could see some new country--the stretch from Idaho Falls to Salmon and on into Missoula looked interesting. We were talking about college and fields of study and decided to stop at Ricks just to sniff the air and pick up a catalog. "Everybody looks the same," Mike said, "but I like it." The catalog didn't offer many courses in his field of interest which is lighting and sound. The campus was quiet as school is out but they were prepping the football field with fertilizer and rollers. Mike pointed out all the good long-boarding hills above campus.
The section of road to Missoula didn't prove as scenic (at least as beautifully scenic) as we had anticipated. As we approached Salmon, the smoke became thicker and thicker until it was almost as if a fog had set in. We couldn't see mountains on either side of the road. At Salmon, the gas attendant said that the road to Missoula had been closed because of the forest fires but that it was open today at a reduced speed. Mike drove through the mountains with acres of charred trees and brush on either side. At one point coming through a pass there was a ridge on fire with smoke billowing into the air.
The worst must have been over as we came on a couple of fire fighter camps that were being dismantled with the tents down and garbage packed ready for disposal. We saw a couple of foundations that contained the charred remnants of a house that once stood there. By and large, most of the homes and out buildings along the road and river appeared to have been saved. Signs were out in yards and businesses thanking the fire fighters.
We hit Interstate 90 at Missoula and rocketed on to Coeur d'Alene. The freeway was smooth and the Yukon rode nicely. Mike discovered it has a governor that kicks in at a hundred. That part of Idaho is beautiful with the pine trees coming right to the lake line. The smoke thinned and by the time we reached Spokane it was completely gone. Western Washington is pretty desolate… not much greenery and not many farms for a while. Outside of Ellensburg the agriculture increases with grain, corn, hay and starting into fruit trees.
We entered the Cascade Mountains with the sun already going down behind them and their jagged rock peaks were dark silhouettes against the evening sky. The trees were dense pines with lots of undergrowth and we climbed up over the pass and started the descent to the Seattle area. Just at dark, we pulled into North Bend and looked for an inexpensive hotel. $65 for two people, ground level floor. We pulled off the bikes and started riding to get rid of the 'in the car all day' feeling. North Bend is at the base of a spectacular mountain (Mt. Si) with steep pine slopes and some rock cliffs. As we rode in that direction looking for a bike trail we came across a skate park with several people maneuvering on skate boards. Of course it was posted 'no bicycles' but just a few hundred yards away was a bmx bike track complete with loops, jumps, washboards and a couple of table top ramps. We had a blast! Mike showed me how to launch, get some good air and land. My bike seemed harder to get off the ground, especially the back wheel but I'm sure it had more to do with the rider.
We rode the loop till dark and as we headed back found the skate park was empty. It wasn't lit but there were some apartments close with enough light to see the general area. Jumps, ramps and little valleys all made out of cement. I went over one thinking it was a ramp but it ended up being stairs. We also tried out the bowl. It was a depression in the ground, perfectly concave. We lowered both our bikes by hand down in and then started out together going in the same direction. Too fast and we'd fly up and out--too slow and we'd sink to the middle or the back bike would catch up. We rode in one direction til we were dizzy and then turned around and rode in the other.
Back to the hotel, we showered and hit the sack. Traffic going into Seattle in the morning would be heavy so Mike slept in while I read. Breakfast at Denny's (cinnamon French Toast) and on into the city. It was one of those rare days in Seattle when the sky is completely clear and deep blue. Traffic wasn't too bad but we were back in an ant pile. We navigated to the Pike's Market area and parked the car with it backed up to a wall so no one could steal the bike rack (the bikes were locked on it but someone could pull the pin and take the whole rack). We walked through the market and watched the fish vendors handling all types of fresh fish--salmon, tuna, scallops, shrimp, lobster, mussels, etc. They put on quite a show throwing fish back and forth and calling out orders. Street musicians, novelty shops, food smells--all part of the fish market experience. We could look out over the bay and see the ferries, ships and sailboats.
We started uptown and ended up at a shoe store where Mike spotted some way cool indoor soccer shoes but they didn't have any in his size. We hit several other 'big city' stores like Sharper Image, Nike Town, the Adidas Store, Nordies, and Old Navy. Looked at shoes (Mike's favorite), watches and leather stuff.
Back in the car, we drove up to the University of Washington Campus where Mike wanted to see what classes they might have in his field of interest. We parked, unloaded the bikes and started peddling around campus. If there was a jump, stairs, or ramp of any kind Mike took it. He is so agile at jumps, stops and maneuvering. We ended up down at the lake and then went back towards Husky Stadium. It was open and we rode right down to the field and examined the artificial turf. Someone was throwing a ball and as it bounced, it looked like dirt was coming up. Pulling back the grass we found ground rubber fiber that gave an authentic sod effect.
We raced our bikes once around the track and Mike won… I slipped a couple of gears and wasn't far behind. Back through campus and to the bookstore where we picked up a U of W catalog. They had several more classes in lighting and sound design but most of them were at the Masters level.
We drove up the freeway to Mukilteo and had lunch at Burger King. I had been through the area several times but never had the time to hit the Boeing plant tour. We got there just minutes before the last tour and were able to get in on it. We watched a 7 minute video where they assembled a 747 in fast motion and then boarded a bus for the plant were we could see the real things in production. The facility was huge--the largest building in the world (4.3 million square feet). Large cranes overhead and pieces of the air ships coming from several directions. Afterwards we rode out to the flight line where several planes for different customers were painted and waiting. China Air, Saudi, and several freight companies had new planes on the line.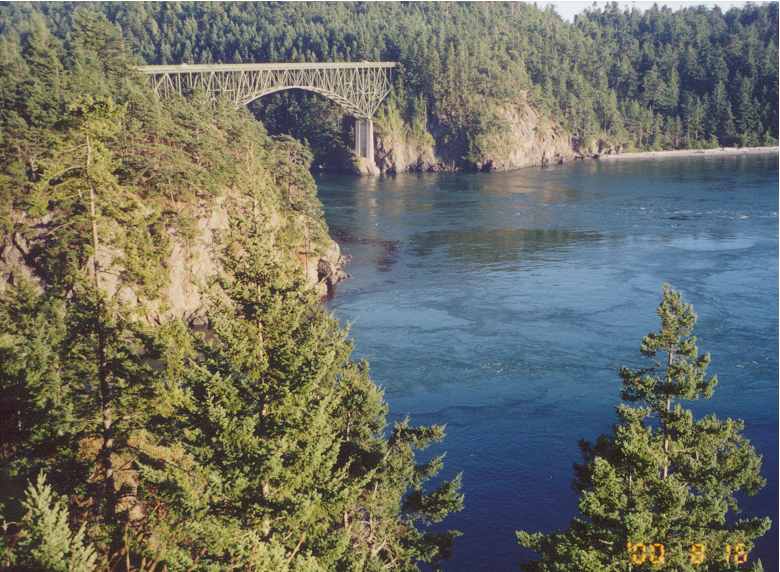 The line for the ferry to the San Juans (Whidbey Island) was long so Mike unloaded his bike and rode while I waited and rearranged the car. We were one of the last cars on and parked on the lower deck. The ferry had cars and trucks of all sizes on the lower decks and upper decks contained passenger seats and a coffee shop. From the upper deck we could see tree covered islands in several directions, sailboats, cargo ships and a few smaller yachts. The ride was only a half an hour or so.
Whidbey is a beautiful island with rolling hills, trees, occasional farms and meadows and ocean. We drove the length of the island just taking in scenery and looking at quaint villages. At Deception Pass we drove through the state park and then stopped above the bridge to take some pictures. It is the only place along the entire way that boats from the northern Seattle area can get out to sea and since it's narrow and there is a rock island in the middle, contains some dangerous currents. Steve's friends have seen large yachts with inexperienced skippers get turned completely sideways in a matter of seconds.
We reached Anacortes at the northern end and decided to stay there for the night. The next ferry to Orcas was later and we hadn't been able to line up a place to stay as cell coverage had been weak. $55 got us a decent room at the Holiday Motel. We rode our bikes down to the docks and looked at all the moored boats--mostly pleasure craft. We tried to find Dan Allen's boat Visual Sea but didn't see it right off. Mike then drove us to the top of Mt. Erie, the tallest mountain on the island, for a look around at the ocean view. With the sun down, about all we could see were the lights of the island and a big oil refinery across the bay.
The first ferry to Orcas was around 7 a.m. and we missed it. We barely made the next one at 9:45 but Thursday turned out to be a great day. The ferry stopped at Lopez Island to unload a few cars and then docked at Orcas. There was no place to stop just off the ferry so we kept driving. Mike had been looking for a golf course where he could get logo balls for his brother-in-law, Dan and we finally found the first and only one we would encounter. He got a couple of balls and we got maps of the Island that indicated we weren't far from Eastsound, the main hamlet on the island.
In Eastsound, we checked out the options for sea kayaking and found that most of the spots were full for the day. It was cloudy and a little on the cool side so when one opening was found, I took it while Mike opted for shopping and exploration. The sea kayaking was located over at the Rosario Resort, a mansion built by a shipping tycoon. Our guide was from Driggs, Idaho and spent the first hour training us on how to fit the spray skirts, paddle, recover from a capsize and general kayaking technique. The group of nine of us paddled out to the point together and had a great time. The sun came out and we spotted lots of starfish on the rocks, deer in the mountains and several eagles in the sky.
Mike had been busy while I was out and found a great mountain bike trail in the Moran State Park. We took the downhill several times and then drove up further to a mountain lake where there was supposed to be a good trail. There was a great section of downhill and then it turned to graded gravel and just kept going down. We knew we weren't on the right track but didn't want to pedal back up the gravel. Eventually, we hit paved road at the first trailhead and Mike road down while I went for the car. The trails were beautifully wooded, included some good technical riding and were fast.
We tried to catch a gift shop before it closed where Mike had picked up some curious Chinese rocks that changed colors in light and water but they were closed. During the day, he had found a restaurant right on the water and we dined on shrimp and chicken while looking out at the bay and the anchored boats.
The next ferry back to Anacortes didn't leave til late so we drove over to the little airport and played Aerobie on the tarmac while waiting for the 'scenic bi-plane' to come in. The Aerobie is a disk with the center cut out and a heavy rubber/wire edge. It can fly long distances with a little effort and we shot it back and forth in front of the hanger. The bi-plane landed with a couple in the front seat that really seemed to enjoy the ride. It was a beautifully restored fabric plane of World War I vintage. The cost was $195 and the pilot wasn't too anxious to go up again as he had done eleven 45-minute rides that day already. We helped him roll his plane into the hanger, talked a little flying talk and then drove to the golf course.
It was closed with no one in site so we pulled out the Aerobie and played till it was too dark to see. We could throw it the length of a good par 4 fairway. Too dark to follow it, it landed in the trees and we spent the next 30 minutes searching for it with a flashlight. We had had such a fun day so far that I wanted to find it so we could both sign and date it for a keepsake. Persistence won out and just as we were about to give up, we spotted it hanging in the branches.
Back at the ferry dock, there was still over an hour before the boat came. We dropped our bikes and rode around looking for jumps and riding wheelies. Mike found a good stair jump and worked his way up to taking it. I wanted to follow him but was more cautious and opted not to but it kept bugging me. We found some rocks and scaled them several times with finger and toe holds. We chased a rabbit on our bikes. Mike found a bucket and we engaged in several intense rounds of bicycle bucket polo. The parking lot was painted in lanes with numbers at the end and we rode our bikes, scrimmaging and kicking the bucket until one of us would get it past the other guy's goal.
I got up the nerve to take the stair jump and after the first bumpy landing was able to launch fairly consistently. Mike helped me practice as we decided to take pictures. He was having difficulty (maybe on purpose) getting the picture to take while I was in the air and after six tries I think we finally got it.
The ferry left a little after 11 p.m. and was almost empty. We dined on chocolate milk and pastries from the coffee shop and then tried out some of Mike's soccer theory. Earlier at dinner he had explained the game of soccer to me--how it is played, what the rules were and how to kick. Since the upper deck of the ferry was empty, we found a pop can and played soccer through the isles and between the tables until the ferry docked.
We went back to the same hotel in Anacortes and were given the same room we had the night before. Wired from the days activities, we laid awake and talked till we finally dozed off. Friday morning it was raining--back to the real Northwest weather. We left the motel about 11 and drove over to I-5 where Mike's Denny's compass honed in on one that was serving cinnamon French toast.
We decided to go back to Seattle to see if the shoe store they had gotten in any new sizes. Mike was looking for soccer shoes and I needed some new sandals. No luck on either so we walked around the streets looking in pawn shops and stopping in a guitar store where Mike played a 12-string. We had a guitar along on the trip and he would often play while I drove. I love to hear him play and there were a couple of songs on our CDs that he picked out while we were travelling--Don McClean's Vincent and Ottmar Liebert's Barcelona Nights.
We came across the North Face store and they were having a great sale. Mike bought a nice looking down coat which he had been eyeing for some time and got it at 40% off. I was about to get one like it but they didn't have my size in the color I wanted. With a good purchase in the bag, we headed out of town. Mike drove and we worked our way through Friday afternoon traffic across highway 520 towards Renton. The bridge across Lake Washington created a wild effect. On the south side, the waves were in white caps and lapping at the side while on the north the water was almost completely smooth.
We drove past the temple and on towards Oregon in a fast trip through Ellensburg and Yakima. As we reached the Oregon border, the sun was down and with only a few clouds illuminated by the sunset. We had left the rain and drizzle in Seattle. Mike's family was having a reunion in eastern Oregon at Lake Owyhee so we called for directions on how to find them. It looked close on the map but was out in a barren and remote place. Speeding on deserted back roads, we finally got there at 2 a.m. The moon was up and the rocky skyline was visible. Deer were in the field where we rolled out our sleeping bags.
Next morning I met several of Mike's relatives, and enjoyed watching them as they raced radio controlled cars and launched nerf balls and water balloons from a slingshot. He was having a good time with his cousins and decided he would like to stay the night and come back with them the next day. That worked well for me although I had grown attached over the trip and felt sad leaving without him. I stopped in Eagle, Idaho and had lunch with Uncle David and Aunt Shirley, Robert and Kim and the drove on to Raft River where I spent several hours and had dinner with the Webbs. Home in Orem by 1 a.m..
It was a wonderful trip. We saw a lot of country, enjoyed the scenery, played and rode hard and enjoyed each other's company. Thursday was a particularly great day. As my friend Willy would say, we 'sucked marrow' -- did everything possible until we were drained. We gazed, played, laughed, sweated, dined and talked. This for me will be one of the most memorable trips ever.