Skipper School
10 Days of Sailing Instruction at the Santa Barbara Sailing Center
August 20-31, 2002
Complete Photo Album (65 pictures) - Click Here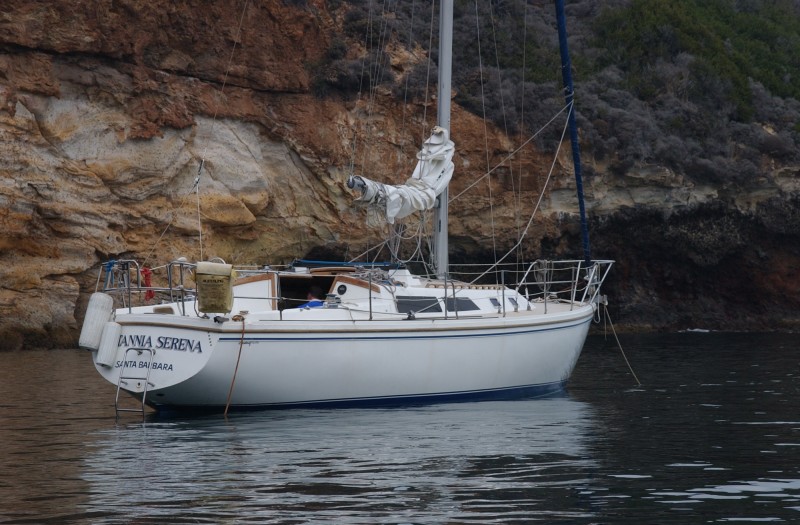 It was Monday afternoon and there was no paying work in site for the next two weeks. I called Ian at the Santa Barbara Sailing Center to see if there was any chance that he could work me in on a 10 day course that you normally need to book months in advance. "Let me check and phone you back," he said. Twenty minutes later he called and said, "You're in and start on Thursday! I'll FedX you the course materials which you need to have read by the start of class. Just show up here at the harbor in Santa Barbara, California on Thursday at 10 a.m."
I loaded everything I would need for a couple of weeks in the Miata and headed down the road Tuesday afternoon. It's about time to get new rubber for the convertible roof to cut out some of that wind noise. I just put my mind on autopilot and stayed with the flow of what little traffic there was. About Fillmore I made a startling discovery. It was actually something that I had known for years but never quite understood how until it was illustrated. The sun was going down in a fiery ball of red as the air to the west was heavy with dust and haze. The east was clear and blue and a full moon was just rising. The discovery was how the sun lights the moon as it passes through its phases. For some reason, the celestial illustration helped me to see how that when the moon is at an angle where the sun shines on it fully and directly, we get a full moon. I could now imagine it in my mind circling the earth in the opposite direction that the earth rotates, going from no moon to full moon over a month's time. But that's beside the point of this story…. It was a beautiful moonrise/sunset.
Road signs advertised $24 rooms at the Virgin River in Mesquite with an 800 number. I called and they had plenty available so stopped there for the night. The rooms were apart from the casino and relatively nice. I went right to sleep and awoke the next morning to read my sailing text books. I read straight til checkout time which was 11 and then continued on.
The weather was hot. The air was dry and dusty and the Nevada/California desert almost appeared scorched. Dried bushes and browned cactus dotted the arid. I had read reports on how the Las Vegas area had less than 10% of normal rainfall for a year. At temperatures over 95, the Miata tends to heat up on hills with the air conditioner going so I would keep it on going down and turn it off going up. On average, I was just right.
I stopped in Las Vegas at the outlet stores to pick up some 'white soled' deck shoes as required in my instructions. And then drove on through the California desert on I-15 to Victorville where I turned on 138, the Pear Blossom highway which is a mini roller coaster for a Miata. Blowing winds with dust and haze all the way. I stopped at a fruit stand and bought some Asian pears and peaches which served as breakfast for the next 10 days.
Before leaving, I found that the only REI sports equipment store between here and Santa Barbara was in Northridge, close to Aunt Eloise. I needed a pair of pants (plus I had my REI credit from last year that I needed to cash in) so drove there where I found just what I was looking for. I also picked up a waterproof box for my camera so I wouldn't have to be so paranoid about taking it on the water.
I called Aunt Eloise and got her voice mail so stopped by the house and Brady was there. Carolyn and Ty were out visiting friends so we called Michael who was on his way home from work and we three went for Chinese food. It was great to visit with them. Brady is driving to Santa Barbara every day for work where he is a media rep for some diversity properties. When I asked him how diversity is defined, he said it's "basically anyone who is not a white male under 45". He enjoys his job, is learning much and is doing very well. Michael is still (fortunately) with his design firm and stays very busy due to the work remaining after cutbacks.
Driving home from dinner, there were 'ghetto birds' in the air. Ghetto birds are police helicopters that are pinning down suspects and hovering over crime scenes. We passed several cop cars with lights flashing congregated at a street corner a couple of miles from the house. Carolyn and Ty came home and we had a good visit. Ty is such a cute little boy with a wonderful spirit and Carolyn is a great mother. She has put together a scrap book on Ty that is amazing! I crashed on their couch and slept well.
Next morning, I started up the freeway for Santa Barbara. The weather was still hazy and the press of traffic and people made me wonder if this wasn't just a waste of my time. As I pulled into the Santa Barbara harbor, the clouds had lifted and the morning sun warmed me. Hundreds of neatly docked boats rested with shimmering reflections on the water. Old people and young people were walking and jogging along the docks and cheerily greeted good morning. This was going to be OK!
Ian was off as his weekend was Thursday and Friday but Aleks introduced me to Matt my instructor. He was about my height, had long wavy dark hair tucked under a baseball cap and dark-rimmed glasses. I had signed up for semi-private instruction and my training partner was a fellow by the name of Ross King from Santa Barbara. Matt said that we had good wind already and it was forecast to drop off in the afternoon so rather than do any book instruction, we should just get started and learn while doing. OK by me.
Ross had been crewing on one of the racing yachts in Santa Barbara for the last few years and immediately jumped to attaching the jib and readying the main sail. I was glad I had read the book so at least I knew what they were talking about. Our boat for the basic keelboat sailing course was a J-24. The J-24 is a two man boat (requires at least two people to sail - optimally), has a small cabin, is 24 feet long and is great fun to learn on.
We motored out of the harbor using a small electric motor attached to a car battery and when we were into the channel, began setting the sails. The book covered all of the rigging (stuff that holds the sails up) so we hoisted the main (main sail) and the jib (the front sail) and Matt proceeded to instruct us on points of sail. Points of sail are where the boat is pointed and how the sails are set relative to the wind. We learned that the only direction you can't sail is directly into the wind. Forty-five degrees off the wind on either side is a 'close haul'; the wind straight across from the side is a 'beam reach'; and going with the wind is called 'running'. There are other points of sail but you need to read the book.
We learned about tacking (turning with the wind coming across in front of you) and jibing (turning with the wind coming across behind you) and most important learned to know the true direction of the wind. That's not an easy thing as there is true wind and apparent wind. True wind is where the wind is really coming from (and it can change second by second) and apparent wind is where the wind feels like it is coming from. The faster you go, the more the apparent wind seems to come from directly in front of the boat which isn't necessarily the case. Matt was extraordinary in sensing wind directions and shifts. One way you tell wind direction is to look at the ripples on the waves. You can see little half circles or arcs and the wind is coming at right angles to these arcs. Just imaging the arcs are little bows and the arrow points the direction the wind is blowing. (I figured that analogy out myself!)
A couple of maneuvers we had to practice were 'heaving to' and 'wing to wing'. When the Coast Guard says, "Heave to and prepare to be boarded" you need to stop your boat quickly. It's done without dropping the sails and by turning so the jib sail is backwinded against the main. You then turn the tiller so that the boat gets pulled by the jib but turned back by the tiller. It just zig zags there with no forward motion. Wing to wing is going with the wind and having the main sail on one side of the boat with the jib on the other. It works better in a stronger wind!
For another exercise, Matt took us into the harbor under sail and had us maneuver in confined space. Judging when to tack and holding close to the wind were the tough parts. The wind in the harbor changes because of the breakwater. Eventually we were feeling comfortable and Matt was feeling comfortable enough with us that he said we didn't need class room instruction and had the afternoon off.
I started exploring Santa Barbara, driving up State Street, along the Riviera and then to Golita to walk on the beach. I walked and jogged for quite some time. It was beautiful with hardly anyone around. I passed a rocky point climbing over the rocks and kept going but soon discovered that only a few people on that side of the rocks were wearing swim suits and feeling out of place I turned back. I enjoyed being outside all day and that night found an inexpensive little rice restaurant right on the harbor that served curry and sushi.
Friday we worked on more procedures, lingo, technique and 'man overboard' drills. If someone falls overboard while under sail, it's very difficult to 1) get back to them and 2) stop at the right point to get them on board if you don't know what you are doing. Matt schooled us in the figure eight method which consists of getting two to three boat lengths downwind from the person and then looping in a figure 8 back towards them with sails sheeted (let) out so that you stop just as you get to them. If you stop too soon, all you need to do is sheet in a little to propel the boat forward. We had a floating manikin head that we used for practice and when you were least expecting it, her head would come flying out of the cabin and Matt would yell, 'man overboard!'
Matt was good at not only telling us what we needed to know but making sure that it was engrained in our responses. One critical topic is right-of-way. When two boats approach, you need to know which is the 'stand-on' boat and which is the 'give-way' vessel. Matt drilled us on this with passing boats until we had it. There is also a sequence of commands that a skipper issues so that the crew knows what's going on and he rehearsed us on these as we performed maneuvers until they were second nature. "Ready about?" "Ready!" "Watch your head!" "Hard alee!"
After practicing maneuvering in the harbor up to a dock, Matt stepped off the boat and said, "Go out on your own for a while." We came back five hours later. We really got things down when Ross and I went out together without an instructor. Ross has a fun personality and we enjoyed going through all the different drills. Picking up the manikin wasn't quite so easy without Matt's guidance but we soon were hauling her safely aboard.
Outside of the harbor in the bay is a boat graveyard. As it turns out, there is no clear jurisdiction over the bay between the city and other government agencies so it is a "free anchorage". Anyone that wants to can drop some sort of weight (VW bug motor blocks were a popular method at one time) and tie their boat to it. Some boats are in good condition but most of them are floating wrecks. Ross and I spent a couple of hours navigating through them practicing points of sail. Ross pointed out the local points of interest like the Wrigley mansion, where Oprah's estate was, the Montecito Country Club and all the local beaches. He and his wife had lived there for five years but were in the process of moving back to Colorado where they were from. He had been an executive vice president at a telecom company but with that market in the toilet, they were moving to where cost of living is more reasonable.
Saturday morning in Santa Barbara is a race day. The Santa Barbara Yacht Club sits at the end of the breakwater on the beach and the starting buoys are lined up directly off of it. Big letters set across the top of the club indicate the route and the starting gun is shot from the balcony. Saturday's race was to Golita, up the coast by UCSB. Sailboats were maneuvering in all directions around the starting point and Ross and I took the J-24 into the middle of them. He was pointing out all of the different boats, telling me who usually won and waving to his buddies. It was great fun and a good chance to practice our discerning right-of-way skills.
Saturday afternoon, Matt took us out on the Magic. It is a racing boat with an open hull and Kevlar sails from Australia. It's small (about the same length of the J-24) but is designed for five people - three of them are "rail meat". Ross said that's what he was on the Alchemy (the boat he crews on) and his main job was to move from side to side, leaning out to put more lateral pressure on the sails and thus increasing speed.
We donned life vests and Matt and I put on harnesses which we could clip into long lines that ran from the top of the mast. As the boat came up on a close haul into the wind, it listed way over and then we jumped up and out so that our feet were against the side of the boat and we were hanging straight out, completely over the side. Just shifting our weight created a surge of acceleration that is the greatest 'cool' of sailing. When ready to come about, Ross gave the command and we would drop in, hold to center while the boat came around and then go out and up on the other side. Our speed was probably around 15 knots, almost double the J-24. We all had a turn at the helm and on the harnesses and enjoyed a great afternoon.
My living accommodations were included in the training and the first few nights were on the boat Mindless Thoughts. It was an older boat, probably about 28' in length and very comfortable. There's something about sleeping on a boat that really enhances sleep. Even in the harbor, there is a gentle rocking action that keeps you from sleeping hard and I feel like I'm floating. During the day, the boat went out on a charter and I had left my sleeping bag down below. Unfortunately, one of the hatches was open and it was all wet but I hung it in the cabin to dry and that night stayed with Aunt Eloise in Carpinteria.
Aunt Eloise and the family were coming up to their mobile home in Carpinteria for Labor Day the next weekend and she wanted to come early and get things ready. I met her at her place and she took me to dinner. "This is the way I cook now," she said. It was excellent food! We ate at a place called Zookers and I had grilled ahi with a pepper salsa. Sunday we were able to go to church in Carpinteria and then I met Ross and his 3 year-old boy Colby for about an hour of relaxed time on the water. The wind was dead and Matt said we had everything down already so basically we were done with the course. We had taken the test the previous morning (I scored 96%) so the rest of the day was free. I did some reading and moved my sleeping gear to a new boat, the Heather Jean. Heather Jean was a 32' Catalina and fairly new (2000 I think). Very spacious inside and comfortable. I could live on a boat that size. I took a few pictures of the cabin that I could use as part of a promotional campaign to get family and friends to come with me sometime.
Monday morning was a new class (Coastal Cruising) with a new instructor (Rob Bollay) and a new sailing partner (Brian Johnson). Brian is a bond analyst for Citibank in New York and was running a little late so Rob and I visited for a while. His interesting experiences include having sailed throughout the South Pacific and up and down the US coasts. He also lived in a commune for many years and recommended to his son who is in high tech that he take a several year trip around the world until the economy gets better. His son is now in New Zealand camping out of a Toyota van.
Brian's flight had been late and he didn't get in until 2 a.m. and then had to drive up from Los Angeles. He was a very nice guy and had previously bought a 1970s Chris Craft classic sailboat. He was taking the course to understand more how his boat worked and to become more comfortable with taking it out on the Hudson River. Originally he had only signed up for the Coastal Cruising class but Rob recommended that he take the Bareboat course to finish out the week and he agreed.
Our first day was spent going through the boat, stem to stern; the stem really is a part of the boat as we learned when Rob told us what happened when a faulty stem plate snapped in bad weather. We went through each of the ship's systems including fresh and raw water, electrical, head and drinking water and the diesel engine and its maintenance and troubleshooting. With hands on, we checked out everything going through the owner's manual to find through-the-hull fittings and fuel, water and holding tank locations.
One of the cool things about a boat is that all the systems exist to allow people to live comfortably for several days without going to land. The boat's engine charges electrical systems and heats water. The head (toilet) is flushed by manually pumping sea water into the bowl and the pumping it out. And then there's the macerator. I'd never even heard that word before but Rob described it as a garbage disposal machine that grinds up organic waste and dumps it-as long as you are at least three miles offshore anyway.
The afternoon was spent learning to dock which can be a little tricky on a sailing yacht. For starters, you have almost 6 tons of moving mass that has no brakes and can't turn unless it is moving. We found out interesting facts like when you shift into reverse and give it the throttle, the torque on the prop causes the stern to shift to port. This actually comes in handy during one of the exercises where you have to make a quick starboard turn to avoid hitting something.
Launching requires two people-one at the helm and the other with bow and stern ropes guiding it back. Rob started us out maneuvering through the harbor to gain a feel for how she turned and handled under way. After we mastered turning in the channel, Rob moved us to a tighter waterway and then a smaller one. With boats on both sides that cost hundreds of thousands of dollars, the exercise was a little nerve racking. Our final test was to redock the boat, slipping between two other boats with a little more than a couple of feet on each side.
The Catalina 32 (Heather Jean) has a roller reefing main and jib. This means that the sail rolls up inside the mast or around the headstay (front support for the mast). It's easier for one or two people to handle the boat from the cockpit with a roller reefing system. We motored out into the channel and Rob walked us through the steps to get under sail. He also taught us a new method for recovering a man overboard which we practiced. With the "quick capture" method, you jibe around and heave to with the stern theoretically stopping right at the person overboard. We had to practice this several times to actually get the boat to a stop right at the dummy.
Rob gave us a long list of things to do, lengthy homework assignments and told us to be ready at 8 a.m. each morning. On Wednesday, we took the test which proved to be more difficult than the Keelboat test (I got 92% and thought I had done better). Bryan and I took the boat out by ourselves and again, learned quite a bit. The afternoon was warm and there was a gentle breeze. Rob also taught us charting and how to obtain fixes through taking bearings and dead reckoning.
Sailing and flying have several commonalities. First off, your ability to survive depends on something that you cannot see-moving air. I had been introduced to dead reckoning when I got my pilot's license but never quite got the fact that it stood for "deduced reckoning". Simply put, with deduced reckoning, you can't tell exactly where you are so you take where you were, your rate of speed and direction and deduce where you probably are. We learned to do the same with sailing which came in handy on our trip to the Channel Islands.
On Tuesday night, I moved to the Serena which was to be our boat for the rest of the course and our trip to the islands. She was a 36' Catalina and although well worn, still in pretty good shape. Brian's wife Shelby who had joined him from New York came aboard to inspect the boat just to make sure she was comfortable going on the trip to the islands with us. Apparently it passed inspection because she joined us Thursday morning for the crossing.
Brian and I went through the boat completely, inspecting all the systems and making sure we were comfortable with how things worked. Rob took us out and we practiced anchoring which is an art in and of itself and then went for a little sail to become familiar with the rigging. We practiced dropping a bow anchor, setting it by letting out a certain amount of rode (anchor rope) and putting the boat full throttle in reverse to dig it in or "set" it, and then recovering it.
Wednesday evening, our job was to "provision" the boat which meant getting food, water and fuel in preparation for the trip. A good skipper knows and takes into consideration the preferences of his crew and passengers. Rob didn't like tomatoes or olives and enjoyed coffee and a little wine. Since they knew I was Mormon and I knew nothing about coffee or wine, Brian handled that accommodation. My assignment was dinner and I cooked what I usually do, curry chicken and rice.
While shopping in one of the whiter neighborhoods of Santa Barbara, I was shocked to see that chicken was $9.99 per pound. It took me a minute to realize that it was totally organic with no preservatives or hormones. I stocked up on drinks and fresh vegetables for salad and the dinner. Brian's first suggestion was boiled wieners but they ended up bringing hors d'oeuvres that included goat cheese and crackers.
Thursday morning, the weather was foggy with very little wind. We had lashed the rubber dingy to the deck and I took a picture as we set off in the morning mist. For this course on bareboat cruising (bareboat means that the boat is charted "bare" of a skipper or captain), we make the passage by "hook or crook" Rob said so we just motored for a while, taking bearings using a nifty little digital compass with gun sights on it for accurately getting a direction.
We could see four oil rigs in the distance and once they lined up, we calculated we were within a mile of the shipping lanes. Sure enough, there were several large container freight barges that came into view and zipped past at 40 knots per hour. The shipping lanes parallel the greater coast with a southbound lane that is a mile wide, a two mile separation zone and a mile wide northbound lane. We never came close to any of the freighters that were moving at a considerably faster rate than our 5-6 knots.
Through the shipping lanes, the wind picked up and we set the sails and ate a bite of lunch. Brian and Shelby had picked up some delicious deli sandwiches which tasted very good as I hadn't eaten breakfast. Our destination was Painted Cave on Santa Cruz Island about 22 nautical miles off the coast of Santa Barbara. I had discovered a couple of years ago that the Channel Islands, of which Santa Cruz was one of five, are actually a national park. Part of them are owned by the Nature Conservancy but they are in the process of being handed over to the US National Park Service. Not many people know them as a park or even have heard of them.
Originally the islands were bought up by one family in the depression and they had several cattle ranches which weren't really too successful. There was also a small resort at Pelican Bay where bootleggers operated. Today, none of the islands are inhabited except for a few caretakers. The main access is by ferryboat out of Ventura to the south part of Santa Cruz where there are a few campgrounds and places to kyak and snorkel. But the rest of Santa Cruz and the other islands are virtually uninhabited except for the bays were a few boats anchor and people row ashore. The scant few pictures that I found on the Web didn't do justice at all to the serenity and beauty that we found there.
Painted Cave is an opening in the rock cliffs that is large enough to drive a full-masted sailboat into-and that's just what Rob did. He turned the Serena around and backed us in to where we were completely contained inside the cave. There wasn't much room above the mast or on either side of it but inside the water was calmer and very clear. A hole at the back of the cave goes back another thousand feet and where sea lions birth their young.
We sailed on down the coast passing several small coves with gravel beaches and an occasional boat or two. We saw a couple of arches that had formed out of the volcanic rock that is the basis of the islands. On one large outcropping were perched hundreds of pelicans. The rock was completely whitewashed in pelican poop but they gracefully posed with an occasional flight from one perch to another.
Our destination was Pelican Bay, home of the original resort. It is a sheltered cove that provides good protection against both the prevailing winds and the incoming swells. Rob said it's important to sleep well and you can't do that with rough water or an unsecured anchorage. The first boat to an anchorage determines how the other boats will be set anchor and the five boats that were already at Pelican Bay were using bow and stern anchors. We followed suite.
My job was to drop the stern anchor and it proved to be quite a challenge. You first set the bow anchor and then back off even further to drop the stern anchor. The stern rode was a petrified piece of hemp rope that wouldn't slip through the poorly designed opening and I almost didn't get it out without losing parts of my fingers. The anchors held tight though and Rob showed us how to make a position table to ensure that we were not moving. It's done by taking the bearings of several points that are visible during the day and at night if possible-kind of hard to do with no electricity anywhere in sight. If the angle of any of the bearing points change, you know you are moving and hopefully not onto the rocks or into another anchored boat. Our anchor was well set and after several readings were satisfied we were not going to move.
Time to take the final test. Rob had drilled us well and even asked us questions from the test to see if we knew the answers but there were several questions that he didn't ask us and they took the most time. These were calculations on fuel, distance and positions and hard without a calculator but I managed 96%.
All the fog had lifted around the island and although we couldn't see the mainland, we had a good view of the island. Its diverse landscape ranges from jutting volcanic peaks to gently rolling hills with red rock outcroppings. In some places, trees are dense and in others there are none at all. Brian, Shelby and I dropped the dingy in the water, mounted the oars and rowed ashore.
The water was clear and deep and the little area where we landed had giant orange starfish and all types of colorful crustaceans. We climbed to the top of the small peninsula where the camp tents for the resort had been and looked took some pictures in the setting sun. Shelby loved it and excitedly examined plants and identified birds. We hiked to a point above our boat where it was too steep continue and took some pictures.
Back on the boat, I fixed dinner and we enjoyed the food and conversation. We even tried out the boat's oven and made cinnamon rolls. Sleep came easy and the boat rocked gently all night. We all had vivid dreams and I dreamed that we were exploring the islands and found some old ranch houses and buildings that were partially under water. The interesting thing was that Rob didn't tell us that there had been cattle ranches on the island until the next day.
A morning fog was in but not heavy. The three of us rowed to shore again and hiked a good distance up and along an established trail. It was beautiful with trees, views, birds, and occasional evidence of the islands most prevalent animal - domestic pigs gone wild. Rob said they were left over from the ranches and that lately they had become a problem and efforts were being made to reduce the population. All we saw were footprints. We had a limited amount of time so hiked for 35 minutes and then turned around and went back. So serene, peaceful and yet full of natural life!
The trip back started out the same as the trip over with no wind and under power. Before too long, we came upon a huge school of feeding dolphins. The waters were boiling with fin tips and the occasional leap into the air. There were hundreds and hundreds of them. Rob took the helm and steered us near them while I went up and leaned over the bow. Dolphins were swimming underneath the clear water five abreast just ahead of the bow. The sight was cool! We also came upon a lone shark sliding along just under the surface. His dorsal fin was cutting a straight line while his tail fin carved back and forth. Not far away was a seal that appeared to be injured-the shark was probably just waiting for him to die before eating lunch.
Crossing the shipping lanes it was time to fire up the macerator. We dumped the holding tank and continued to hand pump water until it was completely clean. The wind picked up and we were able to sail on into the harbor. The total trip was about five hours. Nearing the harbor, Rob threw the buoy overboard and had Shelby skipper us to the rescue. "The person that often goes overboard is the captain because he races to correct a problem and gets taken out and the crew is who needs to know how to rescue him," said Rob. Shelby did a great job.
I docked us and the cleaning equipment was waiting. That's part of the trip-cleaning the boat for the next group. We cleaned the galley and head, mopped the floors, vacuumed the cushions and corners and then swabbed the decks. With the sails covered and the boat secure with spring lines (crossing dock lines that ensure the boat doesn't move much even with big tides), the course was completed. I borrowed a gate key from the office to take a shower, repacked my bag, thanked the staff, said goodbye to Rob, Bryan and Shelby and concluded my training.
One of the things I wanted to do while in California was check out some of the GMC motor homes that were for sale. One of them was down the road a few miles so I drove down to take a look at it. A bit pricey for the condition and it had a vibration. I drove back to Carpinteria and met Aunt Eloise and Brady and Carolyn for ice cream at Fosters. Afterwards, we went to the beach where several of their friends were spending the Labor Day weekend and had built a huge bonfire. We visited, ate and watched the fire til late in the evening.
Next morning, we all had breakfast at IHOP and I started the journey home. I put the top down as I started down the coast. The air was cool and I had the heater on high. The fog was burning off; there were boats on the water and over the ocean at the same level I was driving was a vintage WWII plane flying over the beach. It was a beautiful scene.
Minutes later as I motored through the orchards and vineyards between Santa Paula and Santa Clarita, the temperature rose dramatically. It was a beautiful drive however and I left the top down til Magic Mountain. The rest of the trip was a long haul with the only stop in Las Vegas at Inn & Out Burger (couldn't find one in Santa Barbara) for lunch. I arrived home by 11:15 p.m. and the trip meter read 735 miles from Carpinteria.
Learning to sail was a wonderful experience. Similar to learning to fly, it requires managing physical as well as mental resources. It is the type of experience that stimulates all the faculties and sharpens focus in every area and keeps us young. After ten days of a challenging new environment, I was able to think clearer, had more energy, and was ready for any challenge.
The ocean is like discovering a completely new universe. One teeming with underlife and a hidden terrain. Sailing glides us along above that world with it's vastness and complexity showing itself every once in a while with a pod of dolphins or sea lions. The more time you spend, the more interesting and intriguing it becomes as new discoveries are made and the mysteries begin to unfold.
A couple of weeks earlier, I was at Beak Lake with my brother Ben. A huge wind came up and all of the boats on the lake were high tailing it for the only protected marina on the lake. I was maneuvering his father-in-law's new Cobalt between the docks and other boats and it required all my concentration to keep clear of them and the rocks without being blown into other boats. A large sailboat with several people on deck sailed into the marina and right into their slip, completely under sail. "That's magic!" I thought. After ten days at the Santa Barbara Sailing Center, I know exactly how it was done.