AirVenture 2000
July 25, 2000
It's a Tuesday morning and I'm sitting with Dave Hilton just off the east end of runway 27 at Oshkosh, Wisconsin. The morning breeze is blowing and when the sun goes behind a cloud, it's actually a little bit chilly. We are surrounded by thousands of planes parked neatly in rows with tents pitched next to them. It was quite a sight descending in with acres and acres of planes stretching out to the side of the runway.
Dave had talked to me several months ago about the idea of flying his 1956 Cessna 172 to Oshkosh, the largest fly-in air show in the world. At the time, the idea seemed to carry a sense of adventure so I said, "Sure!". As the time got closer we roughly calculated how much it would cost and what our itinerary would be. As the events of the summer unfolded with other commitments shifting around, the week of July 24th stayed open so we plugged the hole with solid plans. With two busy schedules, we kept trying to arrange a time to get together to finalize details but never could.
One wrinkle developed as Mom was back in the hospital on Friday. We were arranging for her to come to my house to convalesce and I mentioned that I would be out of town all week. When they asked where I was going, I just said, "I'll be away." Not knowing what to say and not wanting to tell them because I didn't want Mom to worry or Dad to feel bad. They kept asking questions to which I gave evasive answers. When Dad asked if I was going to Kathmandu, I smiled and he said, 'That's it!' By the time I left, they had determined I was only going to be gone a week and so that wasn't enough time to go to Nepal.
Anyway, with Dad and Mom at my house, I just had a few minutes to slip by Dave's and arrange for last minute details. I walked in and the floor was covered with aeronautical charts. The length of the trip suddenly became more apparent as it stretched from the kitchen table all the way to the fireplace. We looked over the route, talked for a few minutes and then agreed on a home departure time of 4:45 a.m. Mike came over to burn some CDs; Kristin stopped in and Mom and Dad were there. Mike and I played guitar and we all had ice cream and cookies. It was a nice evening. Kristin left at eleven and I started packing. Tent, sleeping bag, pad and a few light shirts and shorts.
Promptly at 4:45 Dave pulled up in this Blazer and I was waiting on the curb. A half moon was high in the east sky and the stars were out. At the airport, we pulled up to the plane so the headlights would illuminate the cobwebs and went to killing spiders. Provo has lots of bugs being by the lake. We killed 'em all--inside and out--did the preflight check, and taxied towards the runway. It was 5:30 and the silhouette of Mount Timpanogos was emerging against the eastern sky as it started to get light.
Dave's plane is basic flying. It is a 145 horsepower C172 that he paid $14,000 for several years ago. Although the orange and red cowling is faded a little and the tail is still an unpainted silver, it runs like a champ. It popped right off and as we did the run up, the engine purred with a deep rich sound. With full throttle, we accelerated down runway 13 and slowly lifted off. We gradually climbed circling over the lights of Provo and headed for the canyon of light towards the east.
Due to the full load of fuel, our packs, food and ourselves, the climb was a little slow. My flight instructor had told me to be around 9000 feet altitude before starting through Provo Canyon but we headed into it at 7000. The air was smooth and at 7000 we could still look down on Deer Creek at the top. The swirling rock patterns of the walls of the Canyon were spectacular and so was the fly by of Bridle Veil Falls.
The dusky dawn began to reveal more landmarks below as we passed Park City and Echo Reservoir. With a few clouds in the east, the sun generated a deep read sky. At the horizon the sky was clear and the sun punctured the dark earthline with a brilliant sliver of orange fire. It continued to rise a complete globe and then disappeared as it ascended into the clouds. To the south we could see the high Uinta mountains with their rounded, treeless tops and occasional patches of snow. Dave found a radio station and pumped it through the headsets and music illuminated the view.
Into Wyoming and miles and miles of desolation. Barren landscape with very little vegetation. Smoke ascended from some large plants that were surrounded by trenched mines and colored settling ponds. With the sun higher in the sky, the land below showed more contrast. South of Casper there were dark rock mountains and vast valleys of brush. Further east were streams, ponds and a spider web of cattle trails leading to watering holes. Then mountains with trees, the occasional ranch house and rivers with lakes.
Western Nebraska was prairies and gradually turned to farmland. Our first fuel stop was Chadron, Nebraska. Dave had wanted to make it to Gordon but the notices to airman (NOTAMs) said it was closed. As we circled, the runway was surrounded by hay and grain fields with big one ton bails scattered about. The shorter runway was closed with some construction going on but winds favored the longer one so we landed and taxied right up to the pump.
One of the cool things about flying is being able to take off and then descend to a place that is completely different. With the engine off, the total silence of the Nebraska countryside, the sun, the smell of the fields--all are immediately apparent to the senses. I love that 'suddenly transported to nowhere' feeling.
We fueled up and checked the weather. A live weather station in the small office showed radar and satellite pictures of a thin line of moisture ahead of us. There was one large cell to the north of Sioux City that we could go south and miss. The weather briefer told Dave it would be pretty easy to pick our way through it.
Fuel was expensive at $2.40 per gallon but I couldn't help but notice the rental rates were low--a Cessna 150 was $38 per hour and a 172 was $46. Dave said those prices were ten years old.
Back in the air we could see a line of dark clouds to the northeast. We picked a southerly direction and headed that way until we saw an opening and zig zagged north again. Ahead we could see two layers of scattered clouds and decided to drop below the lower one which put us at about 1500 feet above the ground. 'Scud running' -- it's the best view for flying. You can pick out the machinery in the farm yards.
We worked through the clouds with very little turbulence but then spotted a dark one just ahead. Dave radioed Flight Watch, told them our position and destination and they recommended we head southeast. The cloud was the only one in the area and we could divert around it.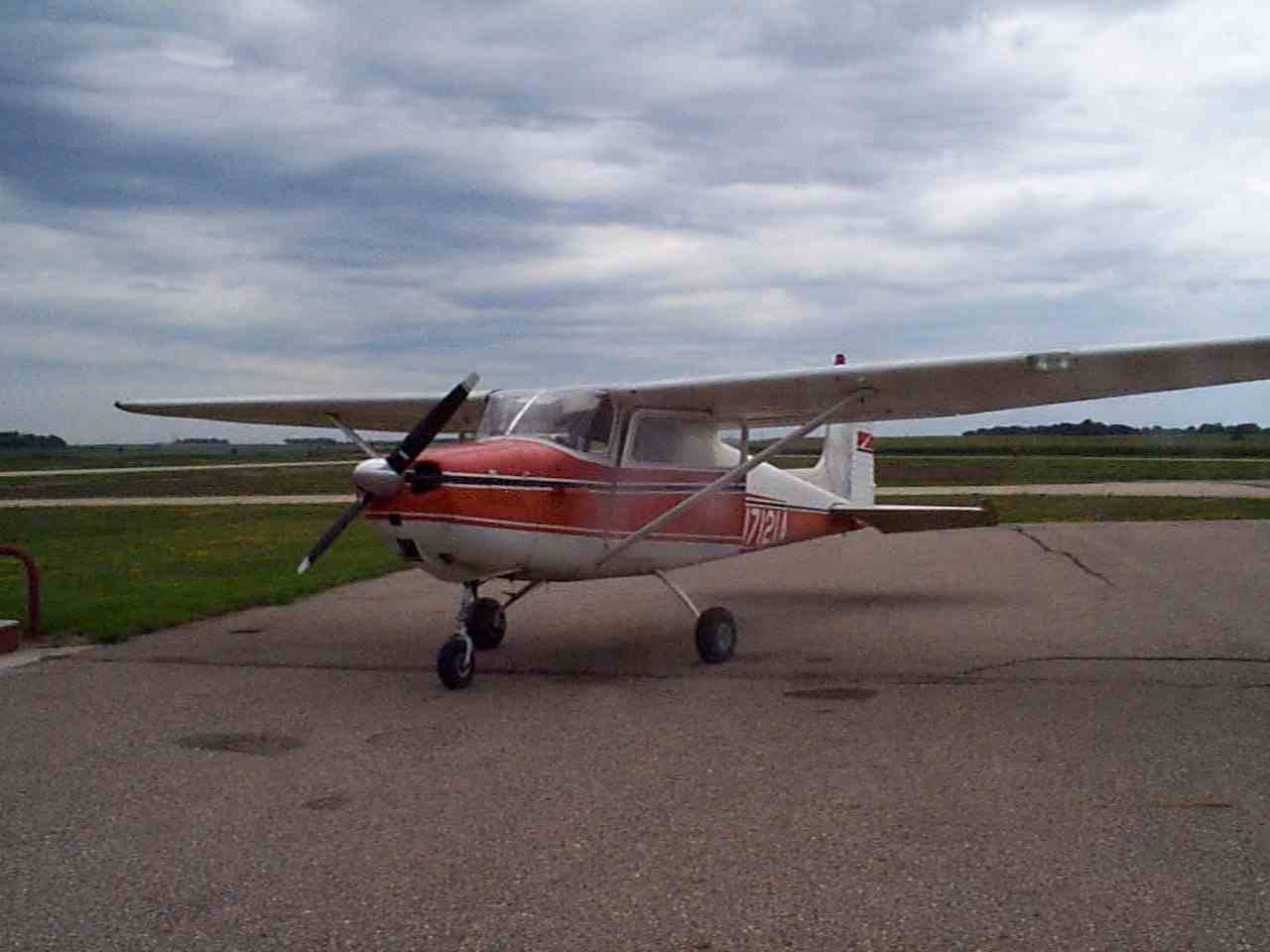 Fuel was running a little low so we decided to set down at a place called Sac City, Iowa instead of our original destination, Fort Dodge. I would pick a destination on the map, key it into my GPS and it would immediately indicate the distance to the airport and how long it would take given our current rate of speed towards the point. Dave kept an eye on the fuel gage and his watch. He figured five hours of flying per fuel up and we landed with just under 30 minutes of fuel left.
Sac City was a corn field--again almost total silence. A guy in jeans and a T-shirt appeared from the shop and fueled us up while we used the facilities and checked weather. The black cloud we could see to the north was the only one in the area so we took off, headed around it and dialed in a course for Oshkosh.
Originally we were going to make the trip in two days but with the momentum we had gained so far with 140 mph speed, we decided to shoot on in with a little over three hours to go. Dave wanted to avoid buying fuel at Oshkosh because of the hassle and expense so we picked a spot just across the Mississippi River and up the Wisconsin River called Boscobell for a gas stop. Flying across the Mississippi River at Pierre du Chein it was wide with a delta of riverlets that coursed through trees and ponds. The water was dark and still.
Boscobell was next to a highway so it wasn't as quiet. The old gentleman that waited on us was warm and cheerful. "Pay my wife inside," he said. A Mooney flew in behind us--two men, one with an accent and one that didn't speak English--from the Bay Area in California on their way to EAA.
EAA is the sponsoring group for AirVenture 2000 or Oshkosh. Experimental Aircraft Association…. They claim their roots with the Wright brothers and encourage everyone to learn the principles of aerodynamics and acquire the skills to build and fly their own planes. Everyone comes--whether you build your own plane or not--but that's the origination of the event.
Our turns (turn around - in and out of the airport) were averaging 15-20 minutes and we were soon winging a circle over the Wisconsin River and dialed in on the last leg.
The approach and arrival procedures for Oshkosh were all spelled out on the Internet. Approaching aircraft were to enter in over the town of Ripon and then follow over the railroad tracks at 1300' and 90 knots. Planes were to line up in single file, nose to tail and follow the tracks to a flashing strobe. As we approached the strobe, the controller was identifying the aircraft by wing, aircraft type and where the landing light was. "High wing Cessna with landing light in the left wing, what runway would you like?" he said in a clear but rapid manner. We had been listening to other directions and chose runway 09 as it was a straight in shot and the winds seemed favorable. A slight turn from the tracks to the right and we were lined up with the runway.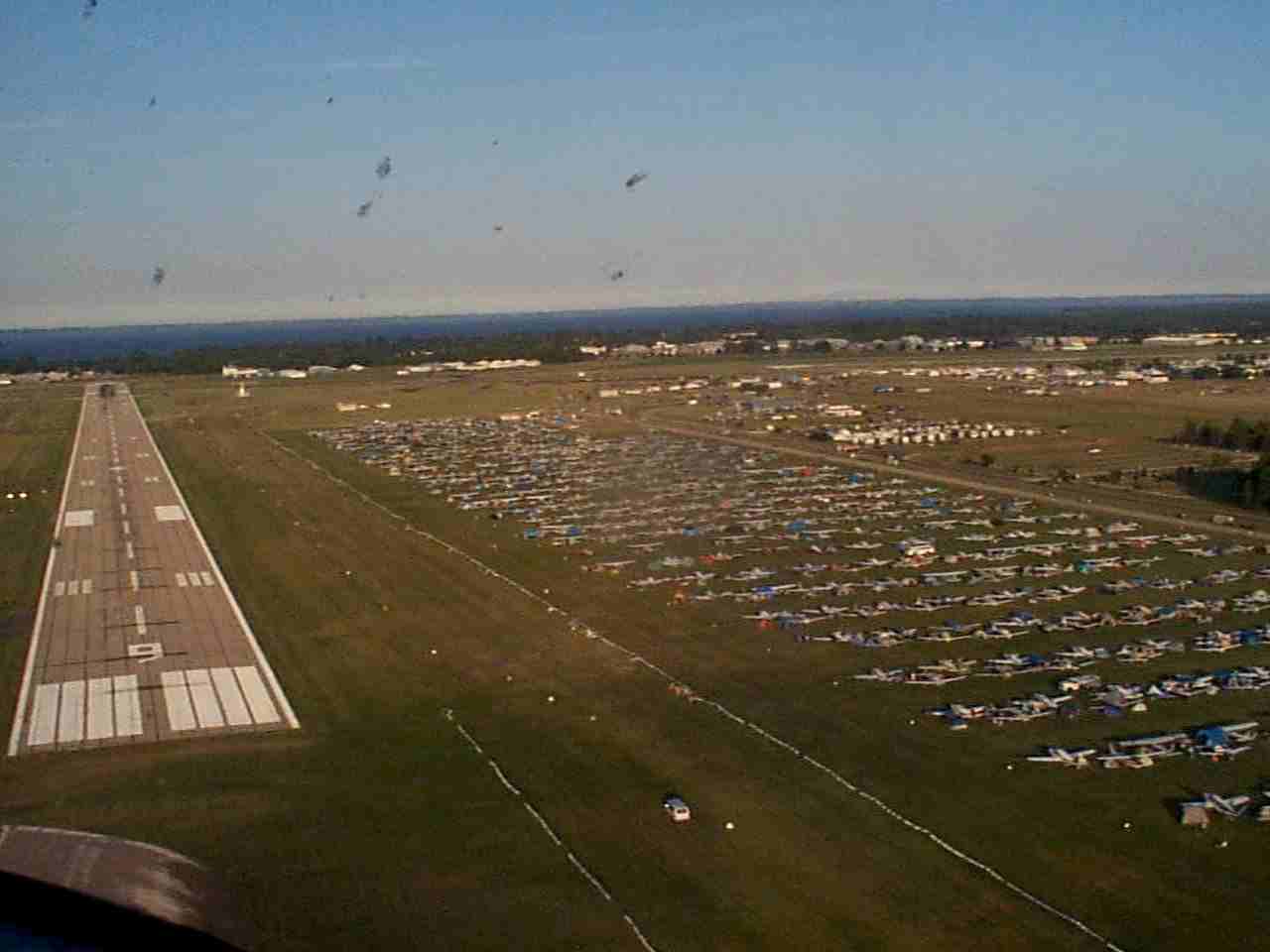 What a sight! To the right of the runway, we could see thousands of airplanes parked neatly in a grass field with tents pitched around them. The runway was lined with people in chairs and on the grass watching plane after plane touch down. Dave greased a nice landing and we turned off at the first runway exit.
Immediately flagmen in orange vests directed us off the tarmac and onto the grass where we followed the line of planes to a parking spot. We held up a sign which said GAC for 'general area camping' and were directed to a nice grassy spot not far from toilets and showers. Volunteers were there to greet us and give us a ticket number to pay for the camp site.
We, and those that had just parked around us, exchanged greetings and then began pitching tents and staking down planes. Two planes over was a twin Piper Senaca with "Utah State University' emblazoned across the tail. It was a student and instructor out for a few days. We finished camp set up and ate a couple of MREs (meals ready to eat) that Dave had picked up. Planes continued to touch down one after the other until 8 p.m. when the runway was shut down for the evening. We walked around for the evening and looked at some of the warbirds that had come in and the displays that had been set up. As we settled in the tent for sleep, Dave said he was still flying the plane when he closed his eyes.
The show actually didn't start until Wednesday so Tuesday we registered and walked around looking at military planes, kit builts and all the production planes that had flown in. In the afternoon we visited the EAA Museum that is located onsite. It was an excellent history of aviation with displays from the Wright Brothers all the way up to the latest concept jets. Educational displays on aerodynamic principles, design, props and engines, real vintage military planes and current aerobatic models. Good movies and even a life size replica of Anikin Skywalker's pod racer!
That night was Theater in the Woods and we listened to Dick Rutan tell about how he had flown to the North Pole and the plane fell through the ice. Pretty entertaining as a speaker. His mom had taught that 'adventure is the essence of life' and encouraged them to be adventurous. He has designed many kit planes and designed and flew the plane that went nonstop around the world--the wings, struts and fuselage were one giant fuel tank.
After him, Bill Lishman gave a presentation on his bird and crane endeavors. He showed a lot of slides and painted a compelling picture for their projects. We walked the mile or so back to the tent, then another half to Hardees for a burger and then to bed.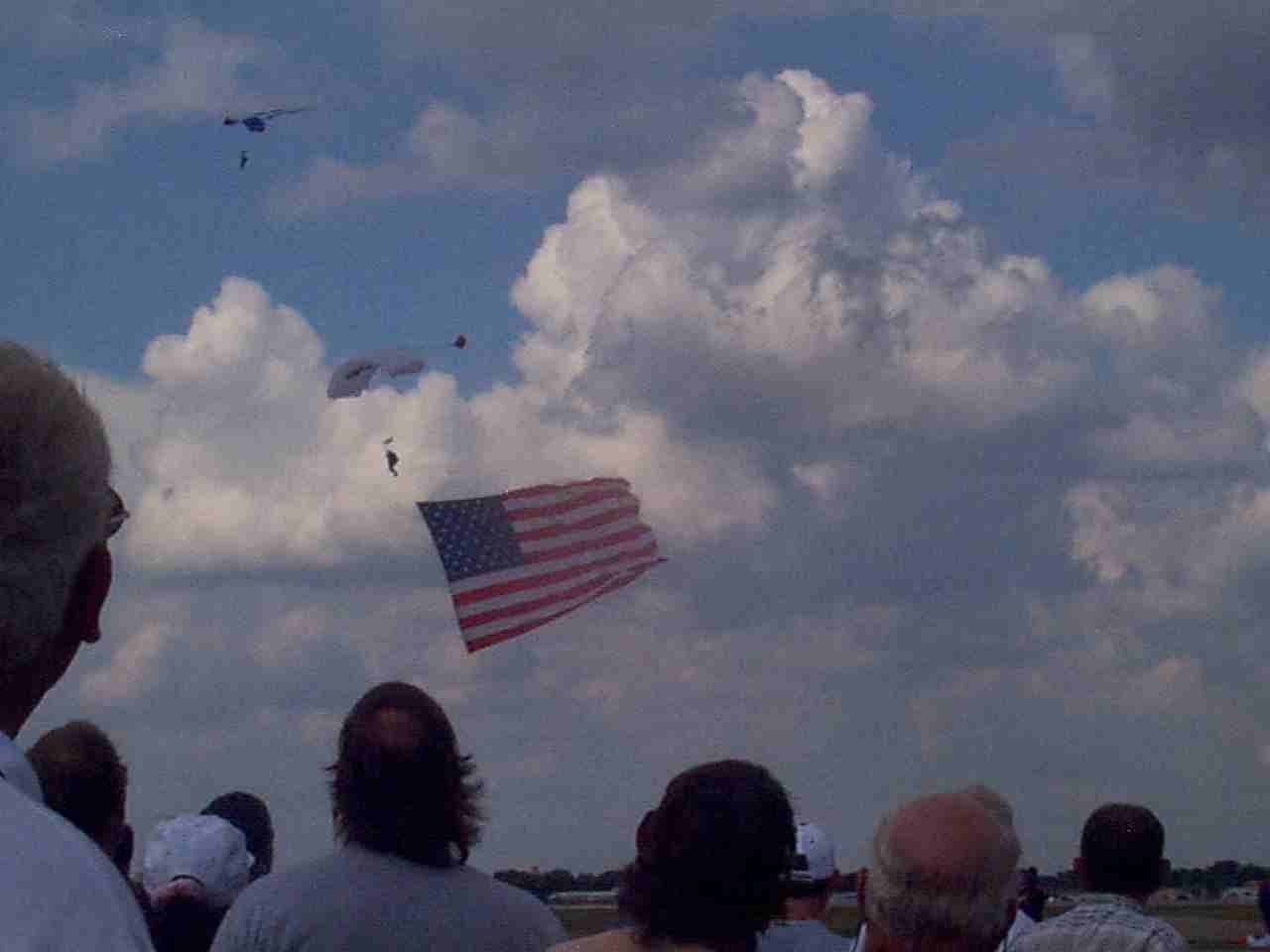 Wednesday we officially hit the show attending some of the forums. Topics included home built guidelines on welding, fabrication, composites, etc. I skipped out and looked at all the new airplanes on display like the Lancair Colombia 400, Cirrus SR20 and a slew of kits and concept planes. I walked through a C-130 transport decked out with skis for Antarctic rescue and poked my head into Jimmy Buffet's Caribbean decked Gruman and collected a tacky guitar pick.
The afternoon from three to six was spent laying on the grass at the flight line watching stunt flying. Parachutists, wing walkers, low wing stunts, formation stunts and current greats like Sean Tucker and Patty Wagstaff. The weather was sunny but not hot and I dozed between exciting acts. The evening's entertainment was mainly awards and didn't look that exciting so we walked towards town and found a Chinese buffet where we stuffed ourselves before going to a movie. The movie was Disney's 'The Kid' about a 40 year old guy who meets his childhood self. The little guy says, "I don't have a dog or a family and I don't fly jets--I'm a loser!" Fun show with a theme fitting the week.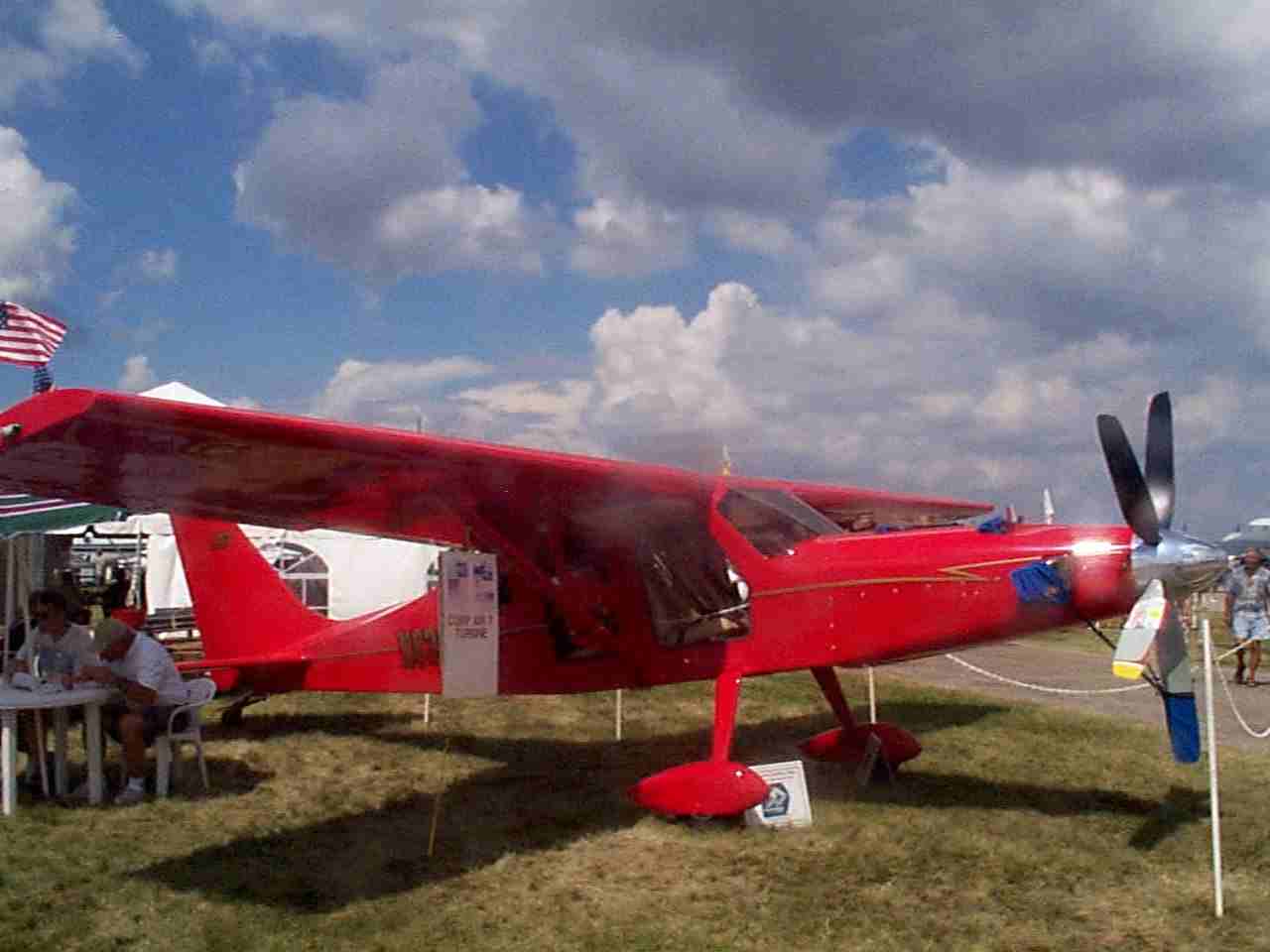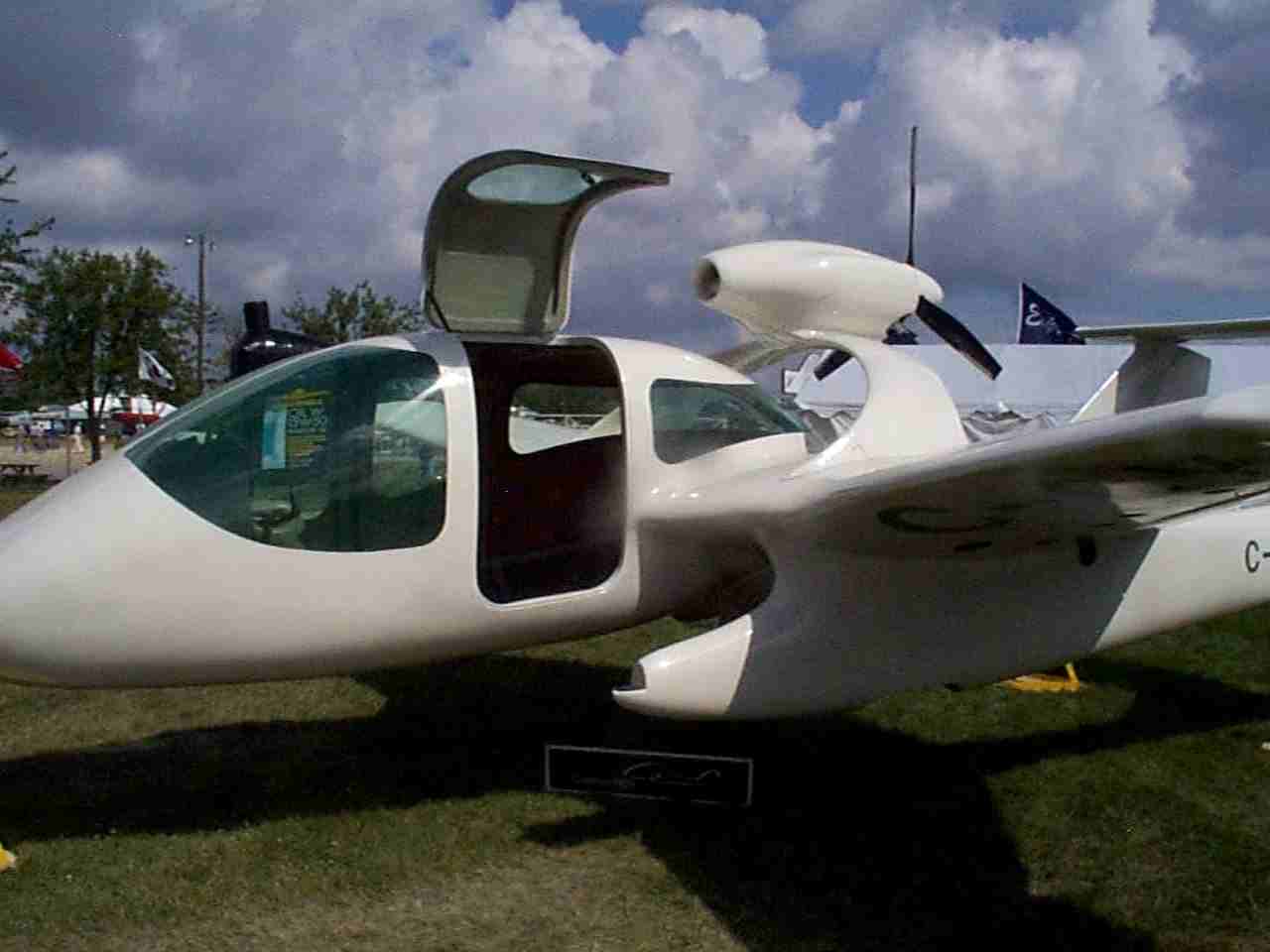 Thursday we go up early and hit forums on ski and seaplanes and then on the VAN RV kit planes. I was armed with my camera and took pictures of cool planes and concept designs. The Eclipse 500 composite jet, the new production planes plus a host of wild advanced concepts--many of them one of a kind that do or have flown. We split up and I cruised the 'fly market', a swap meet area where you could buy anything from portable chairs for the show to used wing tanks. Controls, radios, engine parts, tools and even welders were being haggled over.
At three we met on the flight line for the afternoon show. Right at 3 p.m., two P-51 Mustangs in perfect formation shot the runway and banked in front of the tower. It was General Chuck Yeager and Colonel Bud Anderson. The afternoon's air show was similar to the day before but with a lot more energy. Lots bigger crowd and it started with an aerobatic free-style competition between seven of the best. Sean Tucker just does it better. His black bi-wing Pitts-like plane just seems to dance in the sky with effortless ease in some of the most exotic maneuvers.
A couple of highlights were the Bud Light microjet--a plane smaller than the Miata that rocketed down the runway at about 3 feet off the deck. It appeared to be silent until it went past. Another great act was an old Waco biplane that had been retrofitted with a jet engine mounted underneath. It was awesome! The pilot pulled it into a climb under prop power and then engaged the after burner to sent it straight up and up and up. You could tell he was running the prop and jet separately and only went ballistic when he was going straight up or level.
Just as the Northern Lights (a formation stunt team) were taxing out a storm hit and everyone scattered. The rest of the show was cancelled and we hung out in one of the café tents till it quit raining. After the rain, the evening sun came out and it was great light for taking pictures. We wandered the warbirds snapping frames and then leisurely walked back along the flight line and marveled at the coordination of departure and arrival traffic. Guys in orange vests and scooters would find vacant camp sites and then race to the runway exit area where they would escort new planes to the empty spots.
After dinner, we walked over to Piggly Wiggly (a super market) and Dave suggested another movie. Tonight was 'Gone in Sixty Seconds', a Nicholas Cage drama about boosting (stealing) 50 exotic cars in one night.
Friday we awoke to the drone of planes taking off overhead. The sky was gray and misty and most planes must have been flying IFR (instrument). (As I'm writing this, it's starting to rain and I crawl under the wing of a gleaming silver P-51 for cover.). The first interesting session was Chuck Yeager and what a treat! He is one of those rare individuals that seems to have lived the essence of life. He seems perfectly at ease and satisfied with 78 years of life. He is incredibly alert and aware, remembers names, details and processes with ease and precision and is funnier than funny--a master story teller.
He and Colonel Anderson swapped stories on B-17s, WWII, P-51s and test piloting. Both were interesting, entertaining and seemed to exude the confidence and peace of a life well lived. My favorite story was the one they told about their last flight of WWII together. They were spares (self assigned) and accompanied the squadron across the English Channel (that's all they needed to do). Instead of turning back, they flew to Switzerland, Italy and France with Yeager showing where he had been shot down and escaped. They dropped auxiliary fuel tanks and shot them up over Switzerland (highly illegal) and generally had a great time screwing around all day. When they got back, everyone was waiting for them and they found the squadron had shot down over fifty enemy planes--a record--and all wanted to know how many they had got to add to the kill total. They had missed the best battle of the war so far!!
Other sessions we attended were Philip Lockwood who supplied and flew ultralights for the Bartletts (?) photographing elephants in Africa's Skeleton Coast. He also built Aircams (dual engine ultralights) for other National Geographic projects and flew them in Namibia. Harsh conditions! Another session was 2 Minnesota couples that flew a float equipped Cessna 206 to Antarctica and back stopping in or flying over every Caribbean island and Latin/South American country on the way.
The afternoon airshow was more stunts plus a formation of Red Baron biplanes from WWI. The jet powered Waco was augmented with a wing walker--father son duo with son on the wing. After three days, I was about full of aviation. Dave was just getting warmed up. He stopped by the ultralight area and has narrowed his selection for purchase down to two! He was hoping for a ride but the weather conditions weren't too good. Dinner at Subway and then we discussed options for departure depending on the weather.
Saturday morning, still IFR conditions and lots of anxious pilots. Planes have been sitting on the departure ramp with engines running for hours. I walked over to Piggly Wiggly, got some fruit and nuts and called home. On the way back I talked to pilots listening to departure radio--IFR pilots won't get out till after the afternoon airshow unless VFR conditions come which is projected. Dave was confident we could get out but I checked Greyhound just in case and could be home in thirty plus hours.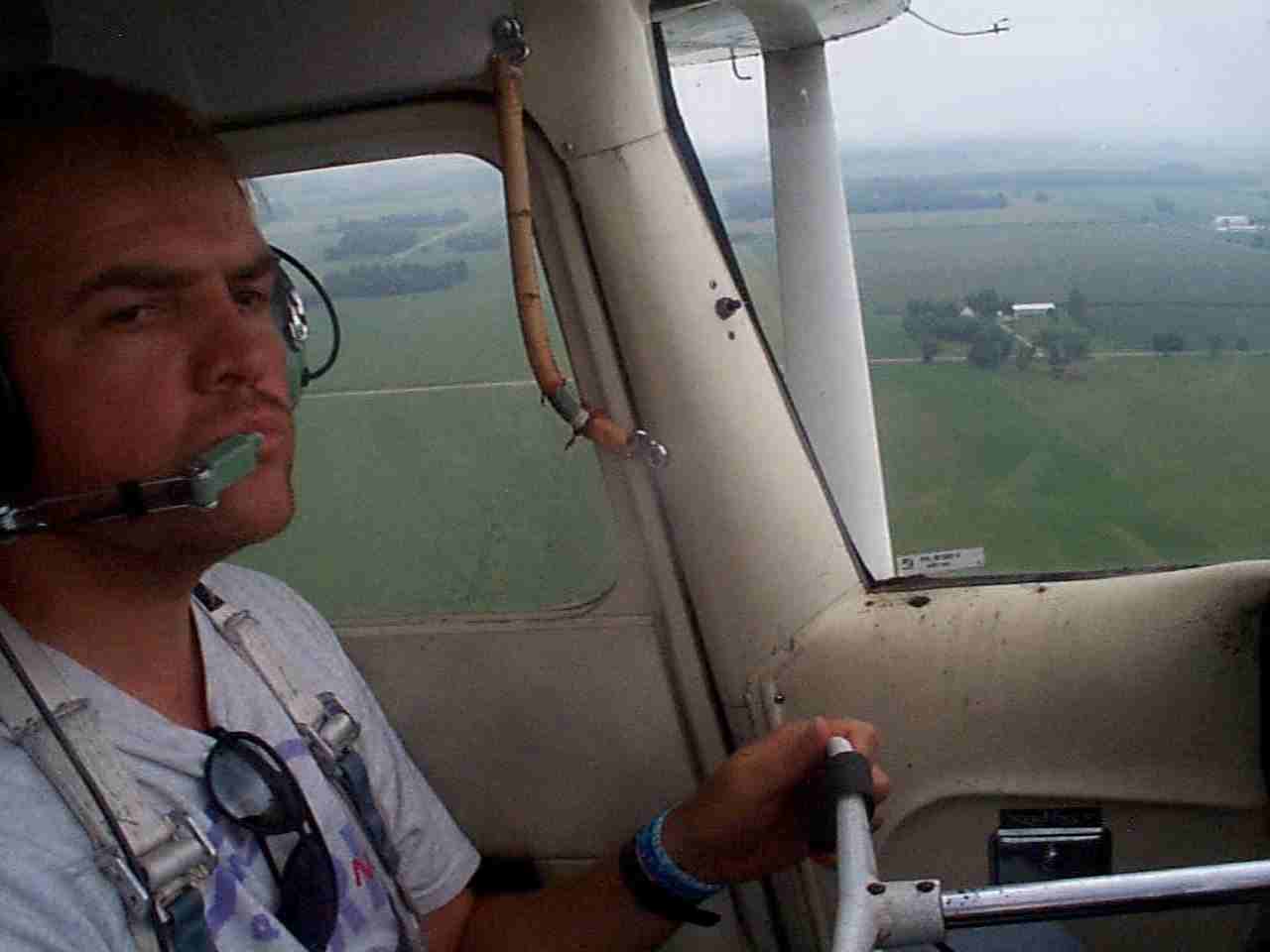 The weather kept shifting between VFR and closed conditions. There were planes lined up for miles but about the time we decided to make a break for it, VFR opened up and so did the runway that we were camped near. There were only about five planes in line ahead of us and we were off ten minutes after starting. Extremely lucky.
It was still misty and cloudy so we headed east over the lake. We were instructed to fly out five miles but the plane to our left turned off and we circled back so we could see the shoreline. With the clouds we hung at about 800-1000 feet above the ground. It was easy to follow the lakeshore until we got the GPS going. Then it was scud running all the way across Wisconsin. Great flying at the altitude! Everything is so visible and the sense of speed is very apparent. Wisconsin was beautiful--especially the area east of Lacrosse with rolling hills, trees and beautiful farms.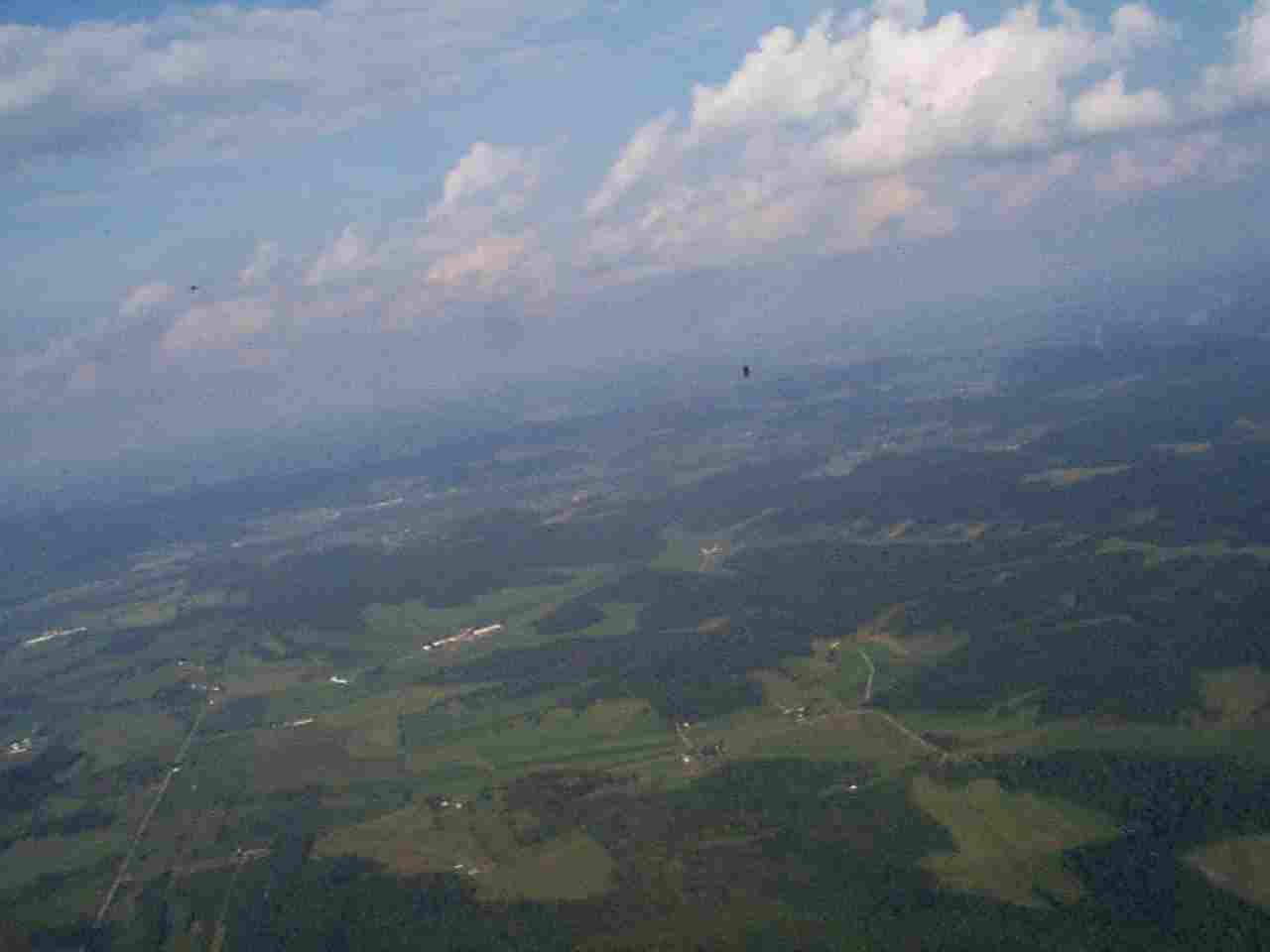 The question was whether to go to Nauvoo or not. Dave had looked at weather charts and they showed clouds and some rain activity over Illinois but the western tip at Nauvoo was clear. After takeoff, we went west for a while hoping to pop out of the soup and then head south but we never did. We kept on west, crossing into Minnesota. Here the farms were flat but punctuated with lakes and just as beautiful. We finally fueled at Fairmont, MN--just as we crossed Interstate 90. Another cornfield but they had had lots of Oshkosh visitors already that day. They said we should fly around the Corn Palace in Mitchell, SD which we did--that was a big thing for them to go and see. We showed them where we were from in Utah on the map and they said, "Look at those mountains! I don't even think our planes would fly that high!"
A straight shot across South Dakota along I-90. The farms got less green and eventually gave way to cattle ranges. By now the clouds were gone but there was a thick layer of haze that we skimmed along in. We were able to maintain an airspeed of about 120 mph which was good going east to west. As we approached Rapid City, we could see the Badlands to the south. It looked like someone had dumped a giant tank of water over a sand area and the resulting run off pattern was what was left.
Rapid City is a larger airport with a tower. As we taxied up the ramp someone was right there to guide us to a spot. Dave said, "I had a bad feeling about this." And he was right--gas was $2.68 per gallon--four cents more than Oshkosh. We fueled and I popped popcorn in the microwave. If we couldn't see Nauvoo, maybe we could console ourselves by eating popcorn and buzzing Mount Rushmore.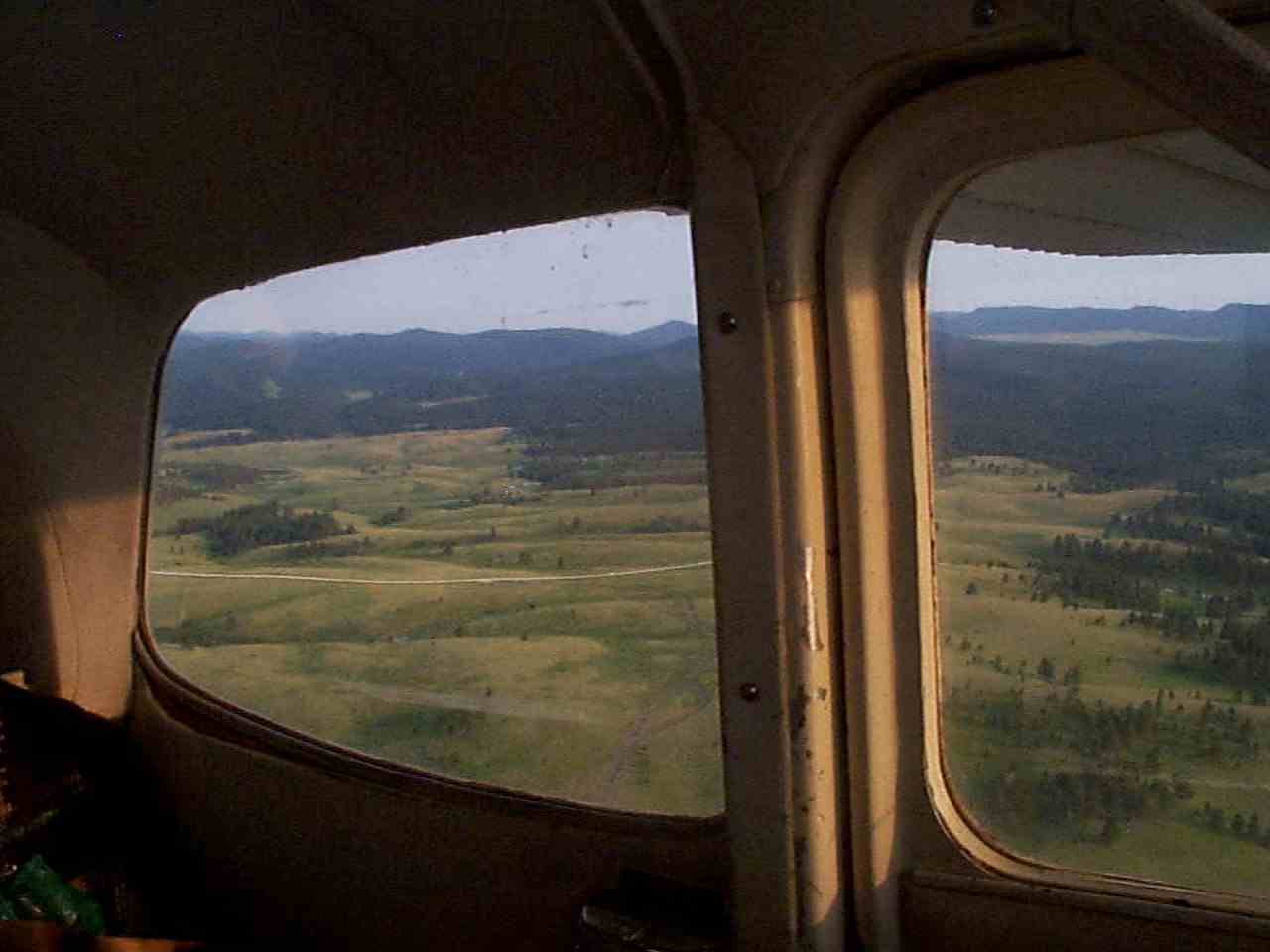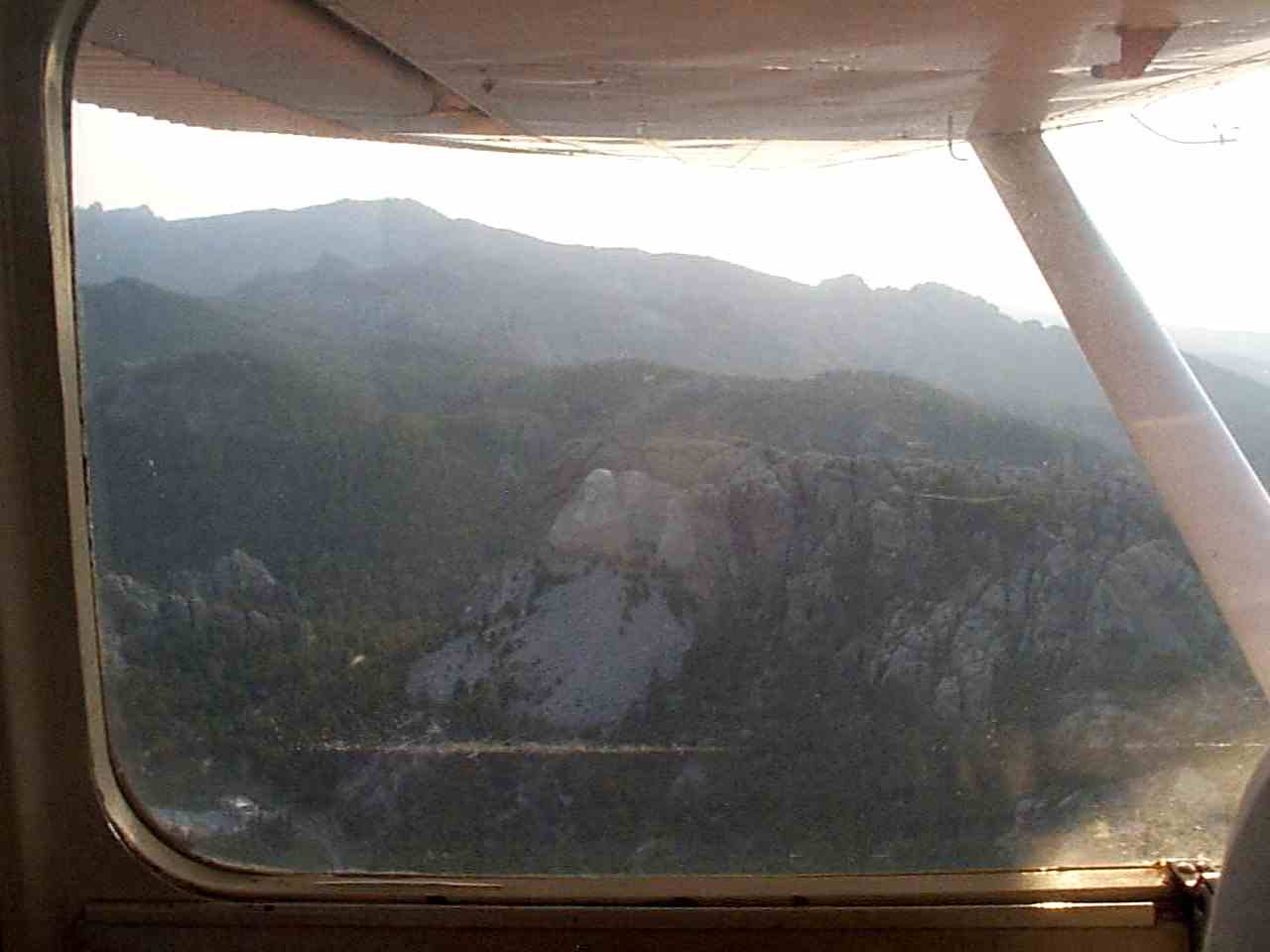 Just south of Rapid City the terrain changes dramatically from barren wastes to dark treed hills--the Black Hills. Beautiful rolling elevations with green grass valleys. We circled Mt. Rushmore (probably a little lower than legal) and snapped some pictures. Someone had told us you could see the carving of Crazy Horse from the same point to the south but we couldn't find it.
On over the Black Hills to the west, drinking in the beauty of the dark and light green, to the western edge and then headed north. The evening sky was full of smoke from the fires that have been raging through Idaho, Wyoming and Montana. The sun was orange with still an hour before sunset. In the distance we picked out a distinctive hump through the haze on the horizon and headed towards Devil's Tower. Even from the perspective of the air it is still striking. Like a giant column of rock that spouted upwards with nothing else around. The angular shapes of the rock columns almost look manufactured.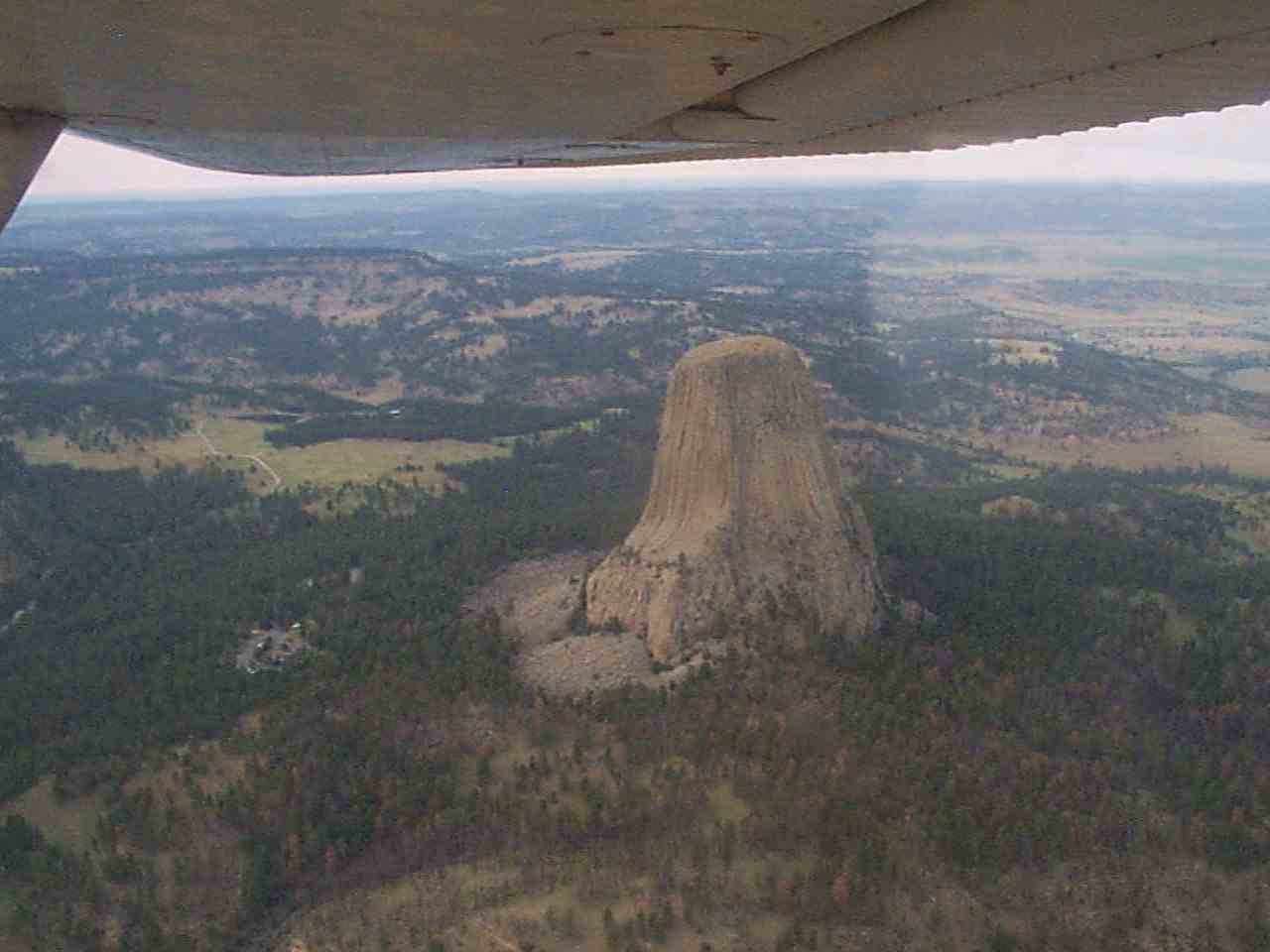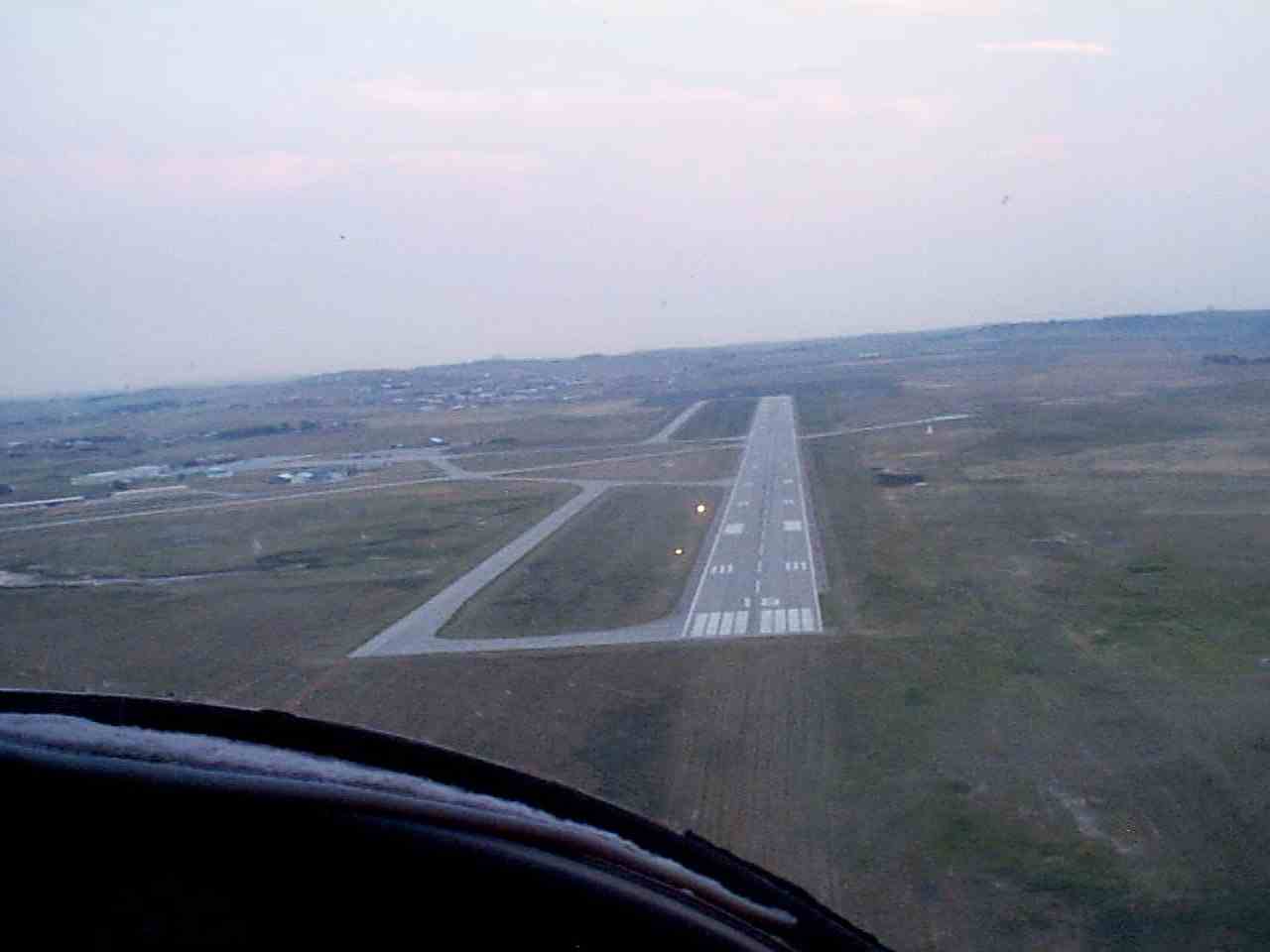 We set heading for Gillette--another tower controlled airport--and landed just as the sun was setting. Coming in we flow over six or seven open pit coal mines. From the air you could see the distinctive coal seams and in some places they looked just like black pools of water. We visited with a local that had been out doing touch and goes and then pitched the tent on the ground behind the plane.
Next morning was Sunday and we were both hoping to make it home for church. We got up at 5:45, quickly broke camp and ran through the preflight. The engine popped right off as usual but it wasn't running very smooth. "Some bad fuel maybe," Dave said. "It's happened before and eventually smoothes out." We taxied out, did the run up and it sounded a little better but as we lifted off we weren't getting normal power and there was a definite vibration. We called for and received permission to land and taxied back to the ramp just as the sun came up.
Gillette is a pretty desolate place. No mountains in sight in any direction and the surrounding dune-like hills are gray. Jack rabbits on the runway and I spotted a few deer off to the east. What to do? A lineman came in to fuel a United plane for a flight that day and he said a mechanic would be in later. Dave called Scott, his partner and the mechanic back at Advantage Aviation in Provo and he didn't recommend trying to limp it home.
We walked around, ate, wrote, read and finally the mechanic showed up. He ran a compression test and said that one of the cylinders was showing no compression. He had to get out another plane first so we idled away some time till he was able to 'stake a valve' and assured us that the cylinder was bad. He could get one in in a couple of days , it would take over a week to get it fixed and will cost $1800-2000.
Dave called one of the linemen in Provo and cut him a trade of his plane to fly up and get us. That was at about 10 a.m. and when by 4 p.m. he wasn't there, we called Provo to find out that he had been stopped by bad weather in Rock Springs and was headed back. We had two options. The bus took 36 hours and would cost us collectively $220 or we could rent a car with a one way drop in SLC for $300. We were still 428 miles as the crow flies from home and 550 by car. In the end, the car was the best choice so I used my Hertz gold and picked us up a Ford Contour. AirVenture 2000 was now CarVenture.
Parts of Wyoming can be pretty uninteresting but there is also some fantastically beautiful country. We drove to Buffalo and then cut over the forested Big Horn mountains down to Worland. We stopped at Thermopolis and walked the hot pools and stuck our hands in the 135 degree water. Neither of us had much pressing Monday so we found a cheap motel in Lander, had a hot shower and a good nights sleep. During the drive we discovered that Dave and I might be related though the Parker line. We covered a lot of subjects while cruising at good speed and by noon were dropping down the canyon to Salt Lake. Ben picked us up at the airport where we dropped the car and then took us to Orem.
There were some interesting observations about Oshkosh. First, I was impressed with the crowd. People were very friendly--everyone had a common love for aviation. There was NO litter. People's campsites (and planes) were immaculate--I even saw people voluntarily picking up the rare piece of trash and disposing of it. And everything was precise and organized. As a result, everyone seemed to be relaxed and enjoying themselves.
At Gillette, there was a small caravan of Cessna 140s that were trying to go home to Portland. All the planes looked brand new even though they are over 50 years old. They had tried to go west but couldn't get enough altitude to get over the smoke so turned back for the second time and were looking for a hotel. The one fellow quipped, "You gotta love Oshkosh. Every year it ends up costing me thousands of dollars. That makes a real man out of you!" As he was walking out the door to the hotel bus I queried, "See you there next year?" "Absolutely!" he replied.