King for a Day

August 27, 1998
There's a lyric from a song by the Thompson Twins that goes, "If I were king for just one day….."
OK… so my boss Ed was going to be in Australia at the same time I was. Maybe I could just spring it on him then. "Ed," I'll say, "Did you ever date someone and the more you dated her, the more you realized it just wasn't going to work out? Well, I have been dating Novell for going on four years and I just really don't want……" But it didn't happen. No time to really spend with Ed in Australia.
I was prime and ready to quit. On the first day in Sydney, my blocked stock options were released and I sold about two thirds of my stock. I have a bunch more but the four years required to vest most of it seems like an eternity.
Back to work in Orem and there were so many things going on that I just couldn't bring myself to 'break up'. For one thing, I was thinking I had a chance to get Messaging Server given away for free and that was a challenge worth staying for - a challenge against all existing momentum, politics and bureaucracy that would actually be the right thing for customers. And, I was already committed for the analyst tour on the east coast for a week and then to do an analyst day in London.
I returned from the analyst week on Friday night. The highlight of the week had been riding in the new loaner corporate jet. It was a glossy green Challenger that was completely decked out with flower carved carpet and a stewardess that served flower arranged fruit on a silver platter. At four a.m. on Saturday I was busy walking the rows of peach trees at the Church orchard taking an irrigating turn. The rest of Saturday I was preparing my talks for the next day. Sunday started with meetings at 7 a.m. followed by a speaking assignment, a correlation meeting, a priesthood meeting, another correlation meeting, a quick nap, home teaching, a presidency meeting, and then ward prayer followed by packing.
No upgrade seats were available on the domestic segment or over the pond to England so it was coach seating the entire way. I finished reading the book on the product Border Manager, read several magazines, did e-mail, and dozed off and on through the short night. I arrived feeling grungy and absolutely sick of work. As I looked at my itinerary realized that there were no hotel arrangements. Somewhere in e-mail I recalled that there was to be a car waiting and I just hoped that there actually would be and that the driver would know where I was supposed to be staying.
As I cleared customs and walked into the crowded throng that surrounded the arrivals gate, I immediately spotted a red Novell sign and ambled toward it. Being king, I suppose you would have a chauffeur. I made eye contact with the distinguished gentleman holding the sign and he broke into a smile as he asked, "Mr. Clegg?" I rounded the barrier and he reached for my hand and then immediately for my baggage even though it was only a rolling cart that I could easily manage. "I'm Tom Crawford with County Cars and I'll be your driver." He was an older man with graying hair and a stately presence. "You look very fresh for such a long flight," he complimented.
Tom escorted me across the street to the front row of the parking garage to a shiny dark blue Mercedes Benz. I instinctively walked to the right side and then noticed the steering wheel in what would have been the passenger seat. "You could driver if you like," he chuckled.
As we motored through the sunny countryside from Gatwick Airport, Tom explained his radio signal traffic monitor and pointed out delays ahead on the M25 motorway. No problem; he knew alternate routes. The day was sunny and 'fresh'. Fresh is the term used for slightly on the nippy side - sort of like the first indication of fall. Tom talked freely about the car (which I could tell he definitely took pride in) and about driving for Novell for the past several years. He had bought the Mercedes new last year and was thrilled that he had lowered his fuel costs significantly by switching to a turbo diesel that got 35-40 miles per gallon as opposed to the previous petrol model that got 14 to 16.
He established quickly the fact that he often chauffeured the real king, "Dr. Eric" as he called him, and told of recently driving him and his family to visit Cambridge. One of Dr. Schmidt's teenage daughters had relied on Tom's complete willingness to be of service and asked him if the British were generally obsessed with women's breasts. He had replied that generally in magazines it wasn't the breasts that the attention was focused to but rather the braziers that held the breasts up.
"They have you in a very nice hotel," Tom said. From crowded motorway to crowded motorway and through several round abouts we traveled. Morning rush hour traffic was still lingering and the thought of an entire world progressively congested in traffic kept crossing my mind. Between the villages of Bagshot and Camberly runs the A3, a two-lane but well traveled motorway. Tom turned into a small driveway that was flanked with a high stone and iron wall and suddenly we were in another world.
Manicured lawns and towering trees lined the winding roadway. He slowed to point out the wooded pastures and then the rolling fairways of a deserted golf course. In the distance were the ivy covered walls of the castle-looking Penny Park Hotel and Country Club. I agreed - this was a nice hotel!
We drove under a gabled archway and around the circular rock drive where he delivered me to the massive old wooden door encased in arched stone. He handed me his card and insisted that I call him if I needed anything at all.
Penny Park was built in the early 1800's as one of the many country homes of the time. The lobby is filled with period style furniture, the floors are tile and wood and covered with Persian carpets. The staff is trained in the Edwardian style (whatever that means). Grand stairways, original pastoral art, and distinctive dining rooms complete with large rock fireplaces.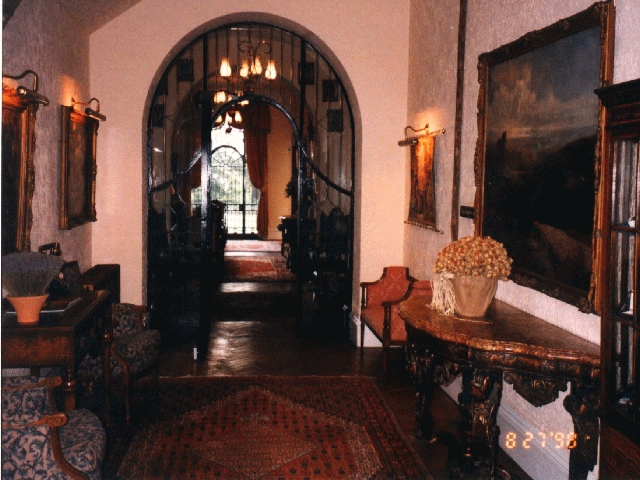 I was given the Cherry room which was up two of the grand stairways on the top floor. The view looked out over the lower roof line on the arrival area. Other rooms had views over the golf course and towards the lake. My room was very nice with wood carved ceiling, antique chest and amour and a comfy king bed. The focal point of the bathroom was the shower - a porcelain tiled room that was probably five by ten feet and was complete with a stained glass window. Brass fixtures controlled the large round shower head and the opposing rows of vertical shower bars. The bars were racks of tiny nozzles that sprayed horizontally from each side and provided a new showering sensation. Kingly… that's the only way to describe the towels and robes. I've never seen towels so large or a terry robe so thick - all embroidered with the Penny Park shield.
All that said, British television is pathetic. There are no channels worth watching except for CNN, Eurosport, and some BBC. Didn't matter - I had plenty of work to do with e-mail and getting ready for my presentation the next day. I was dead tired and took a nap setting the alarm and then resetting it twice before finally getting up. The cardinal rule in long distance air travel is to not go to sleep on the first day until it's bedtime in the country you're in. I had to have a little nap to make it that long and it was extremely hard to get up.
Towards evening, I went out for a walk and after scouting the grounds headed for the villages. The grounds included stables, a large outdoor pool, tennis courts, the golf course and a small lake for fishing. It all appeared deserted except for the staff who were always uniformed, attentive and greeted me at every turn. One fellow, who must have been the ranking hotel official, was decked out in full tuxedo complete with tie and gray cumber bun.
Leaving the grounds, the motorway traffic roared loudly with coaches (cars) speeding in both directions. I walked for about an hour and half taking in residential neighborhoods, schools, and the village center of Bagshot. Many of the homes, simple and small, were bedecked with flowers. Small yards that were no more than several feet across and a few yards deep were awash in multicolored floral arrays.
Back at the hotel, I tried out the shower bars and dressed for dinner. The dinning room looked too formal and too intimate for a solo dinner so I opted for the Ascot Bar. It is a large room with warm light, deep leather couches, and an older gentleman playing mellow music on the grand piano. I practically had command of the staff with only an older couple and a quartet of young Italians at a far table to compete for their attention. Salmon asparagus salad with a roast beef sandwich and a couple of ginger ales. I went to sleep immediately and woke up at six forty five the next morning.
One thing technology has done is made it almost impossible to be out of touch. With voice mail, e-mail, and conference call technology, no one would know I was even out of the office except for those there on my floor. By ten a.m. my presentation was ready and I was caught up (well at least as caught up as I wanted to be - you never really catch up) on e-mail. The king wanted to go golfing.
Golf is included in the cost of the room so there are no green fees. However, if you need clubs that will be fifteen quid per day. The sun from the day before was gone and there was a hint of rain but it was warm and those deserted greens were screaming for someone to use them.
It had been at least two years since I had swung a golf club so I was glad that there didn't appear to be anyone else on the course. Besides, when the king goes golfing, I doubt he has to speed up or slow down his game to accommodate other players. I got to do all the kingly things - take mulligans, hit several shots on each hole, kick the ball out of the rough and play holes over again. On the second hole, there were three tiny deer grazing on the fairway. I saw squirrels and rabbits in the forest and walked through purple heather looking for golf balls. I started out with three balls and came back with five but one of the originals was missing.
The only hole where anyone paid any attention to what I was doing was the last one. An older gentleman on a riding mower was cutting grass around the ninth green and pulled over to wait for my shot. I was about fifty yards out and the green was on a hill above me. With a nice smooth swing, the ball popped high in an arch and bounced a few feet from the pin. Best shot of the day.
I stuck my head into the conference room when I returned and immediately the fantasy was over. Hans, Novell's product marketing man from Germany, was struggling to get the audio-visual equipment to work with his computer. Melanie informed me that I wasn't registered at the hotel for another day and needed to check out immediately. I raced upstairs passing all those portraits on the walls, showered, packed, and dressed in my suit.
The analysts started arriving and Asid and Steven welcomed them. I made light conversation and asked what areas they were focusing on as specialties. Electronic commerce seemed to be a theme but when I drilled for specifics, I found that most of them were new to the positions (new technology) and didn't really have a good model for analysis.
The room was large and looked like we were set up to sign some sort of peace treaty or something. Silver pitchers, multiple choices for drinks, leather pads with paper, etc. The presentations went well with Peter Joseph giving a Novell overview, me following with Novell's evolution and move to the Internet, Hans drilling down on NetWare 5 with his comical humor, German accent, and anti-Microsoft sentiment. Finally Alistar presented Novell's marketing strategy for EMEA (Europe, Middle East, and Africa). Halfway through his presentation, the overhead went out and he had to resort to the printed slides in the packet. I looked at his machine and realized immediately that it was the external video port on his IBM Thinkpad -I had had the same model and the port was toast. At least he had got through part of his presentation and had the handouts. When mine went out, I didn't have either of those luxuries.
Just as we were finishing, Roland (VP of sales for EMEA) walked in. Several analysts left and the rest of us repaired to one of the grand dining rooms for a sumptuous meal. I picked up the menu just so I could remember what we had for dinner. It read: Tartare of Salmon Crab and Avocado With Caviar dressing, Cornfed Chicken Supreme With Vermouth and Grape sauce, Seasonal Vegetables and Potatoes, Traditional Crème Caramel With Calvados sauce & Freshly Ground Coffee Served with Petit Fours. The menu was specially printed for Novell with the date. Since it was the first thing I had eaten since breakfast it tasted pretty good.
Conversation was good. Roland kept us laughing. I feel like I can relate well to analysts having developed the critical eye of an editor. That can be good and bad. Good because I understand what they are looking for and bad because it's hard for me to sell around the fact that we don't have most of it. There were a group of IDC analysts from Copenhagen that had come in for the event that were very nice. They all spoke excellent English and were not the sometimes typical 'know it all' analysts.
I spoke with Roland in the hall afterwards and his tone completely changed. "What new big things do you have for us this year?" he asked. I started to explain some things but soon realized that he thought the same way I did about needing to have a complete suite of applications running on the platform to make it viable long term. "Nothing." I finally answered. I could tell he was discouraged that more thought hadn't gone into this and that we still don't have a good answer. I went back to my room, did e-mail, followed up on voice mail and the proceeded to lay awake till after two in the morning.
I had planned to get up at six a.m. and play another round of golf - hoping that my club rental was for a twenty-four hour period rather than per day but couldn't remember anything until the doorbell rang and breakfast was delivered at eight. When the doorbell rings, it's really a bell. Somehow, it's tied to an electrically actuated spring that shakes the bell hanging on the wall.
Thirteen years ago, renting a car in England had been a challenge. Trying to find a rental location, getting a good rate, etc. With the Internet, in a matter of minutes I had found and compared several. Luckily, Hertz was the winner. With my profile and preferences already in their computer and my Gold status, I was able to line up a car at Gatwick and reserve it over the Net in no time at all. And, since my profile was from the US and because I was coming through the Internet, I was able to get the 'affordable Europe' rate without making the reservation in the US.
I needed a ride back to the airport and had called Tom late the night before. Willing to serve and mechanically precise, he had called back in three minutes with a confirmation. Next morning as I checked out, the front desk told me there was a car waiting. (The kingly stay had cost me just under 400 pounds or close to 700 dollars.)
Iver the driver was from the same mold as Tom only a little less intense and talkative. He had a black Jaguar with soft leather seats. As we drove through the now sunny countryside back to Gatwick he told me of driving from central France the day before and taking the Chunnel across the channel. He delivered me to the gate area and like Tom, took American Express to settle the bill.
As Iver pulled away….. my holiday officially began. The first thing I did was load up on pounds from an ATM. Last week on the east coast, I had gone the entire week without buying a meal or spending any cash…. From here on it was different - I needed my own money. For some reason, my First Security card didn't work but Wells Fargo delivered. No idea what the exchange rate was but I think it's somewhere around $1.50 per pound. Two hundred pounds should be enough.
I next found the Hertz counter. Hertz is number one for a reason. Always convenient and not too bad of prices. The total per day without insurance was twenty pounds. Since the corporate insurance wasn't included and this was personal, I opted for the collision. After all, I would be driving on the wrong side of the road.
Sometimes, I have great luck with rental cars. In Germany we got the brand new Volvo station wagon for two weeks. This time it was a Fiat Bravo with only 112 miles on it. It looked like a Honda Civic hatchback on steroids, had a peppy 1.8 liter engine, and was decked out with power everything and at least a 17 speaker stereo. Someone was waiting for me to move it and I instinctively walked to the wrong side….. steering wheel is on the right! It felt weird. What's more, it was a five speed standard so add shifting to the concentration pattern.
I had bought a detailed map book of the entire country and after talking to Iver, decided that I would make a southeast run to Dover. It wasn't too far away and only required maneuvering on motorways. Any road in England that connects to any other road is numbered. The big ones are Ms with the granddaddy being the M1 which goes from the south to the north of England. The M25 is a giant beltway around London (called the orbital) and is referred to as the worlds largest parking lot. Its radius is about 20-25 miles out from the heart of the city.
I eased my way out of the parking lot thinking 'lay left, lay left….' - that's 'hang left'. The sun was shining and traffic not too heavy and it was generally a good day for learning. The main difference is that there are relatively few stop lights. Most traffic at intersections is controlled through round-abouts. Traffic coming from all directions flows into a circle and you filter off when the direction you want to head comes up. I found myself on several occasions circling more than once to make sure I knew the direction I wanted to be going before I got off.
Another difference is that no one passes in the slow lane - it just isn't cool. On the other hand, you never block the fast lane. If someone comes up behind you, you pull to the left so they can pass you. The road ahead generally looks like this…. trucks (lorries) in the left lane, average cars (all average cars were small like mine) in the middle lane, and the right lane open for Mercedes, BMWs, Jaguars, and big Audis. Often, I would be wound out at 90 mph and have a big car or a bullet bike thunder by me on the right. One final thing, there are hardly any shoulders on the road anywhere in the country! Pretty hard to pull over and look at a map.
My mind was in a constant cycling pattern - 'hang left, watch the rear view mirror, make sure the gear is right, check to see you don't look stupid'. Before too long, I saw the signs for Leeds Castle which Iver the driver said I might want to check out. I made the exit, maneuvered the round about, and managed to park with out looking stupid.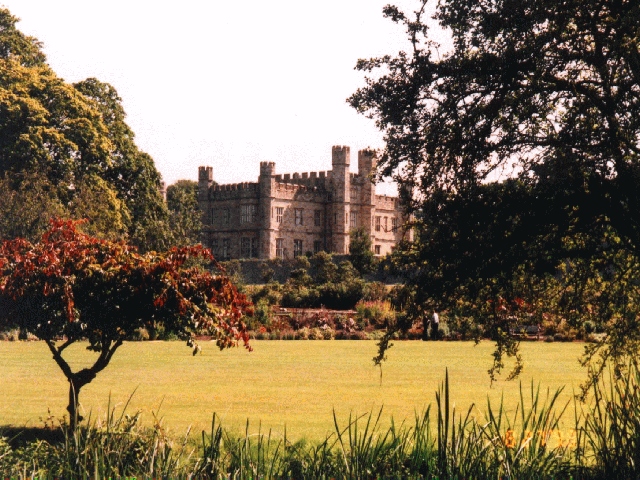 Leeds is one of many castles in England. Even so, it's still breath taking. It is surrounded by a lake and acres of manicured grounds. To get to the castle you can take a meandering walk through gardens and trees and note the wildlife. On the lake and surrounding ponds are several black swans - the symbol of Leeds Castle. The castle was actually lived in until the seventies at which point it was donated to the castle trust. A barbican (new word that I don't know the meaning of yet) was at the entrance and inside was a clever water gate system that provided differences in water level to facilitate a mill. Inside there were great rooms, and bedrooms, a chapel, and fairly modern apartments.
On the hill behind the castle was a small village of traditional brick buildings. Beyond that an aviary established by the last owner with birds from all over the world. I don't see how toucans can get to anything with their large colored beaks. There were herb and flower gardens established and named Culpepper. Walking through the rows of green spices I caught the scent of some delicious food in the making.
It was so fascinating to see some of the history. Underneath the yew maze was a grotto - an underground cave with fountains and carvings of rock and shell. Apparently they were a rage in the 1800's and good grotto builders made lots of money. The genealogy of owners was interesting with only a few individuals holding the castle for more than a few years. In many cases, it was a queen that held it and her tenure was short - a guide said because some were beheaded.
Back on the road and headed for Dover - you always hear about the white cliffs of Dover and how important they were in World War II. Within a few miles of the city I saw a sign for a pilot's memorial and took the round-about to find it at the high point of the ridge over the cliffs. There I read about the Battle of Britan and how it took place in the sky overhead between the cliffs and the French shore which I could see just 37 miles away. Sparing the history lesson, with the Germans attacking in WW II, the British held their ground from the several airfields surrounding this area. The memorial is of a lone pilot sitting on the ground looking across the channel. He sits in the center of a circular field surrounded by bunkers and artillery pads. Underneath him come together the three blades of an airplane propeller.
The area was peaceful and quiet and I was the only one there for a while. The older gentleman that was minding the gate was a pilot during the time but had served his tour in South Africa and didn't see much battle conflict. He told me of the Spitfires and Misquitos that were used as the fighter planes of the time.
Driving on to Dover, I was awestruck at the skyline up ahead. Spread across the highest ridge was the rectangular rock wall patterns of Dover Castle. With the royal flag flying atop the highest tower and the surrounding wall it looked as though it could have still been home to a king.
Dover is a larger town, due to the volume of traffic that flows from this point to and from France. There are large docks with ferries, transports, and hovercraft. Many signs for bed and breakfasts so I followed some and soon found a row of townhouses. I parked the car and started at the nicer looking ones and worked down. The first one didn't speak English and the room smelled like smoke. The second one had no vacancies. The woman who answered the door at the third said in a nice British accent, "I've only got a loft room for people like back packers. I don't think it would be suitable for someone such as yourself." I didn't know whether to take that as a compliment or an insult. Finally I found a room at the Webb's Hotel that was suitable - it cost 39 pounds and included breakfast. The owner was Indian but most of the people staying there were Anglo-Saxons.
With daylight still left, I followed the signs up the hill to the castle only to discover that it had just closed - nothing seems to stay open past six p.m. I drove on around the hill, across some farmland and found a point above the cliffs where I could park. I wrote some but was soon distracted by a single plane over head. It looked like a Cessna but the types of acrobatic stunts it was performing led me to believe it wasn't. The pilot was practicing complete vertical loops, dives, and recoveries. I'm sure it was a far cry from the actual battle that went on in the skies in 1945 but watching it gave me a sense of the thrill. The incoming hovercraft with its roaring engines helped paint the picture in my mind of a wave of incoming German bombers accompanied by fighter planes.
As the sun went down, I hiked down a footpath to the beach and walked along the shore. This beach was all black stones - higher up the water line they were the size of a fist and closer to the water they were smaller. The pounding of the waves rolling them back and forth had round them completely smooth.
Restaurants didn't seem plentiful so I stopped in at one of the many 'take-away' places and ordered Chinese food. It was good and after a good night's rest, followed by breakfast at the hotel where the waitress called me 'love' (but she called everyone that), I was off to storm the castle.
I started at the secret tunnels and followed an excellent tour of a section of the 4 miles of tunnels that are built in the cliffs underneath the castle. The display was very realistic and followed an injured pilot as he came through the door and was taken to the medical hospital that was on the top level of tunnels. The displays were exact with actual medical instruments, supplies, and complete with blood stains and the accompanying smells of the anesthetic of the time. Triage and operating rooms, kitchen, living quarters, and latrines were all part of the tour. Dropping down a level to the caves that were in use during the Napoleanic war times we toured the headquarters used to plan the evacuation of French and British troops from Dunqurque where 338,000 were rescued in a few days. Boats had come from all over and there were several routes planned to avoid mines. Originally only 60-70000 were calculated to be retrieved but due to the expert planning of an Admiral Ramsey many more were saved. A lower set of tunnels is not yet opened but will be within the next few years. These tunnels were outfitted as a regional seat of power in the event of a nuclear war during the 1960s.
The castle was a blend of everything from Roman rocks that were part of the original light house to WW II gunnery. The lighthouse dated from 100 A.D. and was used when Rome ruled the area. King Henry II built the castle or keep as it was called. I wandered the rooms, stairways, and tunnels amazed at how even with the crudeness of the walls and unevenness of the floors, there was still a method for getting water to each room with lead pipes and a toilet service from the upper floors.
One building was a memorial to the regiment of the Princess of Wales - I still don't understand how the order of things works when it comes to royalty but it appeared that the British army was included here. I was amazed at all of the places that they had fought and at one time the immensity of the British empire. In addition to the well known wars with the French and America, there were hundreds of others ranging from Burma to India to Canada to Africa, etc. A completely different mentality as far as foreign relations than what we see today. Amazing that it all was managed and controlled without the use of modern telecommunications. There was such a different attitude too - honor, serving the queen, and dedication.
One place that the gentleman at the pilot memorial had recommended was the airplane museum at Hawkinge. I drove over there and found it behind an auto repair shop. It was a collection of old military buildings that were left over from the airbase that was located on the cliffs. I was immediately impressed with the size of the engines that were in those single seater fighters! There was an entire collection of engine blocks that had been excavated from wrecked planes, both German and British. They were about four feet high and five to six feet long and when viewed as part of the entire plane appeared to be most of it.
The collection included several intact planes with fire trucks, bombs, pilot medals, and a collection of portable bomb shelters that were purchased by citizens to protect them when their houses collapsed in the bombing raids. Most fascinating to me was the V1 bomb. It was a huge bomb outfitted with wings and a rocket motor. Some were manned but most were not. They included a gyro for direction and a little propeller that measured distance. They were launched from long tracks, climbed to a certain altitude and then measured the distance to where they were supposed to fall. Then the elevators jammed downwards and they dropped on their intended target. Some maps showed that 9000 of these fell over all parts of England with many of them being directed on London.
They were called doodle bugs and something that pilots used to do to steer them off the intended target was to fly along side them and bring their wings up underneath the wing of the V1. The change in airflow would tip the V1 to one side and if the pilot were successful, the change in attitude would throw the gyro off and cause the bomb to drop (hopefully in an agricultural area). There was a great print of a British fighter along side a V1 'doodle bug tipping'.
Now it was time to head north. I headed back to London hoping to avoid traffic but even at 3 p.m. it slowed down quickly. Iver suggested taking M40 instead of M1 - it was more scenic even though most of the Ms are boring anyway. I stopped for gas at a 'welcome break', the term used I guess for a rest stop with gas. Managed to fill the tank, get food, and pay without looking stupid. Tried to get back on the M but took a wrong round-about and ended up driving through the countryside.
Everyone drives so fast. On narrow windy roads where cars have to swing to the side just to meet oncoming traffic no one seems to driver slower than sixty. I wound through little villages with stone houses and rock walls. In a village with about five houses was a bright red, old style phone booth and I stopped and called Frank to tell him where I was calling from and see how he was doing. As I was coming around a turn I noticed a glider plane on approach for landing and followed it to a little airfield where a collection of them were gathered on the ground waiting for a tow up from a plane that looked like a crop duster.
I eventually found the M again and drove on until dark passing Birmingham, Manchester and almost to Preston. My neighbor Owen Cherrington had told me that Mark was serving just outside of Preston in a town called Leyland. I took an exit for Leyland and passed a hotel right near the exit. One pass through the town and no sign of elders or a hotel so I circled back to the hotel and got a room. 39 pounds for a bed and breakfast.
Next morning I called the mission office but got no answer. I drove through town a couple of times hoping to see missionaries but no luck. The clerk at the hotel didn't know by any chance where the Mormon missionaries lived but knew where the new Mormon temple was - the one with the gold statue on top. I followed her directions to Chorley but didn't see the temple until I drove to the top of a ridge and looked around. There it was across the valley just above the M61 motorway. Spectacular!
As I drove in, I realized it was more than just a temple - it as an entire complex complete with stake center, genealogy library, mission training center and living quarters. The temple was beautiful of white stone, stained glass, still pools and plantings. I couldn't find anyone who knew where the elders might live but did learn that church started the next morning at 10:30 and that all the elders in the area attended this ward.
Now it was time to go looking around. I got enough charge out of my computer battery to get my genealogy program up and find that we had ancestors coming from the nearby towns of Ribchester and Blackburn. Ribchester is a small village right along the Ribble River and is surrounded by farms and hills. I crossed the narrow bridge that was originally built by the Romans then rebuilt in the 1700s. The village was charming with narrow streets and row houses, a White Bull Inn and a Black Bull Inn. I walked down to the river and surveyed the cows and meadows on the other side. A path ran along the river and just up from the bank were the remains of a Roman bath house that was built around 100 A.D. From a museum that was also nearby I learned that there had been a sizable Roman fort there at one point. From Celts to Romans to Saxons, to early Mormons - the place has quite some history yet still preserves a beautiful tranquility.

I then drove towards Manchester to the towns of Oldham and Royton. Oldham is where Joseph Clegg, my great, great, great grandfather was born. Don't know if it was then anything like it is now but if so, there is a good chance I could have been middle eastern and Islam. I had watched a news report about the fundamentalist Muslim movement in Britain and realized that there is a large population here - lots of them in Oldham. Royton, like Oldham, is sort of an extension of Manchester and not to picturesque although from the surrounding hills you can get a feel for what it might have been like 150 years ago.
With hunger for ancestral roots satisfied, it was time to see something I had always wanted to see - just what a moor is. Just a few miles from Oldham to the northeast is a small moor. No trees, farms or much vegetation except for low bushes with a tinge of purple from the heather. It appeared to be an outcropping of volcanic rock and there were stone fences patterning the hills.
I got lost and ended up dropping into a deep little valley to the village of Delph which was beautifully quaint. One narrow through way with a small round-about, stone row houses and cottages, and a very nice cricket club. I watched the men all playing in their white uniforms. Some were in white suite coats with aprons and the rest were just wearing white. I observed trying to understand the object of the game but didn't catch much. Someone throws the canon ball thing at a batter who hits it on the first bounce. If the ball makes it to the circular perimeter, everyone claps - that's about all I got.
I originally thought I could make it across the Yorkshire Moor to Scarborough but that was too far to go and return. I drove up past Thirsk to a park that was high on top of a volcanic ridge that was lined with pine trees and large heather plants in full bloom. I ventured up some tiny roads to the less inhabited looking regions and found what I was looking for - farmers that reminded me of home. Milk cows wandering in the fields, buildings in not great shape, a feeling that work was being done by too few, too old people and everyone else was off to bigger and better things. This was the first place that I felt like I could slow down and drive without having anyone speed up from behind me. The roads were all roughly paved and single track. The occasional car included a farmer and his wife and they always waved.
Bicycling is big in England but appears to me to be very dangerous - no bike paths and high speed traffic. As I dropped down from the highlands, I came on a family biking and slowed to follow them for a while. I was going to take the shortest path to the main road but that's the road they were on so I turned left to take the long way. As I entered a little valley completely surrounded with wooded hills I saw the most beautiful remnants of a majestic building in the setting sun. It was like I was in the middle of nowhere and had discovered and ancient city.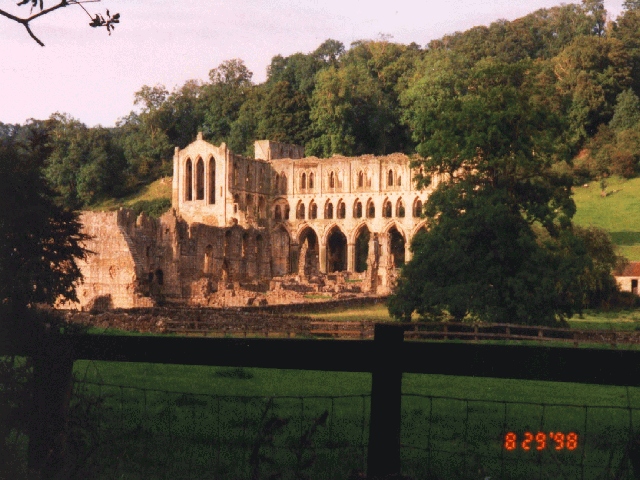 As I pulled in, there was only one other car parked. Through the gate was a ticket counter and the lady there was very friendly. She said it was open for another 45 minutes and told me to enjoy. It turned out to be a Cistercian monastery that was founded in 1098. A group of monks had come from an order in France to establish this Christian outpost and over the next 100 years built a magnificent complex of chapels, refectories, living quarters, and offices. It had become very prosperous and expanded to other areas as well. The monastic life seemed a little harsh but there was great unity, purpose, industry, and association. It appears that eventually the head monks became more statesmen and administrators and eventually the spirit was lost, the population diminished, and the properties eventually ceded to the state where much of the metal materials were melted down and carted away. The remains are still inspiring however, and I was free to wander in total solitude as the sun dipped below the horizon and bathed the rock archways in gold.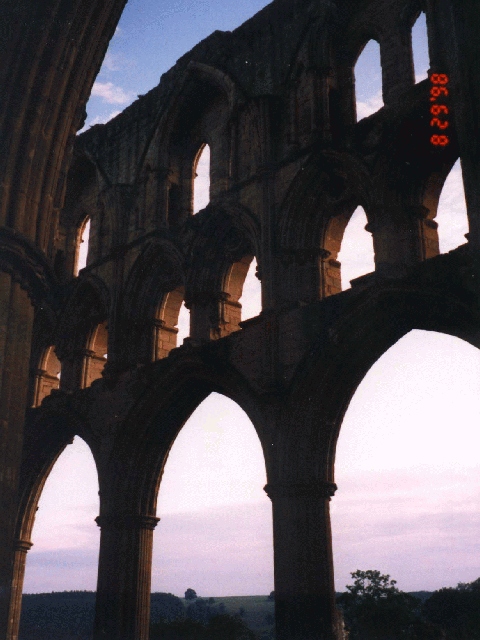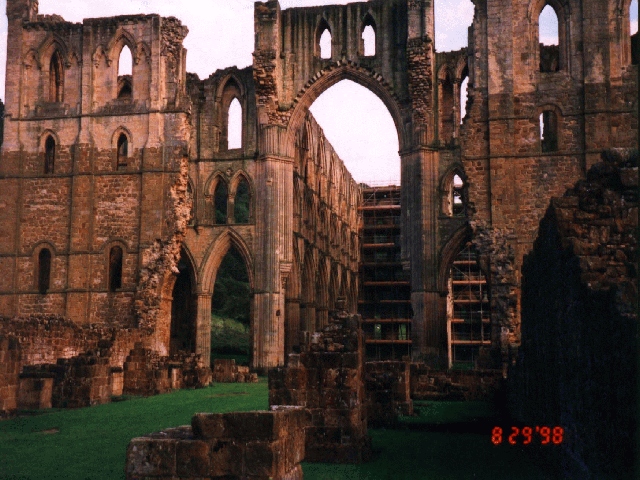 As I left, the woman let me pick up a book on the place and then gave me a printed program - that day had been one of the ceremonies commemorating the founding of the monastery 900 years ago this year. Apparently there is only one order of Cistercian monks still in operation in the world and some of them had been there for the celebration.
On down to the village of Helmsley where another now closed castle was located. I walked the village and stopped in a restaurant for some fish and chips. The center of town was an open square with a statue of someone who apparently was the lord or baron of the area and he was remembered as charitable, gracious and loved by his tenants, friends and family.
By now it was dark and I began the long drive back to Preston. The Ms were all sort of out of the way although they probably would have been quicker. I took the back roads and at first was stopping every half mile for a village round-about but soon was into open country and everywhere darkness except for the quarter moon. At one point, I came over a ridge to see a massive complex of domes and bright lights. I caught something on the sign that indicated royal military aerospace and then it was dark again - couldn't find anything on the map that indicated what it was.
Back to Leyland to the same hotel and they had rooms for the night even though it was a 'bank holiday' weekend - a three-day weekend where everyone parties and shops except the retailers. I got up and found my way back to the temple where the parking lot was now full of cars. As I walked towards the church there was a crowd of elders standing outside the door and I could pick out Mark - I mean Elder Cherrington talking to a middle aged man. A couple of elders greeted me as I walked up and as I started to talk to them, Mark looked up and gasped, "Pete!" He took two giant steps towards me and gave me a great big hug. "It took me a whole day to track you down!" I said. He couldn't believe it and then quickly introduced me to the missionaries and the gentleman named Alistar who was investigating the church.
He looked very good and was very busy talking to investigators and saying hello to people. Everyone knew him and he would explain that 'they were just baptized' or 'they are getting baptized'. I met the Greene family who had recently joined the church and they were very nice and very happy to be there. The ward was large and amply filled the spacious new stake center. Everyone was so friendly; some thought I was an elder (which was flattering), some thought I was investigating, and some thought I was just there living as an American.
We started to the gospel essentials class but it was so full that we moved to gospel doctrine. During Sacrament meeting there were three confirmations of recent baptisms including Simone who was a young girl that Mark had been working with her family. I sat with her and her little brother Ryan Stang during the meetings and they were so well behaved and polite.
Afterwards, we visited briefly and took a couple of pictures in the parking lot. He told me about helping with the temple dedication and being part of the open house. He was responsible for all the wheelchair attendees and at times it turned out to be an incredible job. He had been all through the temple including the air conditioning ducts in the roof and into the stained glass spire.
As I left he gave me a big hug and told me he loved me and I told him what a great job I could see he was doing and how proud I was of him. His companion, Elder Hartner was new as of a week and had just been evacuated from Albania. Apparently there had been threats against Americans there and since the twenty missionaries there constituted the second largest US contingent in the country it was expedient that they leave.
If I'd had as much time to find Tyler Webb as I did Mark, I might have succeeded but daylight was burning. I took the direct route from Manchester to Sheffield over another moor. This one was even more stark and I stopped to look and take a few pictures. There was a path coming from in the distance and as I approached the fence, five older men in hiking boots, shorts, and walking staffs came over the steps. I asked the last one how far the path went and he said, "A long ways! The path goes for about half a mile and then it's bog which is quite muddy." Their yellow tee-shirts read something 'walking society' and they quickly crossed the road and were far off in the distance in less than a minute. I remember reading somewhere about a group like this that just walk for miles and miles. I walked around briefly and noticed the black, spongy dirt that looked like it could be difficult to hike through. Again, low brush with small purple flowers.
On through Sheffield and down the M1 to Sherwood Forrest. There really is such a place and it again was uniquely beautiful. There were trees of all types including pines, aspens, and all sorts of broad leaf greens with some blue and white tints. And, Robin Hood's Sherwood forest is not too far up the road from Nottingham.
Tyler Webb's dad had said he was in a 'small town' and in the Nottingham first ward. Nottingham is a pretty large city with a major city center complete with castle. I had no idea where to look so drove straight to the castle and then called information for numbers to the two local wards. No answer at either of them. I found a phone book in a local hotel and looked up the address but they only listed communities - no addresses. I walked around the castle which had an interesting history. Apparently it was a local house and during a revolt it was burned and sat in ruins until 1875 when it was purchased by a castle trust and turned into a museum. Commanding view of the city but I couldn't see any LDS chapels in sight. I found one of the ward communities on the map and noticed that it only had one main road but as I drove it slowly I couldn't see any sign of an LDS church or elders.
The sun had set and there was no place to go except back to London. I didn't realize just how far north I was and how far I still had to go but as I got on the M1, average traffic was moving at about 85. "This shouldn't take long," I thought. But as I got closer to the metropolis the steady stream of traffic thickened and traffic got progressively slower. It didn't ever completely stop but cars were bumper to bumper all the way to Gatwick airport.
One of the members had told me the London temple was near Gatwick in a town called Lingly. I was hoping for a town with a hotel nearby but as I drove into the area came upon the magnificent white structure brilliantly lit against the darkness of the surrounding trees. The gates and grounds were locked so I parked and walked to the front for a view and a picture. It was very peaceful and quiet except for the occasional roar of a jet aircraft climbing overhead.
Not far away I found a hotel and although it was a little more expensive than I wanted to pay (79 pounds) it looked nice and included breakfast. I hadn't eaten all day so ordered curry chicken which stayed burning with me all night.
Next morning, it was beautifully sunny and fresh. I wanted to walk the golf course but also wanted to get the car back before anything happened to it. I could just imagine having an accident a few miles from the airport. As I rolled it back into the Hertz lot, the trip meter read 1170 miles total.
The day was a historic day of sorts. A year ago on August 31, Lady Diana, Princess of Wales was killed in an automobile accident in Paris. The news and papers were covering how that her death and public reaction had forced the royal family to change their image to kinder, gentler and do more for the populous. A story on TV showed how she had moved from the standard portrait paintings to being shot by super model photographers. I saw a porcelain cup that said, "Lady Diana, the People's Princess."
And so, I end my short but full stay in England. I think I have seen parts of it that the queen herself hasn't seen, especially on foot or in the solitude of a quiet evening. It has been a country of beauty, varied landscapes, intriguing castles, and near military catastrophe. The impressions of protocol, properness, and kind courtesy are tangible and enjoyable. As in all other adventures, I wish I could share it with my family. The only thought here is that if Dad and Mom were nervous about the way I drove in Germany, they would not have enjoyed the motorways and round-abouts of England!