September 15, 1998
If I am typing along in Word, and the auto word selection shows up as I am typing Septem and shows September 15, 1998, does it know that I am in Beijing and it may be the 16th? I don't think so.
I'm sitting here in the Shangri La Hotel lobby with piano and flute music in the background trying to decide whether I feel angry, disgusted, or just ambivalent. I believe that I just flew 23 hours, sat through three quarters of a days worth of meetings only to get cut out of my segment of the 'world wide launch event' because my associate droned on for way to long. It seems sort of symbolic of my life at Novell. Plenty of effort, homework, preparation, and production of something valuable only to have it obscured by corporate puff and positioning. Oh well…
What was really sort of ironic was what I was going to present. We met earlier in the day with the greater China marketing staff and had a lively discussion - well the discussion that I always get into when I come to sales offices - around what we should be doing at corporate to help make the field successful. And of course, it's the same things that we have been told for the three plus years I have been here and of course I know that none of those things - though they are generally simple - are not in the works. Well, in order to sort of shorten the discussion, I was showing the country manager and staff my burrito presentation to indicate what we needed to unitedly voice to corporate. It basically says that NetWare has evolved into something that no one recognizes nor relates with to solve their Internet problems and that what we need is modular technology that can be packaged into solution sets targeted to specific markets like enterprise, small business, ISP, and education. Ralph loved it and said, 'Show that! They need to know that we have evolved and have solutions for each of those markets!' So…. Even though it's a ways off (if ever) I completely reworked my presentation to center around that and figured to position it as something 'coming in the future' which builds on the foundation of the new products that we just released. I've known the answers and they haven't changed for the three years I have been at Novell - it's just that I don't have the patience to push them through or wait to see it a good seed can take root.
By the way, ginger ale in China really has a bite to it!
I really lucked out as far as travel on this trip. No one below vice president can even consider flying business class and even Chris the SVP claims to fly coach internationally. So, I pulled out my system wide upgrade coupons but when I called to see if there were seats available, I was just put on a wait list. Sunday morning in Utah was absolutely beautiful but was fresh - I finally shut the bedroom windows to keep from freezing and was tempted to pull out the winter quilt. I did a bunch of church work to line up peach picking using the car phone on my way to the airport. Thank goodness we don't have the Chinese law that you can't drive and talk on a cell phone at the same time!
When I finally got to the ticket counter, a place in first class had opened up and I had a front row seat to Portland. Mark was with me and we found the crown room, charged my battery and worked on the family database until the Tokyo flight left. Fortunately again, a seat in business class was open. I thought about Mark in coach trying to decide whether to feel guilty of not. Sorry to say, I didn't but then if I am going to fly all the way to Beijing for nothing because he talked too long, it just as well be in an upgrade seat.
Business class overseas has definite advantages. (I sure love live piano music.) First off, they bring you a menu with CHOICES. You get drinks while everyone else is boarding. The chairs are spaciously set apart and comfy. There's a little freshening kit in your seat in a take home container. And, you get inseat video - your own little movie screen with six movies that play over and over until the ten and a half hour flight is done.
We flew with the sun and as I looked out the window I couldn't understand why I was seeing land three hours into the trip. I looked at the position monitor on my little screen and realized that I was gazing out the window at Alaska. We were flying the upper route which though looks longer on the map is actually shorter to Japan.
Tokyo's Narita airport is the closest thing to a human beehive that I have ever experienced. Many of the planes park away from the terminal and passengers are bussed to the gates. There are moving machines everywhere. Baggage trolleys, push back tractors, busses, security cars, mechanic vehicles, and 747s are all scurrying around at high speed and though they seem to be on collision courses, never meet but never miss by more than a few feet. It's still the most guarded airport I have ever seen with a multi-layered barbed wire fence lining the perimeter and manned guard towers every few hundred yards. Everyone (even janitors) wear white gloves.
In the land of the rising sun, it was close to sunset as we prepared for takeoff to Beijing. Walking into the United terminal for transfer, I got a strange familiar feeling and then realized the Ben, Steve, and I had been in that terminal thirteen years earlier on a layover from Pusan to Manila during the Clegg Brothers World Tour 1985. As my good luck would have it, I was upgraded on the United flight even though I didn't have any coupons or miles. It was a smooth flight into China with the movie "Lost in Space" playing for the sixth time in the last of as many flights. I looked out the window and tried to imagine what life might be like below living among the orange lights that blanketed the land of 1.2 billion people.
Beijing airport was spacious, spartan, and surprisingly easy to get out of. A form I filled out on entry was for the ministry of health and warned that people 'entering' China could bring with them diseases. If you got sick within two weeks of entering the country, you were to bring this form with you to the hospital to get preferential treatment.
I changed some money, $50 dollars and getting 400+ yuan and tried to decide whether to wait for Mark inside or outside the baggage area. He was on another flight and I didn't know for sure when he would be in. Through the door, I could glimpse a sea of people pressed against the arrival area and could hear lots of shouting 'taxi' going on. Mark could be up to two hours later due to his different flight so I stepped into the crowd saying, "No, No, and NO" to taxi drivers looking for fares. I soon spotted a sign with my name on it at the name of the hotel printed across the top, 'Shangri La". Once I identified myself, I was whisked out the front door and into a black limousine that immediately started for the hotel.
The windows were tinted but I watched as my driver maneuvered the expressway and main streets across Beijing to the hotel. By this time of night there were not many bicycles but lots of trucks and vans which he constantly honked and brighted his lights at. From the car, Beijing looked like most other Asian cities. Two to four story row buildings all similar with gray colors. The neon signs were primarily red and green and absolutely not understandable. Being lost here and trying to find your way by road sign symbols would be a challenge.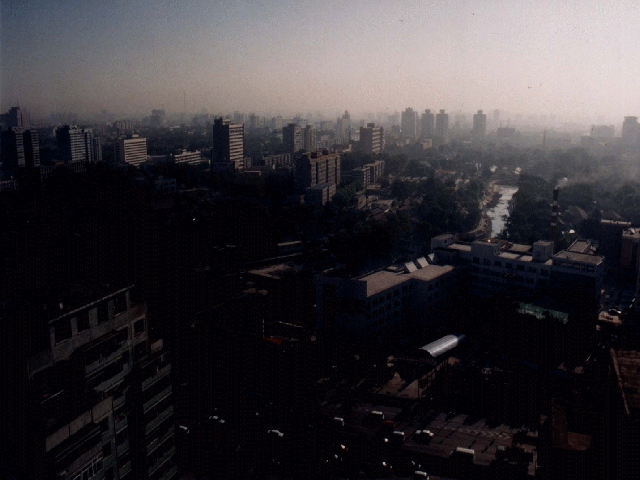 The Shangri La hotel is world class. Four doormen rushed the car to get the doors and my luggage and I was suddenly in the white marble lobby hearing snippets of languages in several tongues. My room was on the twenty-third floor with a nice bay window view. Television was definitely better than the UK with a National Geographic channel, CNN, and HBO!
I took two melatonin and retired for the night, woke up briefly but slept well until about seven a.m. (that would be five p.m. at home). Jenny Sheng from the Novell office was going to meet us at 8:30. We didn't know what she looked like but it was obvious when she came through the door holding a red Novell folder. I don't know what her real Chinese name is but Jenny is printed on her business card. I found later that everyone chooses a Christian first name as I met Scott, John, Alex, and Ralph - not sure why anyone would purposely choose Ralph but that's what the Novell country manager did.
Jenny had rented a car to take use everywhere during our three-day stay. It was a black Audi with leather seats and a very quiet but well mannered driver. The Novell office is located in the Sinochem Mansion. I guess mansion is just another name for office building as it was a typical business structure and about 15 stories high. The Novell office was actually small and not quite as world class as other Novell offices I had been in but Jenny said they were in the process of moving to one of the many brand new offices buildings you could see under construction driving around the city. The morning was spent in conversations with the local staff. It was the typical, 'Corporate needs to do this, this, and this so that we can be successful'. 'This, this, and this' is the same old thing we have know but never done for years. We enjoyed Pizza Hut (yeah, in China) for lunch, worked on our presentations for the evening with the local feedback and then returned to the hotel to change into formal dress.
The 'celebration' event was held at the Royal Beijing International Club. I had been involved in the early event discussions and since it wasn't guaranteed that the product would be actually shipping, it was determined that this would be a celebration of Novell's accomplishments rather than a product launch event. Given our go at it last time around with NetWare 4 - I wasn't too encouraged by the concept but in the China case, it was probably a good idea. Most of the 160 people invited to the event were heads of information services and technology at China's leading organizations. This included banks, utility and insurance companies as well as government ministries for everything from agriculture to informatization. Informatization is a national effort to bring China into the information age.
The general opinion of this group was that Novell is dead. Nothing that we provide is actually strategic or of interest to this group moving forward. So to have an event at a place as exclusive as the Royal Club and invite them to celebrate all of our achievements was a communications coupe that even the Chinese government would have been proud of. Since the Royal membership fee is $5000 US per year and most of them knew about it but had never been there, the RSVP list was complete with acceptances.
Off one of the main streets of Beijing we turned into a driveway with a large balloon arch gateway which read NetWare 5. Through a tree lined alley and over a small stone bridge we found ourselves at the door of the club which looked like an old victorian mansion with columns, steps, and two bronze dragon type things guarding the entrance. It was originally a stop over place on the way to the summer palace and was a favorite of the Empress Dowager Cixi during the early part of this century. The historical notes were sketchy but apparently she was know as the Dragon Lady and ruled China for a good period of time. Photos of her flanked by concubines and Eunichs lined the walls of the top floor observation tower. Apparently, she used to go to this room and walk the porch which in the early days provided a panoramic view of the city and surrounding mountains.
The Novell staff did a wonderful job of putting up signs, computer demos, and displaying advertising, literature and Novell presence. There was a garden reception with drinks and then we all moved into the dining hall for a traditional Chinese feast. We were all seated at large round tables and each of the 15 courses were brought on a new plate over the course of about an hour. The menu included in the order served.…
During the meal there was entertainment. First off was a troop of contemporary dancers. Their costumes were rather bizarre and included fur, mini skirts, hiking boots, and dreadlocks wigs. I didn't realize until after two numbers that two of them were male. The talent and choreography was actually quite good. They were followed by a man and woman performing traditional partner Latin dancing - they were also excellent. A live band with a female vocalist singing current hits like the them from Titanic rounded out the entertainment. I sat at the table with several people from major corporations and government ministries. They all spoke limited English and were very friendly and seemed genuinely interested in the product launch.
Around nine p.m. they started to filter off and left only the Novell staff. Many of them hadn't eaten so took a couple of tables in the empty hall and then listened to the band play. I visited with Bin who was in charge of Channel sales while the rest of them at the next table all participated in a drinking contest. He said the drink was something like 60% alcohol and they were all slamming it down and having a great time. Marke and I finally went back to the hotel and from what we learned the next morning they went on for kareoke (a popular thing all over Asia) and didn't get back until early the next morning.
Next morning we arrived at the office and met with a couple of editors. I spoke with a young editor from China InfoWorld through an interpreter. He had some very good and probing questions and was certainly up-to-date on the state of the networking industry. My interpreter was named James and he was excellent. We visited for some time before the interview about China and the current social mood and he provided some very open insights.
After talking with James and several others, I came away with some interesting observations on China. First, it is a fascinating place - not because of history or culture because to a certain extent it seemed that what history we did see appeared to be shallow, lacking in detail, and superflous. What inscriptions and notes we did see were always sketchy on detail. There didn't appear to be any feeling of oppression. People seemed to freely say what they thought, there was very little evidence of police or military like I have seen in some other countries. Most people appeared busy and industrious but without the sort of hard competitive edge of western cities. I felt very comfortable there. Life in many ways seemed not much different than us.
I talked to several about the baby laws. Families are only allowed to have one child - especially in urban areas. In order to have a child, you are supposed to obtain a permit. This is to help control population in a country of 1.4 billion people - in Beijing there are over 12 million people. You apply for the permit and it may or may not be granted. Older women (30-33) have preference and some younger women (21-23) may be told to wait a while. Permits determined by a combination of geographic districts and organizations. If you are part of a university you might get the permit though the university - or you may get it through the township. Different quotas are given out and same areas may be more plentiful than others.
The permit entitles the child born under it to health care and education - other wise the parents have to pay. Occasionally a wealthy family can obtain an additional permit. The rural areas are not so strict and the permit rule is not enforced. No one I talked to judged the requirement as harsh - 'It's necessary to live in the city." It has become a way of life for most people and young people expect it. Their lives are full with work and work associations who in both the Beijing and Hong Kong cases seemed more like large extended families.
After the interviews, Scott and Bin took us to traditional Chinese lunch and then we were off to see the sights. Jenny had rented us the car for the two days we were there. She had one of her staff (who had been working very hard and needed a break) go with us to translate, make arrangements and make sure that we didn't pay for anything.
We started by driving past Tieneman Square and then through some back streets to the entrance of the Forbidden City. The backstreet drive reminded much of Thailand with lots of bicycles, narrow streets, and open shops.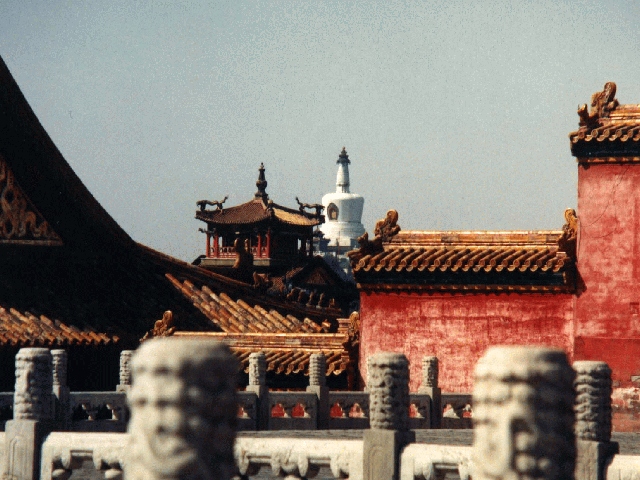 Again, as I have been so many times in the past few weeks, I was amazed at the grandeur and expansiveness ancient architecture! The forbidden city is a galactic size complex that was constructed in 1420 and then rebuilt in 1760 (at least that's what was written on every sign). It is a walled complex that is hundreds of acres large. Toward the front at the main gate is a large courtyard with five stone bridges crossing over a pool towards a giant hall. The hall is complete with a throne and surrounding carved furniture where the emperor received audience and took council with his advisors. The doors are etched with dragon figures; the ceilings and walls are (were) colorfully painted. The roofs are colored, porcelan tile with mystical figures and sometimes stray weeds accenting the points.
Rounding the first great hall on the back side is another hall across the courtyard. You almost think you have somehow been reset to the first entrance. It too has a throne and was used to receive audiences and advisement on other occasions (such as lunar calendar). This pattern of great halls and courtyards repeats itself several times - all with walled passageways leading off to either side into a maze of other smaller buildings. Eventually you come to a garden area with ancient, narled trunk trees, stone grottos, and a Taoist temple. In this area were the living quarters of the Ming and Qing emporers with their wives and concubines. The buildings were smaller and in several of them you could see beds and artifacts from more recent rulers. In one area there were vases, artwork, and carvings that were part of the Dragon Lady's collection. These were available for viewing through smudged glass and it looked like it had been several years since many of them had been maintained. Just cleaning and restoring appeared to be an undaunting task, not to mention construction and creation in the first place.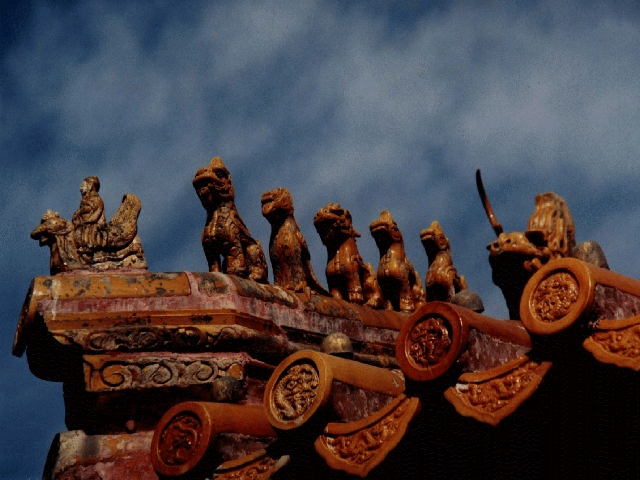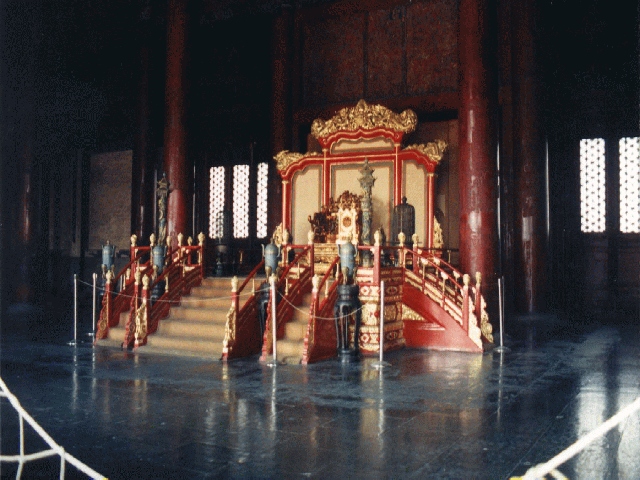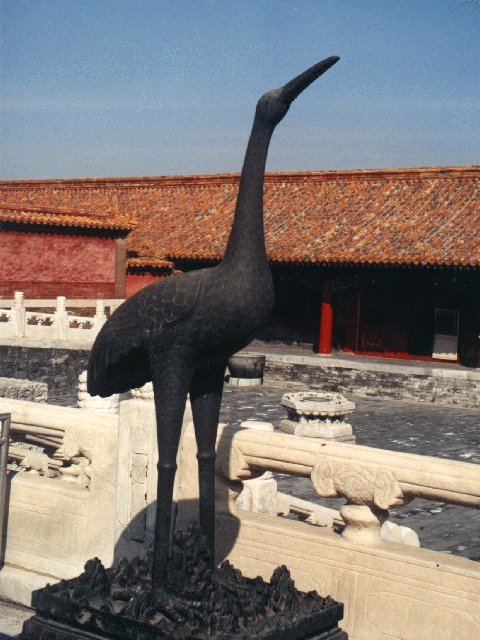 Walking from one end of the Forbidden City to the other took about an hour and I was concerned that we wouldn't be back to where we were to meet our driver at the end of the hour but our guide had arranged to have him pick us up on the other end so that we could make the most of our time without backtracking. We were then off to the Great Wall.
Traffic in the city was heavy but once on the special expressway, we were able to make good time. The new highway goes straight to the wall but goes right past the new "China Disneyland" which is under construction. The wall, again is incredible. We passed one section of it going into the pass and then came on another section a few miles later. It appeared to go in several directions, snaking its way along ridge tops with the spiny dragon back bastions showing.
We caught the cable car at the bottom and got to the top quickly. I would have preferred to walk but we didn't have much time and I don't think our guide would have wanted to climb in her high platform shoes. The cable car deposits you within climbing distance of the highest point. We puffed up the stairs passing kwan vendors hawking postcards, certificates, and T-shirts and clamoring for our business.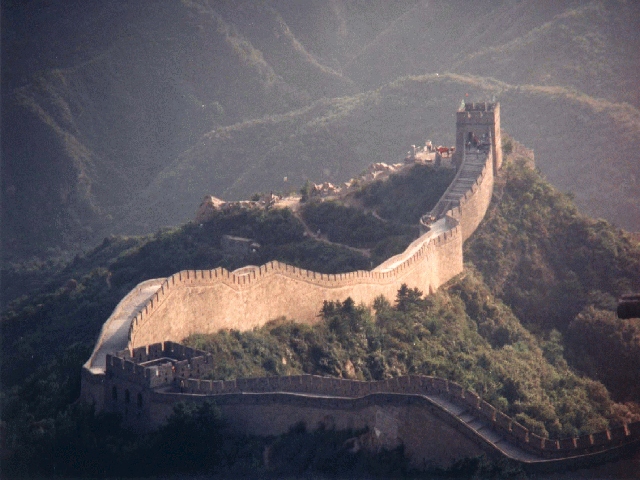 I had my telephoto lens camera and was busy taking shots. As I stepped out of the WC, it slipped out of the case and crashed - lens first - onto the rock. Broken glass and a jammed shutter put an end to the picture taking - just as the sun was going down and the colors and views became the most spectacular. I really wanted to walk down the wall to the valley but didn't want our guide to have to do it. I insisted she take the cable car (which was shortly closing) and we would walk but she was adamant about staying with us in case we got lost, even though she had no idea how to get to the car anyway. It was a good hike down but we had a great time laughing and making jokes. As we walked through the village in the direction that the car should be, it came driving towards us. The driver seeing that the cable car had closed assumed we must be descending the other way and came after us.
Some interesting points about the Great Wall, it goes for hundreds of miles - all across China. Of surprise to me, the wall is not a continuous barrier. It shows up in sections, sometimes multiple layers deep, all across the expanse of China. Parts of it were actually started as early as 700 B.C and continued through the Ming dynasty in the 1600s. Under Ming, 7000 kilometers of the wall were either built or restored. The cost through each generation was tremendous. At one point 1.2 million were conscripted to work on the wall. Tens of thousands died. At one place on the wall is a shrine with the statue of a woman. Legend has it that she traveled to bring clothes to her husband who had been taken to work on the wall. When she arrived she found he was dead. Her grief was so great that she sat down and began to mourn. Her mourning was so great that a 400 meter section of the wall crumbled, exposing the bones of here dead husband.
The defending side of the wall has higher walls or battlements with narrow vertical slots for shooting arrows or throwing rocks and also chutes that are angled downward towards the base of the wall. I assumed these are for defending against attackers at the base of the wall. Stock piles of rocks, spears, and gun powder were distributed along the walkways. The wall is created with all types of materials from logs and earth to fired brick to native rock. At the pass near Beijing, the rocks are rectangular and instead of being laid horizontally, are lain parallel to the slope of the hill. The wall is about 12-15 feet across and in some places the walkway is steps, in others it is steep slope. Rain troughs with water outlets allow rain water to drain off the walkway. Every so often there are towers the size of small buildings. These have steps which descend to ground level and also a connection of arched hallways that were probably some measures of security for entrance to the wall. Much of the wall was in good repair but you could see where it had been rebuilt. In the not too far distance, you could see where it was nothing more than a linear mound of boulders.
The Beijing section of the wall sits atop a mountain pass area. It appears that there was a broad line of defense across the front of the pass and the a few miles closer to the city is another line. I wished I had more time to explore and an undamaged camera. I bought a set of post cards from an old woman on the wall to get the sunset shots I couldn't take with the camera.
Back into Beijing we changed and then caught a cab to the Tiennaman Square area. A couple of guys had recommended the Quan Jude restaurant - famous for Peking roast duck. It was located in a very authentic looking Chinese area. As we drove there in the cab we passed crowds of bicycles and pedicabs. On a hot evening, there were old shirtless men sitting on the side walks. The lights and neon Chinese characters shown on basket, medicine, and bicycle shops. On the sidewalk, someone was set up to give haircuts.
Dinner was good. The waiter didn't speak english and wrote down three numbers and kept pointing to them. We finally figured out that he was asking us how expensive a meal we wanted. The place is famous for roast duck and at one end of the large dining hall you can see through a plate glass window the cooks working the duck ovens. There were about three open hearth ovens with wood flame around the oven doorways. Inside were rows of hanging duck carcases. The cooks would reach in with long poles, bring the duck out, look at it and either put it back or take it to a table where he would hang it with others already done.
Another regiment were standing by to pull the plugs from the bottoms - some sort of fluid (probably a marinate or glaze) gushed out and then the 'carver' would put the duck on a roll cart with plates and head for some table in the dining hall.
Since we ordered duck, it wasn't long before one of those carts showed up at our table. The carver carefully sliced off the white meat and put it on one plate. Then he carved off what appeared to be only skin and put it on a separate plate. Then he carved up the rest and put it on a third. We then took small rice tortillas, filled them with duck that we had dipped in a dark paste, and rolled them with green onion slices for eating. The duck was excellent but had to be about 96% straight fat. Other menu items included asparagus, cashew chicken, and a most excellent soup served in a little clay pot.
As we stepped out of the restaurant, we noticed a line of shanty type stalls that were selling all sorts of Chinese kwan - tourist trinkets and toys. From dragon kites to butterfly knives there were people pulling at you to buy from every direction. Crystal balls, budda statues, carved dragons, pens and chop sticks. I stumbled on to something that I thought little girls might be interested in. The price quoted was out of my budget for the nieces Christmas present but wasn't unreasonable.
The method for bartering has changed since I was in Thailand 25 years ago. Now everyone has an electronic calculator and they just key in the price. If you look hesitant, they say 'cheaper, cheaper' and lower the price some. If you are still hesitant they hand you the calculator and say, "How much you?" I keyed in a price and the guy shook his head and said, "No, no, no." in a sort of defensive way. I then tried to indicate that I wanted 20 of them. He didn't understand and thought I was lowering the price even more. One of the several that had gathered to watch by now interjected and there was some quick discussion. I pointed to the three that were there, counted 'one, two, three,' then flashed five fingers four times, keyed in 20 and then multiplied by my offer price. That got through and he said, "Ok, ok." Immediately there was a scramble and several people went in both directions to get sets from adjoining shops to make up the complete order.
We checked through each of them to make sure nothing was broken and stacked them into a large zippered plastic shopping bag which he threw in at no charge. I gave him the money and included a tip which I'm sure covered the bag charge.
So, now Mark and I set out walking towards Tienaman Square lugging a huge bag of stuff. The square was completely lit up and there appeared to be some sort of construction going on like a tower or grandstand. In many colorful flowers in pots had been arranged in large displays. Some event must have been upcoming. As we started onto the square, a police officer signaled we couldn't enter. That was disappointing.
A persistent fellow in a pedicab started to follow us as we walked the perimeter and soon we were riding while he pedalled. He spoke no english but kept pointing at large buildings and monuments. The entire square is huge. I would think that the number one rule for oppressing a people would to eliminate any large central gathering place - the square and surrounding area has contained over a million people at times. Towards the back of the square are a couple of large buildings. One is new and the other more traditional - one of them (not sure which one) is called the Hall of the People. At the other end of the square across the street is the line of grand stands and a large gate with Mao Tse Tung's portrait hanging over the gate. Through the gate and across a long outer courtyard is the gate to the Forbidden City.
Since coming to Beijing, we had ridden in limousines, regular taxis, and pedicabs. I wanted to experience the mini-bus. I've seen these all over Asia. They are about eight or nine feet long and look like a mini minivan. Powered by something the size of a snowmobile engine they seem to keep up with traffic so I convinced Mark that it was part of the experience. Kind of bumpy but the ride back to the hotel was $2.20 as opposed to $6 in a regular cab. I deposited the stuff in my room and then went down to the lobby to write in my journal, listen to live classical piano music, and eat a banana split.
Next morning we took a limo to the airport bound for Hong Kong. We were running a little late and spent 'learning' money paying airport tax for domestic flights which wouldn't apply to an international charge required to Hong Kong (even though Hong Kong is now China). We flew Dragon Air - colorful red dragon boarding cards and a gate staff that did everything by hand with no computers! I plastered my shopping bag with 'fragile/glass' stickers and hoped that nothing would break.
The plane was an Airbus 330 and was huge. There must have been 350-375 people on board. A tour group of senior citizens from the US south were on board and an old guy sitting in front of me let his seat back and busted my computer lock before I could stop him. Lucky it didn't buckle the screen he was leaning so hard.
Hong Kong
It was so cold in Utah when I left that I had packed mainly fall clothes. Beijing had been hot but Hong Kong was three hours and forty minutes by air south of Beijing. Pretty hot and humid. First off, the airport has completely changed - not even in the same island any more! The new Hong Kong Airport was opened in July and is a beautiful structure. Most of the airport land was reclaimed from the sea by using rock from the surrounding hills. The building itself is grandly large with rows and rows of immigration counters and giant baggage claim carousels.
All arrangements had been made for us and as we checked in to the transportation counter for the Grand Hyatt, we were taken to a black Mercedes bound for town. The new airport is quite some distance from the city (unlike the old airport where take off seemed to be right between highrise apartment buildings. A span of beautiful suspension bridges link the airport to the main hub.
If Tokyo airport was the bee hive, Hong Kong is the ant pile. It is such a concentration of humanity. When I went back to the place I attended grade school as a kid, everything seemed so small. Hong Kong just seems to have gotten bigger and bigger since I was here last. Miles of docks with container freight, thousands of new high rise apartments with many under construction. The Shainghi Bank building was the most impressive building I had seen before is now dwarfed and old looking.
The thing that makes travel exciting is contrast. From the back streets of Beijing to the Grand Hyatt in Hong Kong is a pretty big contrast. An army of door staff took our luggage, held the doors and escorted us to reception. Walking through the door into the lobby one is transported into a world of black marble and golden sandle wood. Cool air, the strains of classical music played by a live orchestra waft from the balcony. White and black uniformed hotel staff are everywhere with attention to every customers need.
As I opened the door to my room, I almost gasped at the view. The entire end of the room was a full on view of Hong Kong harbor with the Kowloon peninsula in the background. Dredging barges, ferries, and little Chinese junks were all navigating each other and the waterway. I kept the drapes open all night so that I could just watch the view and the activity. The weather was misty and the departing boats just seemed to evaporate into the mist.
The Novell staff was already at the hotel setting up for the next days event. We met Stephanie who was coordinating the event and Michael, the country director and Tony, the marketing representative. We swapped presentations outlined the schedule and then Mark and I set out to see Hong Kong.
The Star Ferry was only a few blocks away and we found our way there (not without difficulty). On the Hong Kong island side, walkways and parks are not at ground level. In order to get to the ferry or the subway, we had to negotiate a maze of bridges and meandering walks to get there. The Star Ferry is the same as it has been for 100 years. I think this year is the 100 year birthday of the double decked boats that shuttle back and forth between the Kowloon Peninsula and Hong Kong island.
There is just now way to describe the intensity and human concentration of Hong Kong at night. Tightly packed narrow streets. Brightly lit shops packed with camera and electronic equipment. Chinese characters in neon several stories high and protruding into the streets overhead. We walked to the Temple Street market. It is a street that is blocked off for several blocks as a night bazar. A sea of people, mingling among the booths selling everything from Versace shirts to Nepalese prayer rolls. Pumping music from black market CDs. Fake Tommy Hilfiger shirts, ties for a dollar, and lots of obnoxious sounding toys. You can still sit at an open air table and eat seafood that was alive a few minutes before in an open bucket.
We tried out a Thai restaurant that was on the third floor of a corner building. It wasn't that good of food and was even less appealing after we watched a cockroach climb down the wall behind us. We tood the subway back to the hotel and I sat looking out the window for a while. The room has all the lights wired to a console by the bed; you press one button and all the lights gradually dim to off for the entire room.
Contrast again - from cockroach city to corner seat at the Grand Hyatt Restaurant is a big switch. Thirty foot glass walls with a view of the harbor; white linen; 12 piece settings; silver trays of exotic fruit; breakfast foods from around the world.
We joined the Novell staff in the Drawing room for a press luncheon with about 25 editors. The theme of the launch in Hong Kong was 'Revolution'. Surprising to me was the theme. It was patterned after the communist revolution (indicating join Novell for the networking revolution). Signs depicted legions of youth in an early industrial style joining together under a Red Novell flag with the yellow number five angled to look like a sickle. The theme was graphically well done and the office seemed to have a lot of fun with it but I don't think it would have been appropriate in all areas of the world.
We posed in front of giant boxes of NetWare 5 for photos and then presented. Mark gave a corporate overview and I detailed the product offerings with new features and benefits. Afterwards we took questions and ate. The Edelman press relations representative for Novell asked if I were Mormon being from Utah. They were the PR firm that the church used to cover the open house of the Hong Kong temple and she had helped with that. Our lunch conversation included discussion about the dramatic drop in the Hong Kong stock market, the drop in real estate prices, the problems of the Philippines and that mornings announcement that the national airline just announced it was going belly up. I went around the table to get a feel for the nationality mix and found people from Singapore, Malaysia, Philippines, and Hong Kong locals. Everyone spoke English but not with the same accents.
We then moved into the next event held in the Grand Ballroom. This was an RSVP invitation to hear Vice President of Internet Marketing, Peter Clegg, present Novell's strategy. Great staging and location. There were about 500 people in attendance and we were on stage with two giant screens - one projecting a video image of ourselves and the other the presentation itself. The MC was Jeff Wong, a local TV and movie star who spoke impeccable English and appeared to be extremely fluent in Chinese. He must have been raised in England and spoke Chinese at home. The show was complete with dancing, singing a specially written and recorded Novell song, and a product demonstration.
Next we moved to the event for the evening. Michael picked us up on his silver Mercedes which he has had for 18 months and only put on 5200 kilometers - not a lot of places to drive in Hong Kong I guess. We drove to the Times Square area and took the elevator to the 11th floor to the New China Max Restaurant. Mark and I were given traditional Chinese costumes of silk pants and coats with little hats with long pigtails. Everyone was supposed to dress up and the best dressed won a trip to Club Med Malaysia. The number dressed traditionally could be counted on one hand and needless to say, we stood out.
The room was filled with young executives in business suits, eating, drinking and talking loudly. I was to give a little speech but it was so loud I basically welcomed them, thanked them, and told them to have a good time. No one wanted to play the games they had planned; the costume contest only had two contestants and we were to pick. We had a cheering contest that was a tie so the MC suggested the male do the gentlemanly thing and offer it to the female. We talked over the roar with some editors over finger food and then as things started to slow down caught a cab back to the hotel. The local staff was going out for kareoke and we weren't too interested in that. We hit the markets for a little and returned about midnight. We had picked up a pomello in the market and ate it in my room. I scheduled a 6 a.m. wakeup call, packed, and turned in at about 2 a.m. - no use in getting a good nights sleep as my sleep schedule would be totally screwed up over the next two days anyway.
While packing, I kept looking out the window. The new convention center was just below me looking like a giant stingray. The boat traffic had receded and the lights of the city reflected off the shimmering waves. Although it was only five days since I had left Utah, it felt like it had been weeks. In a few short days, we had packed in a lot of experiences and sights. This journal only surfaces a few of the thoughts and feelings. It seems in many ways that the world is so vast and so much left for me to discover. On the other hand, there seems to be a certain familiarity in the lives of those that we meet. Things such as courtesy, interest in world events, humor, technology, and work are all common themes with everyone.