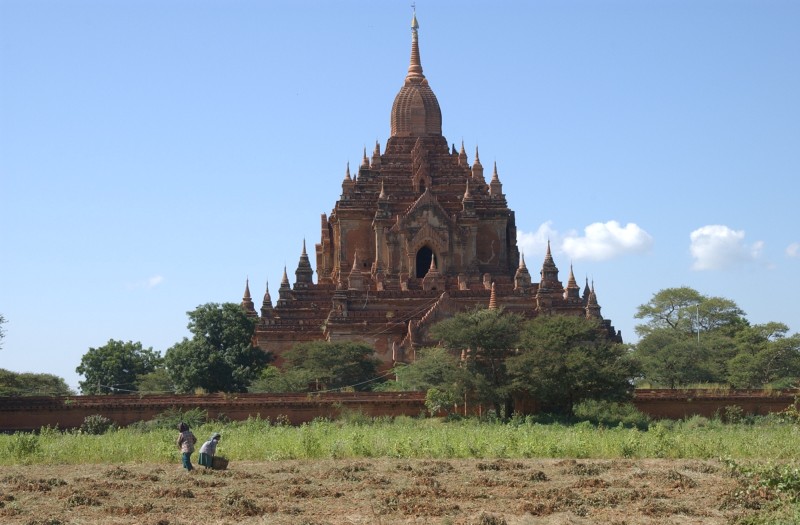 November 6-20, 2001
Myanmar (Burma), Thailand, Hong Kong
To see all the pictures of the trip (238 to be exact), click here. Click on thumbnails to get full size picture.
For some reason, when I escape in my mind, I go to Asia. It may just be that I served my mission there but there seems to be a draw to that area of the world that keeps taking me back. For the last couple of months, I have been thinking about going more and more. In late August, I looked up teaching jobs in China and even sent and enquiry about a particular opening but was too late for this year which started September 1.
In early October, Frank and Melissa married and honeymooned in San Diego. A few days after the reception in Idaho, they came to me and said, "How many times in life will we have the situation where Frank's not working and Melissa isn't in school or with kids? We want to go somewhere exotic with you." I don't think that my reply revealed my surprise but I immediately said, "Burma!" My surprise was that Frank wanted to go. For years, I have been trying to get him to go somewhere off the beaten path and all he would ever say was that he was afraid he would get a parasite. In fact, it became a running joke. "Wanna go to southern Utah Frank, or are you afraid you are going to get a parasite?"
Several years ago, I had read an article on Burma (now called Myanmar) and how it had been under communist dictatorship rule since 1962 and was just opening up to tourism. It was not westernized at all and more like Asia used to be. I decided then if I ever got the chance to go, I would take it. Now I had someone to go with me.
I think we decided on a Tuesday to leave on the following Monday. There were a few details to pull together but generally, everything fell neatly into place. Melissa had to get a passport which she did with the help of someone at the back of a Levi store in Provo. I had to finish up an article for Utah Business and Frank just had to pack. We got airline tickets through Airlineconsolidators.com which came in two days, and by Tuesday, November 6, we were on our way. Round trip to Bangkok with a layover in Hong Kong on the way back was $863 per person.
We packed light, left my car at the airport, and took Delta to Los Angeles. The "Encounter" restaurant, the spacey looking thing in the center of the airport, was closed so we checked in at Cathay Pacific and then grabbed a bite to eat. Lines to the gate were incredibly long due to the September 11 disaster and even though we were there two hours early, it was tight catching the flight. An attendant came through the line, collecting people on the Cathay flight and took us to the front of the line. Soon we were on board the 747-400 and taxing for takeoff to begin the fifteen and a half hour flight to Hong Kong.
Those planes are huge! It's like a flying hotel. We were seated together on the side near the back of the plane and despite being a long flight, it went fairly fast. I think I slept for 6-7 hours of it. Each seat had a little monitor where you could watch TV shows, movies, Discovery Channel or the plane's progress map. The crew was good and the seats were comfortable for economy. We took off in the dark—it was a very long night but we landed after it was light in the morning.
The Hong Kong airport is probably the most modern in the world. It's HUGE! Open and spacious with lots of granite/marble and chrome. Very nice. We signed up for standby on an earlier flight to Bangkok and then hung out looking at the duty free shops. Always cool to see the latest digital goods. Lots of flat panel screen monitors but prices were no better than in the states. I was particularly impressed with a Philips HDTV monitor that was very large. I pointed it out to Frank… he quipped with a cartoon he had seen, "HDTV nothing! That's a window."
I tried a couple of shots with my new camera. I got it the Friday before we left, spent all day Saturday shooting football games for the Orem middle school city leagues, and was still trying to figure it out. I really like it. It's a Nikon D1H, Nikon's photojournalist quality digital camera. It's a 'quality toy' and they have really engineered it well. The more I use it, the more it seems to anticipate what I'm going to want it to do next. Very nice. I still have a long way to go in getting good at using it, but I figure that the learning curve to good photography will be cut considerably because you can immediately see the results of your settings in pictures displayed on the back.
We got on the early flight to Bangkok and since we were packed light and carrying everything, we had no problem. It was very green coming in to Thailand, a moderate line at immigration and we were soon standing 'inside' the country. Frank and I zipped off pant legs to get shorts and lost the socks with the sandals. Outside, it was warm and humid but this was the cool season, after the monsoons, and it wasn't at all unbearable. We found an 'airbus' (bus with air conditioning) that took us into Bangkok to the Pratunam area close to where our hotel was located.
Bangkok
Stepping off the bus, the sights, sounds and smells of Bangkok were upon us. For me it was a pleasant remembrance but I don't know what Frank and Melissa were thinking. Snarled traffic, exhaust, aroma of street food, vendors everywhere, tall skyscrapers as well as crumbling gray duks (two story shops), and people, people, people. We walked for several blocks and finally arrived at the D'Ma Pavillion tucked back off the main road. We walked up the curved driveway and uniformed bellmen opened the door to a lobby that was cool, clean and inviting.
I found the hotel on asia-hotels.com and the advertised price was $30 per night. It was much better than I expected and we were soon in our separate rooms, waiting for the air to cool down a little. Interesting thing about all hotels in Asia, the key or key card has to be inserted into a slot in the wall that turns on the power. When you leave, it stays on for a few minutes after removing the key, but it must be there to keep the water hot and the air conditioning going. Helps save money and cut power use.
Our first order of business was to get to the Myanmar Embassy to get a visa. We walked several blocks to get to a point where the roads weren't one way and we could get a taxi pointed in the direction of the embassy. We passed street vendors and what looked like the unveiling of a new spirit house and Buddhist statue in front of a new building.
Prices seemed to be very good. The exchange rate was 43.2 Baht to the dollar. The cab ride was a couple of bucks. The Myanmar Embassy was interesting. It looked more like a jail. Iron gates to get in, armed guards where we had to sign in, and the interior was like a stark gray room with bars guarding the guy that took our passports and applications. They didn't take American money so we had to go exchange some more for Baht. The price for the visas was about $20 US. It would take a day to process but we didn't have to pay an express fee which the sign above indicated we would. I had written 'writer' on my application and he asked me if I was a journalist. I said, "No, I write computer papers," so he had me change it. After reading some history, I understand they are not particularly welcoming to journalists.
Took another cab back to the hotel and chatted with the driver. On earlier trips to Thailand, people still seemed to recognize the Church and even remembered the singing group that had been so popular but this trip, no one seemed to recognize or be familiar with it other than the lumping it together with other 'Christian' groups. The cab driver hadn't heard of the Church and wasn't particularly interested.
At the hotel, the kids were going to take a nap and meet me at the pool. I swam and started to read then fell asleep. When I awoke, the sun was gone so I went to my room to finish my nap, and woke up at 5 the next morning. Our plan was to go to the floating market which only lasts through the morning and was some distance away so we met for breakfast at 6:30. The buffet included in the room price was incredible. Very nicely arranged, good tasting and an assortment from every part of the globe. I beelined for the khaw tom (rice porridge with pork) which is a Thai favorite but there were also eggs, pancakes, bacon, Chinese vegetables, continental food and even milk and Coco Puffs.
We started walking and a cab driver agreed to take us to the floating market for the sum of 1200 Baht. I had been to a floating market as a missionary and remembered that it was in Bangkok but not near downtown. When the cab driver said it was 120 kilometers, I assumed he was exaggerating but the place he took us was that far away. Weaving our way through Bangkok's snarled morning traffic, Melissa's stomach was bothering her and we looked for a restroom—not an easy thing to find. By the time we finally found one, she was doing better. We have photos of her and Frank at the latrines near the floating market.
So much of what you want to see in Thailand is 'touristized'. The market is no exception. We drove out through the countryside west of Bangkok through Nakorn Pathom. It was a nice drive and all the flowers were out this time of year. Just being out of Bangkok was nice. At the market, several people were vying for our business to take us on their boat through the market. Our cab driver steered us to a nice place where the boats were small and guided by someone hand paddling, not the motorboats. We floated a large canal and then turned down a side 'klong'. It was filled with boats loaded with wares of all kinds maneuvering around each other.
We paddled into the fray and were soon surrounded by boats with cooked food (rice, curries, etc.), fresh fruit (oranges, pineapples, monkut, ngot, lychee, and others), coconuts, and of course, loads and loads of gifts—everything from hats, to wooden carvings, to silk, to bronze ware, to mini Buddha statues. All kinds of stuff. Frank and Melissa bought a photo album with little wood elephants carved on it and a fan. At one point, we stopped while a vendor draped a boa constrictor over Frank's shoulders and soon he and Melissa were both holding one.
Back to the car and headed for Bangkok, we stopped at the Crocodile Farm, something I had heard about since being there as a missionary but never managed to go there. It too was a tourist site, but was interesting. We watched them feed crocodiles chicken—some of them could have been as old as 70 years. Amazing how they were able to twist their heads to the side and scoop up meat off the ground. After a 'wrestling' show (very staged) we stopped for a bowl of guatio (soup). I loved it, Frank choked it down, and Melissa drank Gatorade. What was fun was watching the kids—it looked like many of them were there with a school outing.
Traffic into Bangkok was 'dit' (stuck)! Our driver, in creatively trying to get us across the river to the Bangkok side drove through some of the old areas that I was in as a missionary. We drove around 'Wongwian Yai', a large traffic circle with a statue of a guy on a horse in the middle. Once across the bridge, he dropped us near the Burma embassy just as school was letting out. There were hundreds of kids flooding onto the street, all dressed in uniform of white shirts and blue pants. Some were in scout uniforms. They were swarming the vendors that were there with food and it was fun to watch them. All so energetic, several on cell phones, a group trading what looked like advanced Pokemon cards.
We found the embassy and received our passports, all complete with tourist visas. They were good for a single entry of 28 days and we had three months to use them. We were hoping to see the grand temple and palace area of Bangkok and boarded a tuktuk (three wheeled tricycle motor cab). The traffic was thick with pollution, it was hot and so near the area, we got off and were going to walk up the river. When I asked directions, the fellow that I asked said the area had closed at 3:30 and that we would have to come back tomorrow without shorts and Melissa would have to wear a dress. We talked to him for several minutes and he was very friendly, wanted to know how America was doing after 9-11. He taught history at a nearby school and tried to convince us we needed to go to a silk market somewhere.
We walked through a market area: the bowels of Bangkok. Lots of bulk spice, meat, etc. It wasn't a very pleasant place and I was trying to explain the experience but couldn't quite keep up with Melissa. The smells, the dogs and cats running around, the loud and not too polite Chinese—we didn't stay long. Caught a cab back to the hotel and as we walked in, realized just exactly what kind of contrast there might be on entering the Celestial kingdom. Cool, clean, quiet, soft music… and food.
Crashed for the rest of the night and then got up to head for the beach. Decided to stay another day or so at the hotel but it was full except for a suite room higher up on the 22nd floor. Nice view and it was two separate rooms. I slept comfortably on the couch cushions on the floor.
I got up early to find out about flights to Myanmar and after breakfast, we decided that we would go to the beach at Pataya. We walked for a minute and then hailed a tuk tuk. I told him that we were going to Pataya and needed to go to the Ekamai bus station. He said that he would take us for only 50 baht if we would agree to stop by a jewelry store for 10 minutes and pretend like we were shopping—that way, he could get a fuel coupon. We agreed and soon found Frank draped in fabric, looking for material for a custom tailored suit. The typical low pressure turned high pressure sale, but he was able to walk away. Then we had to look at jewels for a few minutes.
The driver had convinced me that no one took buses there anymore (after all, how would I know, I hadn't been to the bus station in 25 years) but that there was a train station that serviced the area. We agreed to be dropped at the station and it turned out to be HuaLampong, the main station in Bangkok. Which, by the way, didn't even service the south at all. Making decisions on the fly, we decided to take the next train heading north to Ayutthaya, leaving in ten minutes. I could tell Frank and Melissa really wanted to go to the beach but it would have been an hour and a half across town to the right bus station and then another two hours to the beach and by then it would have been evening. So, we got on the train and ended up sharing the car with some men on their way to getting drunk. They were poor and dirty, but were drinking something very strong. By the time the hour and a half ride was over, we were ready to get off.
The train ride is always nice, though, getting out of the city to the slow, rhythmic sound of train rails. The countryside was green and the fields were lush. In Ayutthaya, we got another tuk tuk and proceeded on the grand tour. Ayutthaya was one of Thailand's ancient capitals and it is full of new and old temples, various Buddha's in sundry positions, and old palace remains. We started with Wat (the word for temple) Yai (the word for large) with a reclining Buddha and started on what would be the first of many observations of worship and worship objects.
Of particular interest was the large seated Buddha where there was a ceremony going on to adorn it with new yellow robes. There were men standing in the lap of the giant Buddha and they were pulling yards of the yellow fabric up from the floor and throwing it over the Buddha's shoulder. Seated on the floor were several people who would sit under the cloth, with it being pulled over their heads as it was pulled up. Also there was a monk with holy water and a wrapped handful of reeds. He would dip the reeds in the holy water and shake it on those kneeling before him with their hands clasped together at their foreheads.
We took lots of pictures and just enjoyed walking around. Our tuk tuk driver and guide didn't know much but he knew where to take us and we visited most of the major sights. He suggested we take a bus back rather than the train as it was faster and cooler. We agreed and for the equivalent of a dollar, found ourselves onboard an airbus bound for Bangkok that was being driven like a bat out of Hades. The driver appeared to be "in training" and across from him sat his coach. He was shouting instructions, "speed up, swerve right, swerve left, hold, gun it," etc. We were passing on the right and on the left and weaving in and out of traffic with everything from tuk tuks and tractors to other buses. Approaching Bangkok, he started yelling, "Stop, stop, stop……" Crash! We rear ended another bus that had stopped for something ahead of it and just couldn't bring the cruising mass to a halt. Nothing serious but the windshield was shattered. They pulled over to the side and we all piled off and stood there watching the snarling mass of traffic coming into Bangkok. I had been talking to the lady that took our money and she was very nice. She kept saying, "My ben rye, my ben rye…" the Thai phrase for, "it doesn't matter… no worries." She flagged down another bus and we all piled on and she slipped the driver a 100 Baht bill and we didn't have to pay.
A couple of women monks were sitting ahead of me and after we were settled, they turned around and asked me for money. I asked them what for and they said for a cab from the bus station in Bangkok. I told Melissa and she suggested I give it to them with a Book of Mormon. I did and asked them to promise to read it which they said they would. They looked through it intently for a while and then put it away.
I had another interesting conversation on the bus. We had met a fellow from Vancouver, B.C. who had moved to Thailand three months earlier. He was probably in his 50s and with a Thai woman. He told me that he was teaching English in Bangkok at a private school (enrollment 22,000) and was making about $36k per year. That was a fortune for the current exchange rate. I asked him what had prompted him to leave his way of life in North America… I got the impression he had been an attorney or something.. and he said, "That's a long story and I'm too tired to go into it now." He gave me the info on the course he certified in and the agency that had placed him.
Back at the hotel, we ate at the restaurant, dined on multi-course meals with dessert, drinks and tips all for $20 US total.
The next day was Sunday and we got up, dressed and headed out for church. I hadn't been able to get any of the phone numbers to work for the mission office or President Slater. (Later I found I had been dialing too many numbers and included the country code). So, we just headed for the church by 9 a.m. thinking that some meeting should be starting then or after. The English ward was just starting as we walked in.
Strange going into that same building that I had lived in 25 years before. The chip that I knocked out of the carport while playing basketball as a missionary was still there. One new twist, you don't take your shoes off to enter anymore and everyone wore them inside. It was nice to be there and I thought of sitting there listing to Elder Dejauger and President (then Elder) Hinckley. I saw Peter Wilden who had been there as a missionary while I was there. Also one of the sister missionaries had gone to high school with Melissa and they recognized each other. President Slater (Marty) wasn't there but his wife was and I talked to her for several minutes. Jeff Rock, another missionary contemporary, taught Sunday School and he gave me a big hug. He is working for the state department over refugees. As we were leaving, Sister Dum came up to me. She had been a member in Thonburi while I was there, had married Pete Wilden and they have four kids. She introduced me to her 17 year old son.
Since we were dressed up, I thought it might be good to go to Wat Prakaw, the main temple in Bangkok. They required no shorts and to be covered for both men and women. But Frank wasn't feeling very good so we bused it back to the hotel. That was about our only city bus ride—I had expected on an economy trip busing to be the way we would get around the most. We mostly took taxis because of the air conditioning.
The rest of the day I spent reading up on Burma while Frank and Melissa slept. I think we all were still getting over jetlag. It was good to read and I got through most of the book that I had purchased before we left.
Monday, we got up with the intention of going to Chiang Mai. There were flights every hour all day but we couldn't get them at the travel agent and had to go to the airport. We arrived at about 9:00 but the next flight available with confirmed seats was at 1: 40. We tried standby a couple of flights but ended up just sitting there. While waiting, Frank and Melissa saw a picture of the beaches in the south and decided that they really wanted to go there. With the problems they had had with food, heat and pollution, I was wondering if Burma would really be a good idea for them. Maybe they could go to the south and I would go to Burma on my own.
Chiang Mai
Chiang Mai was beautiful this time of year. Everything was green, there were flowers out and the air was clear. We got a cab to the area near Vanida Tour and just walked down the soi to see if there were any rooms at the River View hotel. I had stayed there the last time I was in Chiang Mai and although it is a little more expensive ($50 for a large room with three beds), it has lots of atmosphere with gardens, antiques and a semi-traditional décor.
At the front of the soi, was Vanida Tour and as I walked in and asked for Mrs. Vanida, her husband recognized me from three years earlier and warmly welcomed me. We set up a tour with elephant rides the next day and then set about getting the next leg of the journey laid out. Frank and Melissa really wanted to go to the beach and I was set on going to Burma. Although I didn't particularly want to go alone, I thought it was probably best as there was always concern over where we were going to stay, the food, how to get around and in Burma, and it would be much worse that Thailand as I had not been there and didn't speak the language. In order to get the ticket from Chiang Mai to Mandalay, I had to get my passport which I had left at the hotel. Mrs. Vanida got flight info for Phuket for Frank and Melissa but had to book it right away as fares were going up the next day and it would have cost them 1000 Baht more. When I returned with my passport, they had decided to go with me to Burma—I was glad. They would have plenty of opportunities to go to beaches and although Thailand is beautiful, the opportunity to go to Burma, especially when it is still so unwesternized, would never come again. We bought tickets on Air Mandalay for all three of us.
By the time we were done with travel arrangements, it was dark and the night markets were open so we headed over there for a bite to eat and shopping. There were stalls and stalls of all types of things from wood carvings, to silk, to dresses, to little carvings. It's interesting to see how that certain things sort of come in to style for a period of time. This year it was the carvings that were made out of reconstituted wood. It is like sawdust that has been compacted and then carved… anyway, it looks like the elephants have a rough, realistic skin. Also, there were photo albums with a sort of fabric paper and place mats with chopsticks. The markets on my last trip had been extremely crowded but there was room to move around this time. Mrs. Vanida said that tourism was down 80% of what it had been and that these times weren't so good.
The next day, we were at Vanida's at 8:30 and piled in a 12 passenger mini-van for a day of touring. Total price for the day including lunch was 750 Baht (normally 850 but she give us special discount) which was roughly $17.44. It started with an hour long ride north into the country to the elephant camps. There we watched a fascinating show that included bathing elephants in the river and watching them do all sorts of tricks from dancing, to walking on their hind legs to playing basketball and soccer. Once the show as over, we climbed the tower and clambered aboard the elephants as they came by. I was alone and Frank and Melissa were behind me. The journey started down through the river and then up through the jungle to one of the hill tribe villages. It was a beautiful day and not too hot even though it was sunny. Little things along the way are there to fleece money from you at every turn. We lumbered up to a tower where women were selling bananas that we could buy and have our driver feed to the elephants. Then through the village, there were towers with women selling trinkets from towers that matched the height of our saddles.
On the return, my driver switched me places and I rode on the elephant's head for a while. It was a much smoother ride as the head doesn't sway like the back. Frank snapped a few pictures with me in that position. We then mounted the flat bamboo rafts for a float down the river. It was beautiful and peaceful and we took turns taking pictures of each other and steering the raft. Lunch was after the ox cart ride (again through a village were people were selling stuff along the way) at the Royal Ping resort. It was a fabulous spread of Thai food and a beautiful place in the country—stay there next time you go to Chiang Mai. Frank got some hot peppers and his face went magenta and eyes turned red.
We then drove to the orchid farm and learned how orchids grow and are cultivated. It was interesting to see that small seeds are put into a solution of sugar and nutrients and they grow in a bottle, then are thinned to another bottle and continue to grow for a year before they are put out to grow in the nursery. What was really interesting, is that they don't grow from dirt in nature—they grow from moss like stuff on other trees. I noticed in other areas and at the hotel, root clumps and moss strapped to trees where orchids were growing out of them. Also at the farm, we saw real Siamese cats and the Siamese ridge back dogs.
Back to the city, Frank and Melissa went shopping while I rented a motorcycle and went for a ride. Cost for the scooter was $4.75 for a day plus gas. I rode around taking pictures in the sunset and trying to figure out where I lived during the last month of my mission—didn't have much luck. That night at the markets, Melissa was busy buying things and while Frank was getting a watch, I sat down and started talking to some men that were selling things but not busy. I asked them about becoming monks and what the experience was like. It seems that it has become a much less important part of Thai life than when I was there as a missionary. It used to be that everyone became a monk for three months minimum. Now they still do it but only for a few days and usually just before they get married or have a big event in their lives. I asked them why and one answer was just to honor their parents and their traditions.
I asked one fellow who had recently finished his experience if he had any spiritual experiences and he got very animated. He said that there were spirits and they were visible to many, especially little children because they were so pure. He had seen them. He differentiated spirits and ghosts as spirits were usually ancestors or friends that had died while ghosts were evil spirits that were hanging around and causing trouble. They were evil and not to be talked about often. It was an interesting discussion and I wondered how much more effective one would be as a missionary if they really understood the background and philosophy of Buddhism with its parallels and commonalities and distinct differences.
The next day, we got another motorcycle and headed into the mountains for the hilltop temple, Doi Sutheeb. It was beautifully restored in gold and marble and the greens of the trees and bougainvilleas were in bloom. We had to don long sarongs to cover our legs and remove our shoes. We looked at the Buddhas in many positions and watched the monks and people worshiping. There was a foreigner there acting as a junior monk to an elder monk that was blessing people by tying a white string around their wrists.
My motorcycle was out of gas and I asked around where I could find some. People kept pointing me in one direction but I couldn't see anything that looked like a gas station. Finally I asked at a restaurant that was where everyone kept pointing and the woman walked to the fridge, opened it and brought back four 'fifths' of gas. It was 'super' gas for motorcycles and had been stored in empty liquor bottles. I filled up, paid her and had enough for the rest of the day.
From the temple, we continued up and over the back side of the mountain. The jungle got more dense and the road went from paved to dirt. The sky was overcast and mist was rolling in but we kept going. At one point, Frank and Melissa weren't behind me and after waiting I turned around and went back. The whole atmosphere contributed to kind of an eerie feeling and I had visions of them being attacked by bandits or something. They had dumped the bike somehow and while a fender was broken, they suffered only scratches and bruises—Melissa more than Frank. We continued on for a while but the road became so rough and there was running water in some areas to the point that two people on a bike couldn't make it so we turned back.
The weather at that altitude (over 5000 feet by my watch) was cool and it was starting to rain. We headed down and as the temperature increased, so did the rain until by the time we started into the city, it was a torrential downpour. We saw two accidents. One a man and his wife and kid were turning a corner and their scooter slid out from under them. The other, a car hit a girl crossing the street because the driver couldn't see her in the rain. It may have broke her arm but she walked away. At one point, we stopped under the awning of a rice shop in hopes that it would let up a little bit. The old Chinese proprietor just stood there and stared at us blankly. I was paranoid that my camera was getting wet but when we got back to the hotel, it had just a little moisture on the case.
We switched hotels to one next door that was nice in a different way—new and clean and had TV—but was only $12 per night. The news of the week was the fall of Kabul to the northern alliance in Afghanistan and there was lots of breaking news as new advances were made there and on to Kandahar. I got up early and went to take photos with shots of markets, kids and transportation.
Mandalay
We managed a seat on the flight from Chiang Mai to Mandalay, a prop plane that flies only once a week on Thursday afternoon. The ticket counter at the airport was indicated by a paper sign taped over one of the empty stations. We were joined on the flight by several others from various parts of the world that were adventuring into the unknown and there was a spirit of excitement. A fellow sat by us and started talking about where we were going. He was from Maryland and traveling with a woman Amyee from Colorado. He called himself Mansur and was a self-styled missionary of sorts. They had met at a spiritualistic dance camp that was held, in of all places, up Provo Canyon. Another older couple were there that were from somewhere back east. I think that he was a contractor and they were recently married. She had spent years in underdeveloped countries, living in dirt floor houses and he was new to all this. According to Amyee, they weren't getting along.
Anyway, we landed at the Mandalay airport, a nice giant concrete strip with a beautiful air terminal. It was done in a traditional oriental architecture with spiked gold roof and inside was marble, chrome and spacious. It seemed a little empty as ours was the only plane on the concourse and we were the only people standing at one of three giant baggage carousels. We got our baggage and then had to stand in line to exchange money for FECs. Myanmar has a peculiar requirement that all foreigners exchange the equivalent of $200 for foreign exchange currency and it all must be spent while in country because non of it can be changed back when you leave. It's their way of ensuring a boost in the economy due to tourism. Mansur had said we could bribe them and reduce it to $50 for ten bucks but he went first and didn't have any luck. I figured that we would spend most of it anyway because of our air flights so didn't bother trying to bribe. The envelop with the money was sealed and numbered so I didn't think it was an option anyway. Amyee however, gave them two 100 dollar bills and they saw a tear in one and gave it back saying they didn't want it and only required her to cash $100. Another trekker only had $51 US dollars so they cashed it and waived him through. Interesting.
The spacious lobby had a giant marble counter and there was one woman manning it. We had agreed to share a cab into the city (Manseur, Amyee, the other American couple and the three of us) and get the same hotel. The one that I suggested from my guide book was owned by the government and Mansur didn't want to support the corrupt government so that one didn't work. He picked one from his book (the Lonely Planet Guide indicated which hotels were government owned) and asked the woman if she could arrange transportation. She said she had to check then ran off across the lobby to another room. When she returned, she said that the particular hotel that we had asked for was full but that the Power Hotel was similar in quality and had vacancies for the same price of $20 per room. We said OK and she ran off again. Apparently there was only one phone anywhere close and she had to go and find it to make the reservation.
We finally got a cab with the other four in one ahead of us and headed into town. By now it was dark and my first question was, "Where is town?". We were in the middle of nowhere. The cabs, true to the guidebook description, were old used cars that had been imported from Singapore. The steering wheels were on the left side but they also drove on the left side of the road. The headlights were dim and the nice paved road in front of the airport ended abruptly about a kilometer away and it was narrow, bumpy and barely paved. At one point, we slowed to a crawl as we crossed a one lane wooden bridge.
We drove for about 30 minutes and then started going through villages. In a village, we would see an open air restaurant with one TV and what appeared to be the entire village crowded around it. No street lights and only occasional electric bulbs or a lantern. The air seemed to get heavier with dust as we approached Mandalay. As we passed one side street, I caught site of a large and golden shimmering temple at the end of a tree covered lane. It appeared to be lit up with a dim flood light and the contrast to the surrounding darkness made it look almost surreal.
Coming into Mandalay, we turned into a street with two and three story buildings (still dusty roads) and we were soon parked in the courtyard of the Power Hotel, a seven story skyscraper. It was lit with neon and the lobby was spacious with wood carved furniture and a large wall painting. The TV in the lobby was playing StarWars. English was not a natural language for the cadre of men that were trying to help us. We checked out the rooms which were on the second floor and they seemed suitable. Probably could have been better but they were fine with me and Amyee was ok with them. Then the barrage of paperwork—they took our passports and wrote out these elaborate receipts by hand. The same thing for exchanging FECs into the local currency, Kyats (pronounced chats – exchange rate was 670 Kyats to $1 to 1 FEC). It took a while to get situated but we finally did and then set out to find food.
At the front desk, they recommended a Burmese restaurant that was within walking distance and we struck out into the night. It was a little eerie as there were no street lights and very few cars or vehicles with lights on them. Lots of people were just walking around in the dark, knowing where they were going. People were congregating, talking, laughing and playing—all without much light.
The restaurant turned out to be a delight—partially due to our new friends. It was the only lit building in the block thanks to the big diesel generator that was going out front. We were greeted by no less than five young men who all assisted in leading us to a large round table. They were handsome, clean cut and all wore the native dress of matching longis (wraparound skirts) and collared shirts. Before they gave us a menu, the food just started flowing to the table. There were large bowels of rice for each of us, soup, four or five bowels of green vegetables—some fresh and some seasoned or pickled. We each made a selection off the menu such as curry chicken, or pork and that was brought to us in a bowel. Apparently, you just order the main entrée and everything else comes with it. Some delightful flavors.
As we prepared to eat, Mansur, invited us to say grace. "Sure," I said. "How do you say grace?" He grabbed my hand and motioned for all of us to take hands and then he began to sing. It was a simple melody and he did it two or three times till we all had it. It seemed a little weird but, ok. We were famished and as we dug in, the house help (by now about 10 or so) all gathered around to watch the foreigners. Mansur said to Amyee, "Let's see if we can get them to sing!" And he immediately began to teach them a song—some sort of prayer ballad—by raising and lowering his hands for the pitch of the note. Soon the boys were joining in and the whole restaurant was watching.
Not leaving it at that, he asked Amyee if she thought he could get them to dance. Soon he and her and the boys were holding hands in a circle and stepping one direction and then the other. We drew the line at dancing Sufi dances in a foreign restaurant and just finished our dinner. The boys loved it though and were so curious. We started taking pictures of them with our digital cameras and then showing them the displays. As we moved out of the restaurant, they all moved with us and I got some pictures outside in front of the generator. (Several of these, I printed when I got home and sent them back to them).
Back at the hotel, I watched a little TV. Really only one or two foreign channels and the rest were local government stations that looked so hokey--MRTV. Trying to portray this image of agrarian bliss. One of the monks that we talked to told us how that nothing significant gets covered on TV. They had just sacked several of the top ministers of the country for corruption and the big news was that 20 tourists had come from Malaysia.
My night was pretty good except for one thing. I got up in the middle of the night to get a drink of water and there was giant cockroach in the sink. I got a tissue and tried to catch him but he was pretty quick. I got two and came at him from both sides and finally caught him. He was walking on water pretty fast as I flushed him down the toilet. Frank and Melissa were sleeping right next to the power generator and it was on for a portion of the night – pretty loud!
Next morning, I got up early and headed out before the sun came up to take pictures. I drew a few looks and saw no other foreigners but felt completely safe. I walked towards the center of town, a huge palace that was built in the 1857's by King Mindon. I took pictures along the way of monks, the train, markets, transportation and then the moat around the palace. It is a mile and one eighth on each side and the still water set off the spiked towers. Things that caught my attention were the human street sweepers that were out sweeping the streets—even though many of them were just dirt—with their reed brooms. Lots of bicycles and many, many monks out on their food runs this early. The monk's robes here are a darker orange, saffron is probably the right color. It reminded me of all the monks that I saw in Thailand as a missionary that we just didn't see as much anymore.
At the hotel, we ate breakfast on the 7th floor. There were views out of three sides overlooking the city and in the daylight, it looked more modern. For a city of 1 million, it was quite compact and yet still seemed like a smaller town. Lot's of two story buildings with living quarters upstairs and shops down. We breakfasted on flavorful bananas, eggs and toast.
I wasn't sure how to proceed with the rest of Burma but knew we really wanted to go to Bagan, if nothing else. The basement of the hotel had a travel office but after waiting for them to open and then finding they didn't speak English, I took up one of the guys at the front desk on his offer to get us plane tickets. It seemed that even through Bagan was only a little over 100 miles away, it would take about nine hours by bus and there was common consensus that the bus would probably break down at some point. A boat down the Ayerarwady was an option but it only left early in the mornings, took all day and could easily get stuck on a sandbar in the shifting river.
I gave the fellow money for the tickets and an extra five FECs for his effort and when we returned from breakfast, the tickets and our passports were waiting at the front desk. We arranged for a cab to take us around for the day at a price of 7000 Kyats ($10.50). First he took us to Mandalay Hill. Legend has it that Buddha was once on this hill and prophesied that within 2500 years, a great center of Buddhist learning would be built at its base. King Mindon had tried to fulfill this prophecy and built the palace but between the British and his lame successor, the plan had been thwarted. The hill has steps coming up from several sides that lead to a temple on the top. We were bracing for the hike in the heat but our driver knew the switchbacks and took us right to the base of the temple top where we took a couple of giant escalators to the top. The escalators seemed a little out of place but so did the picture gallery area where there were photos of the current prime minister (dictator) on his recent visit.
The temple was spectacularly bright. Constructed of white marble, white paint and then walls and ceilings that were millions of pieces of mirror—it hurt to look anywhere. We circled the top, peering in at each quarter to see a Buddha statue—each surrounded by a halo of flashing lights (kind of like a Christmas tree). The view over the valley was magnificent. Green squared fields of rice and other plants, an occasional road lined with trees, and many white temples off in all directions. I would love to just take off on a motorcycle into the countryside.
Back at the palace, we had to go through security. Apparently, a major portion of the palace behind the moat is still used for a military base. We had to show passports (and they wrote down our numbers) plus pay a fee to get in. Explicit instructions and a map detailed where we could and couldn't go. The palace itself is largely built of wood and I think has been rebuilt in the last few decades. Wood doesn't last long in this climate unless it's really taken care of and it also burns easily. Much of the palace was burned at one point. There were lots of halls and rooms in many separate buildings. Gold leaf on many of them and sidewalks and paths that connected them all together.
We ran into a group of students that were so friendly. They spoke a little English and were philosophy students at Mandalay University and had come on a field trip. Some of them wanted their picture taken with us and so we did. We crossed paths several more times and each time, someone else would decide they needed their picture taken with us as well. They we very polite, well mannered and gracious. We wondered what the possibilities would be to teach there.
Our next stop was at the Mahamuni Temple. It contains one of the most revered statues of Buddha in all of Buddhadom. Our driver took us to a gate and we just left our shoes in the car (we needed to remove them at all of the temples we had been to). We walked in and past the rows and rows of vendors selling temple trinkets. Brass, statues, glazed boxes and containers, all sorts of Buddha memorabilia—everyone lined and selling but no one really pushy about buying.
As we walked towards the large covered seated Buddha, there was a ceremony going on. A small boy was becoming a novice (new monk) and was dressed in silk garb and headgear and was applying gold leaf on the Buddha statue. We were approached by a monk that spoke surprisingly good English and he told us to follow him. "She can not go and must stay here with the rest of the women," he said motioning to Melissa. There was kind of a fenced off area back behind where the men were seated on the floor and that's where Melissa stayed. He lead Frank and I right up past everyone to the front and then around behind the Buddha and up some steps right to it's platform. There we were given several small square sheets of paper with gold on one side and we applied them to the statue like others were doing. It was a reverent ritual and is supposed to bring good merit.
The statue had so much gold on it that it was actually deformed and bumpy. The face was the only place where gold isn't applied and it was shiny and smooth but the rest completely lumpy with gold. There is legend that when the British were in Burma in the 1800's that there was more gold on this Buddha than in all the vaults in England—something like 40 tons. As we started down, someone was there to collect money and the monk told us how much to pay…. It was something like ten cents.
Our new friend proved to be delightful. When we asked him where he learned English so well, he said, "Voice of America". It's a radio station that is broadcast through Burma and each day they have an English lesson session. He had done surprisingly well. He told us many things that we had questions about. For instance, everywhere I noticed little plaques that were on the walls and around statues. They were in Burmese which has the same language roots as Thai but is in no way decipherable to me. I thought they might be Buddha sayings or scripture quotes or something but it turns out, they are plaques to donors—those who paid to have the hallway covered in gold or contributed fundingn for a statue. I noticed these everywhere we went from then on. He also showed us some Cambodian relics that had come from Angkor Wat in one conquest or another and we took pictures.
He had been very helpful and informative. He also told us, in hushed tones, that he thought big changes were coming in the government and that the current leader was not that great. I asked if it were appropriate to give a monk money and he said yes, as long as the money was folded in other paper and it was discreet. We gave him five bucks and then were off to the market.
The Mandalay market is one of the most active in Southeast Asia. We couldn't even really get close and left our driver near a parking lot. It was a large five or six story building and was just crammed with stalls, each about eight by ten feet. Our quest was to find us some native duds and so we entered the bowels and began looking. The common method for bartering was for them to take out a calculator, enter a price and hand it to you. If you didn't like it, you would enter your price and hand it back. You wouldn't realize it but there is a complete range of quality, patterns, material, and prices of this simple wraparound skirt that everyone wears. You also had to get a shirt that matched—not in pattern but one that was the right color and contrast. I bought a couple of longis for $4 and then had three people sorting through piles of shirts to see which one matched. Paid $4 for a nice cotton shirt.
All of a sudden, the power went out. That huge hive of human heat and activity went completely dark. You could see shafts of light in the distance out from the doors and we were just starting to feel panic and suffocation when flashlights popped out but soon the lights were back on.
We headed back to the hotel and easily convinced our cab driver to wait for us while we got our stuff and then take us to the airport. He didn't even mind that we wanted to stop again at the restaurant and eat on the way. As we were paying up at the hotel, one of the women (hadn't seen too many working women) gave me an envelope with five FECs in it. I couldn't understand but finally figured that it was change back from the fellow that had got our tickets that morning. Either they didn't accept tips or he just didn't understand English very well!
We pulled up in front of the Aye-Myit-Tar restaurant again and the boys came running. Today they were all dressed alike but in different outfits. They wanted to know where the man who sang with his hands was and again brought us a feast which we downed ravishingly. I had to make a mental note and secretly smile at the scene.
The first morning in Bangkok, we were eating at the beautiful breakfast buffet when a lone mosquito landed on our table. Melissa almost freaked out and was dancing around trying to avoid it while her husband Frank gallantly swatted at it trying to kill it and thus save her from almost certain malaria. I thought at the time, "There's no way these guys will make it in Burma!" Now I contrasted that scene of an air conditioned, wood paneled, glass and chrome, fabulous feast to this dirt entrance, flies everywhere, sweltering scene with who knows what in the food and to see them chowing down saying, "Isn't this food awesome? Can I have some more of that? I think this is the best food we've had so far!" Drinking sugary soda out of bottles that have been used for 35 years.. no problem! We filled ourselves completely for about $.75 per person.
The ride to the airport was nice in the daylight. The countryside was beautiful and peaceful. We saw oxcarts loaded with vegetation, people working in the fields and small hilltop pagodas scattered about. Again, the materialization of the airport on the agrarian plain was a shock contrast but it was still peaceful because no one was there.
As we pulled up to one of the big front doors on the second level—the only car in sight—a man met us at the curb and said that we needed to hurry. We still had about 45 minutes before the flight was supposed to leave but thought maybe there was a strong security check or something. We followed him--the only people there--to ticketing, customs, passport control and suddenly found ourselves at the gate area ready to go. As it turned out, there were only seven people on the flight and we were the last three to check in. With everyone there, we boarded the bus, drove out to the only plane at the airport and were on our way. The entire airport and staff had been waiting just for us.
Bagan
The flight to Bagan was short and beautiful and the pilot descended and circled the archeological zone of Old Bagan before landing. I could pick out temples all over but it was hard to see through the dirty windows. This airport was more in line with what one would have expected—a one story, open building with a few wood benches. We purchased our 3-day pass to the archeological zone for $20 and walked out into the evening air. It was peaceful and there was no one grabbing at our arms or clamoring for us to take their taxi. A hundred yards away, a couple of taxi's waited under a tree and one of them agreed to take us to a hotel. His name was Kyaw and he was easy going.
The sun was just setting and he suggested that we stop at one of the larger temples and watch the sunset. I had visions of Angkor Wat where the top is mobbed with tourists but there were only a few Germans who had ridden over from the hotel on their bicycles. It was spectacular and looking in all directions you could see the spires of pagodas and the outlines of larger temples in the golds and oranges of the setting sun. The foliage was green and there were strands of bougainvillea with pink flowers smattering the landscape.
This history of Bagan starts in the 900's A.D. In a period of prosperity and peace, the kings succeeded in building somewhere between 13,000 and 15,000 temples in this relatively small area. It was sacked by the Mongols under Kublai Khan in 1287 A.D. and has pretty much remained undisturbed since then. There have been some renovations and only about 3,000 of the pagodas, stupas, and temples remain but it is amazing. From my experience, it rivals Angkor Wat in Cambodia, The Forbidden City in Beijing, and the Taj Mahal in India but most people (Americans) don't even know about Burma, let alone Bagan.
Kyaw seemed to think that the hotel we suggested (from the travel guide) would be more expensive and full and recommended the Bagan Thande. It was a collection of old and new cottages right on the Ayerarwady and they had one room left at $60 US. A little steep for our budget but it was a delightful place. Open air café right on the river and an excellent staff. We cleaned up and tried to don our new attire only to discover that the longis were just open pieces of cloth and needed to be sewn up the side before they could be worn in public. Melissa coaxed us into wearing them anyway and we finally went out. It was dark and we came up to the restaurant while a puppet show was going on and inconspicuously found us a table. The puppet show was amazing. The woman had many different marionettes and the puppet movements were so lifelike for both humans and animals. We dined on succulent food, drink and dessert all for a total of less than $10.
Next morning I was up before the sun, rented a bicycle from the hotel and pedaled back to the same temple we had watched the sunset from. This morning it was almost deserted except for two other foreigners. We struck up a conversation over my camera as the sun's red orb broke the horizon. Steve Ahn was a doctor from Tracy, California and his traveling companion was Dennis from Sweden. They were both very camera knowledgeable and Dennis was a professional photographer. We had a good visit and ended up meeting up a couple more times during the day. The sunrise was spectacular. The larger temples in the distance started out as dark hulks that gradually materialized into striking silhouettes with piercing points and outlines. In the distance, a couple of hot air balloons floated low towards one of the larger temples and then soared up and over it. The contrast temple colors from red sandstone and brick to the stark whitewash to the gold roofs. The majesty of the color and shades with increasing light was constantly changing but consistently beautiful. I shot enough pictures that I was worried that three compact flash cards at 256MB wasn't going to be enough to finish the trip. I pedaled to several other temples and got shots of people arriving in trucks and on tractors to lay out wares at the temple and work in the peanut fields.
Back at the hotel, we breakfasted on fresh fruit and an assortment of Asian and international breakfast foods. Again, we were the only Americans around. There were a couple of old ferries floating back and forth across the Ayerarwady with the cars, pickups, and even an old bus onboard. Nothing was moving very fast including the ferries.
We had arranged for Kyaw to take us around and he was there waiting for us at 8:30 a.m. We began our tour of Bagan by heading up to the new town to see about airline tickets to Yangon. Our flight to Hong Kong was on Monday morning and we were pushing it with the time it takes to get around in Myanmar. The travel office was an old building with wood floors, open windows and overhead fans. She didn't know if flights were available but took our passport numbers and said come back in an hour. The only sign of communication technology (or any technology for that matter) was an old phone.
We went around the corner to the market and looked through isles of goods. A lot smaller than Mandalay but similar stuff except that a good section of this market was meat and produce as well. Money was handed over for dead fish; chicken cut in pieces with head, feet and gizzards was for sale; bins of different kinds of rice and lots of green and fruits. People here were a little more 'tourist aware' and tried to get you to their booth. I also observed that people noted my camera more often. I would hear 'Nikon-good camera' and again remembered that the cost of this camera was probably a couple of year's wages for the most successful shopkeeper. The only thing that I bought was some of the bark paste/bar that the Burmese put on their faces to keep their skin beautiful and to protect it. These two girls were selling it and having so much fun while I took their picture that I felt obligated to buy it. I took one boy's picture with a tray on his head and he kept following me around, wanting something for it. All I had was a package of gum which he thought was pretty cool.
Back at the ticket office, we found them available and paid our money--$95 US I think. Expensive but the only way to go considering the time. Then we were off to see the temples. We saw so many that they all sort of run together now. Statues, reclining Buddhas, standing Buddhas, seated Buddhas with different hand positions. In most of the temples there were people hawking trinkets. At one point, I found some cloth paintings that I thought were nice and unique and decided to bargain. He wanted $20 for three and wouldn't come down. I liked them and so finally paid only to discover at the next temple that I could get them three for $7. Oh well, these were "special" and "hand painted by my friend"!
At one temple, I was being followed by a couple of young boys. For temple urchins, they spoke surprisingly good English and told me about the temple and how that the king that built it had killed his sons and the builders. Their names were MyoMyo and AungAung. MyoMyo was an orphan and lived in a hut with his little sister (a beautiful little girl) and his grandmother in the corner of the temple. Unlike many of the others, they didn't seem to be concerned about getting money and were just fun to talk to. We explored the temple together and they showed me a path to one of the upper windows where we climbed and no one else goes. We sat up there and they told me all about living there, what they did while they were novice monks and tried to read my palm with the things the older monks had taught them. MyoMyo said he really liked being a monk because they taught him a lot. I really connected with him and took his address when we left so I could send back some of the pictures that I took.
The Bagan temples were cool but the area was what made it unique. As an archeological zone, there were no new buildings. A couple of hotels down by the river but that's it. Double track dirt roads lead to many of them and they are surrounded by peanuts fields, corn and other growth. After lunch, Kyaw took us to several that were very quiet and had nobody selling anything. It was peaceful and beautiful. Goats being herded up the path; an oxcart filled with leafy green; women swathed in long sleeves and bamboo hats working in the fields. As the sun lowered, the colors intensified. We took lots of pictures and just sat with Kyaw looking over the countryside and drinking in the view.
Just as the sun was going down, it was time to go to the airport. We had learned a lot from Kyaw. He seemed to be well known and well liked by everyone. They all knew his name and he greeted everyone. At one out of the way temple, several men were outside with a bowl and were throwing shells into the bowel much the same as we would throw dice in a game of Bunko. Kyaw laughingly said, "You should call the police. These men are gambling on the government steps of the temple." He explained the game to us and the significance of a shell landing in the bowl with the hole up or down. Some guy kept trying to get me to buy a ruby from him. "Very good price," he kept saying. He pulled one of the stones from the temple wall on the back and smashed the ruby to show that it was strong and authentic. He went form $70 US to $12 pretty quick but I wasn't interested. He seemed very intent and when I talked to Kyaw after, he said he needed to pay his gambling debt—and that the stones were fake and made of some plastic polymer. We invited Kyaw to join us for lunch and he knew a lot of history and customs. He was 26, his father had died and he took car of his mother and family. He had an 18 year old brother and a girlfriend. He rented his taxi for $150US per month and fuel was about $1 per gallon. He had asked for $20 for the day and we gave him $30.
Steve and Dennis were on the flight with us and I had a chance to find out more what Dennis did with photography. Apparently, he was a restaurant manager and but loved photography and kids and had put together a program of photos that went back to Sweden to show school children there what kids in Asia were like. He had documented street kids in Rangoon and Manila and orphans in Vietnam. Steve said that he had accompanied him back to Rangoon (Yangon) to hand out pictures to the kids he had documented and it was very touching. I would like to have seen some of his work.
Yangon
By the time we landed in Yangon, it was well after dark and we didn't have a lead on a good place to stay. We asked some young Swiss girls but they had just arrived from the south beach area and didn't know either. Aymee had a recommendation from someone she met and while we were standing there inside the terminal, protected from the mob of taxi drivers outside, someone came up and asked us where we were going. I gave him the name of the hotel, he knew it and would take us there for the equivalent of $2. As we walked out, all other cab drivers were yelling at him and I sensed he had broken protocol by not waiting outside or in the right line or paid off the right boss.
Yangon was a little more modern – some street lights and paved streets. Actually the streets were wide and open – partially due to the British design of the city. Our hotel was fairly close (well probably about a mile) from the Shwedagon Pagoda – another of the most holy spots in Buddhism. I just wanted to take a look and convinced Frank and Melissa to join me. After the walk there, it was just closing. It is situated on a hill and there are steps and escalators in large covered entrances from all four sides. It is HUGE! We went up probably four or five large escalators that ascended 30-40 feet each.
At the gate, we had to pay an entrance fee and the gentleman that took it said he would mark on it so we could use it again for the next day. His name was Shan and he offered to give us a very good tour for only $5. Frank and Melissa just wanted to look around and then head back for food but I told him I would take him up on his offer – we only had an hour and I had a million questions. He spoke good English and as I found out, often is guide for foreign dignitaries that come to visit. He told me that the main pagoda actually contained the relics of four Buddhas. It seems that every stupa has Buddha relics in it – mainly teeth or hairs or bones. This one had 8 hairs that had miraculously survived a trip from India. There is only one Buddha every 5000 years so that would make the earliest relics 22,500 years old… not too sure about that reality. Anyway, there were two stupas and when the larger one was built to house the latest Buddha's relics, the others were transported in an underground tunnel from the old to the new on white elephants. The path was now sealed but he showed me where it had been.
He had lots of facts like how on the top of the gold globe that was above the umbrella, was a 700 carat diamond. If the spotlights hit it just right, you could see the sparkle. A lot of the questions I had were about Buddhism and the monastery. "You have many good questions. You should talk to the monks!" So we walked over to the building where they were housed and he took me in. A couple of them were resting but they jumped up and came to a table where we could talk. I asked questions and if they could answer in English, they would (he wanted them to have some practice). If not, he would translate for me or for them.
I was impressed. We talked about the laws and rules that they kept but more importantly I asked them why they wanted to be monks or why they had chosen to become monks for life when it wasn't a family thing for them to do. "I want to do what is right and I feel good doing the right thing," was the answer. We talked for a while and then they had to go collect money from the cash boxes-that was their nightly chore. They and Shan invited me back the next morning to continue our discussion.
The next morning was Sunday and a day to worship at the Shwedagon as well. I took some pictures and waited outside the monastery. A young fellow came and started talking and told me about coming to Yangon as a student. He was from a small village that was beautiful and by the ocean. Some Canadian had come to live on the beach and ended up soiling the virtue of the young girls so foreigners weren't allowed there anymore (that wasn't the word that he used). Shan came and we continued our conversation. Some fundamental commonalities and some basic differences. In the end, he took me down to his little apartment and gave me some pamphlets on meditation and sold me an official 2002 Shwedagon Pagoda Calendar. I took his picture near his little shrine and promised to send a copy.
We had just a little time to see Yangon so the three of us headed towards where we thought the center of town was in a cab. I wanted to see the waterfront and we finally found it. The city was crowded with people but there was a beautiful park in the center and you could recognize the Victorian remnants in some of the architecture. We caught a cab from the water front back to the hotel and he waited while we collected our bags and paid the bill. There was a question as to whether the car was going to make it. The floor was covered with something like shelf paper and it rattled and coughed and shook hard with each bump in the road. Our driver was a little, dark skinned man and he would read off all the road signs in English as we passed each cross street. Of course they were written in English and we could read them as well but he wanted us to know he could speak some English.
At the airport, we bought our tickets and I talked to one of the stewardesses who spoke impeccable English. When Melissa asked her where she learned English she said, "Is something wrong with my English?" Her grandparents were Indian and had come over to Burma under the British and just stayed. She was a fun personality and was with us for the flight to Bangkok.
We had originally planned to stay in Bangkok and then fly on to Hong Kong the next morning but on arrival found that there was a flight closing in 20 minutes that had seats available. Melissa pushed us through by talking to the customs agent and getting us stamped in ahead of everyone else. We then sprinted to the next terminal where we scrambled to find Thai Baht for the airport departure tax (500 B). Frank was sent to find an ATM and didn't have quite enough but worked it out.
Hong Kong
We got into Hong Kong at about 11 p.m. and noticed a vast difference. The train from the new airport to Hong Kong was more comfortable than anything we had been in yet. Little movie screens and plush seats and we were all alone at that hour. At the airport, I arranged two nights for us at the Bishop Lei hotel on Hong Kong Island. From the train station, we took a cab and our diver told us how he went to Thailand on vacation. After Yangon, Hong Kong seemed clean, clean, clean. The Bishop Lei was 30 plus stories and we were on floor 21.
Hong Kong is just intense city. I have other journals on Hong Kong but it still amazes me how straight up everything is. I went out taking pictures and walked from the hotel all the way down to the waterfront near the Star Ferry. During our time there we went to the Peak for a view of the city, then cabbed it to one of the computer centers where I bought a new compact flash card. Amazing the amount of gadgetry and technology that can be amassed in a several story building!
We then caught one of the double decker trolly cars to the ferry and rode it across to Kowloon where we walked to the Temple Street night market. Neither Frank nor Melissa were feeling that great. They had eaten what tasted like a great Chinese meal for breakfast (while I ate at McDonalds) and the food made them sick. We cruised the length of the market once and then bought most of our Christmas presents for the family-jewelry boxes for the girls, hats, lazers, action figures for the kids plus some silk ties and fans. We were going to cab to the ferry but I remembered the cab could go under the bay through the tunnel and so he took us right to the hotel.
The cab drivers have a method for getting around the language barrier. No one seemed to know where the Bishop Lei was (it doubled as a Catholic church and a hotel) so they would get on the radio and then hand me the mike over the seat and I would pronounce the hotel name. A few seconds later, Chinese would come crackling over the radio and they would be on their way. It seemed pretty efficient.
Next morning, I got up and walked around. I knew that the LDS Church Ben and Steve and I had gone to was close by so walked until I found it. I thought that they might have built the temple there as I heard it was constructed over an existing building. But it turned out to be the regional headquarters and the temple was over on the peninsula. I snapped a few pictures and found this shop with the most intricate and extensive ivory carvings-things that looked like they would take a lifetime to carve.
We caught the shuttle to the train-an express to the airport and within a few hours were bound for L.A. There is an airport express train station on Hong Kong that you can check in your baggage and everything. It's just like another leg of the flight. We couldn't take advantage of this however because all flights to America required higher security. It was a short night over the Pacific and we were in Los Angeles in about 12 hours. Security lines were horrendous but we managed to get on the standby line for an earlier flight to Salt Lake and by four in the afternoon were driving back down I-15.
Back home, with cold weather, preparations for a Thanksgiving feast, the bustle of Christmas…. It was hard to believe that we had just been half way around the world. It was a great trip. I've had my Asia fix for a while and should be good for another year or two. Coming back, there were two things that impressed me. The first was that life can be extremely simple and still very good. The second was that as an American in a time such as this, there is almost an obligation to take advantage of the freedoms and opportunities for advancement that we have. The trip definitely helped formulate goals for 2002 along the lines of taking advantage of what I have and then using the gains to go back and help somehow.