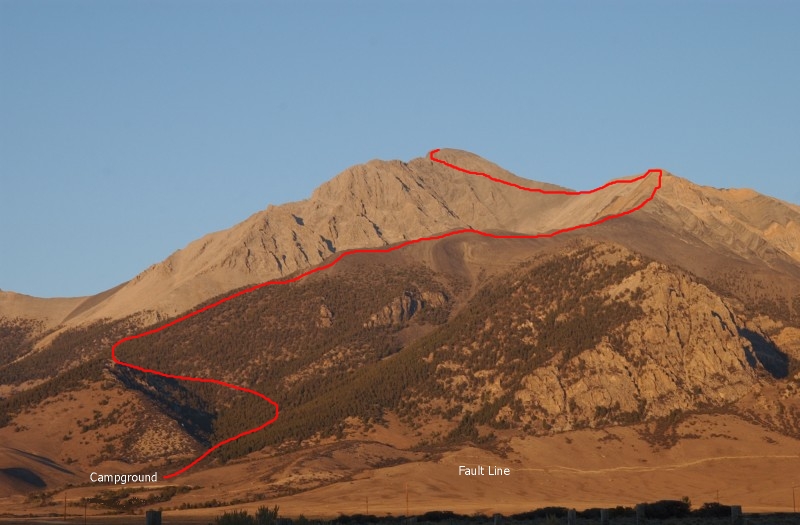 Borah Peak
Idaho's Highest Summit
Friday, September 13, 2002
Peter's Photo Album - Click Here
Mark's Photos - Click Here
The sun was just setting as we turned off the highway north of Mackay onto the bumpy Birch Springs Road. The shadows crept across the valley floor and pooled at base of the mountain leaving the majestic Borah Peak floating above the darkness in sunlit oranges and a swirl of purple. The mountain was rather desolate-a towering mass of gray outcroppings and rock slides with a smattering of cedar scrub at the base. With the days last rays however, it shimmered against the clear blue sky before fading into darkness.
We were here to mark the passage of another year. In 2001 around this time we had climbed Gannett Peak, the highest mountain in Wyoming, on a five-day hike that was more strenuous than we had anticipated but was a wonderfully rewarding adventure. The description of Borah Peak, at least the part that we paid attention to, said that it was a short 3.5 mile hike that could easily be accomplished in a day. It was three and a half miles and the trek was completed in a day but it wasn't necessarily easy for most of us who are in our late forties and early fifties.
Our party consisted of seven people. Three of us from last year including Mark Andreason, Fred Yost and myself. My brother Don, an engineer at Monsanto and one of his fellow engineers, Paul Kowalis, joined us. Paul had been in Missouri all week and drove straight to the campsite from the Salt Lake airport. Two other friends of Marks had driven in from other locations; Lynn McKay a mechanic and boatman from Mink Creek, Idaho and Ron Hart, a judge from Soda Springs, Idaho who had been holding court in Boise all week and came straight from there.
We built a small campfire and sat around getting acquainted and telling stories. The night was clear and beautiful with a half moon and a sky studded with stars. Don and I hiked to a little ridge above the campground and looked out over the valley bathed in moonlight with a distinct mountain horizon separating earth from sky. We hadn't visited at length for a long time and ended up laying in our bags talking til midnight.
Before it was even daylight, we were stirred to consciousness by Ron singing a complete chorus of Zippity Do Dah. We ate some cold breakfast, packed our sleeping things in the cars and readied our day packs with water and energy food. The trees and brush were just becoming visible as we walked up through the campground to the trailhead. There were several other cars in the campsites and over the course of the day we met probably 25-30 other people on the trail. This would probably be the last pleasant day of the summer and Borah is a destination for many of those conquering the highest summits in all fifty states.
In retrospect, the hike reminds me of one of those exponential curves. It starts out gradual and then gets steeper and steeper-at least that's the way it felt. Although the hike is only 3.5 miles long, it is a mile straight up! The trailhead is at 7400 feet and the summit is 12,662. The beginning of the trail is a gradual climb through trees and across a ravine which ends on top of a saddle where there is some flat ground. One of the fellows which we met there had an altimeter watch said we had climbed 1200 feet from the parking lot. It had taken us about 45 minutes which wasn't bad. One quarter of the height multiplied by four and we should be able to make the climb in three hours. It would be cake.
The next section of the climb is a series of small switchbacks through live and downed trees. It appears there may have been a fire years ago as there are as many dead trees as live ones-both standing and downed. The twisted, weathered wood is beautiful and home to squirrels. We soon left the trees and climbed through a section of brush before leaving all vegetation behind.
The hike follows the ridgeline and for most of the trek, the campground is visible below. About a third of the way up, I felt something unusual-the sensation of going downhill. It only lasted for a few steps and I only felt it one other time til we started our descent.
The views were spectacular! The day was completely clear, sunny and generally warm. Temperatures dropped as we climbed but we didn't even need a sweatshirt til near the top. The surrounding mountains are similar to Borah with rock faces and loose rock slides. The ridge and many of the surrounding mountains look like they were layers of horizontal sediment that were pushed up vertically in a giant rearrangement. Very rugged. As we drove into the campground we crossed very visible fault line which was caused by the earthquake in 1983. At that time, the top of Borah rose 7 feet. With the fault line at the base, the entire mountain must have been moved upward-I can't even begin to fathom the amount of power required to lift it.
Our group quickly spread out along the trail. Paul was immediately up ahead, then Don, Lynn and I and then the rest. I was packing my Nikon and kept stopping to take pictures (and rest) and Don and Lynn kept going. As it turned out, Don was the first one to the top. He said that he kept looking back and thought I was right behind him. When he got to the top, the fellow he was watching was a stranger. As it turned out, he beat me to the top by about three hours. Amazing the power of a little brotherly competition.
Ron, Mark, Fred and I climbed at a comfortable pace. We would hike for a while and then sit and rest. It was great to have Mark with his camera as we both liked to stop and capture scenes that evolved as we climbed. I found that my legs had plenty of strength but I just couldn't get enough air to keep my heart from racing. I finally reverted to what I had learned on Gannett which was taking 50 steps and then stopping to breath for a 20 count til my heart slowed. Not enough hard aerobic exercise this summer-plus spending the last couple of weeks in California on the beach at sea level!
We kept watching for "Chicken Out Ridge" but were on the last climb to the top before we surmised that we had already passed it. There were different descriptions in the Web accounts as to what and where it was so we didn't identify it accurately going up. There was one point were we were scaling along the south side of the ridge which required three points of contact at all times. The rock was sure and with the good weather it wasn't too threatening but we did feel exposed-one slip and it would have been a long rocky roll to the bottom. This turned out to be what was termed Chicken Out and we skirted along the side rather than going directly over the top.
Further up, we came to a point where we had to turn around and back down over a rock face that was about 15-20 feet high. This was a little unnerving but there were people on the other side that guided us down. As it turned out, there was a trail further down the ravine that we took on the descent that avoided this area all together.
Just before ascending the last stretch, we crossed a flat ridge. Down the eastside was an emerald green lake and some pine trees in the bottom of the canyon. The last leg to the summit was the most difficult with a steep pitch and lots of loose rock. Most of the people that passed us were younger but a couple of older women were making good progress with trekking poles. They were marathon runners and did things like this every weekend.
The top was beautiful. We couldn't have picked a more perfect day for weather. There was no wind and visibility was good in all directions. Some distant haze kept us from seeing the Tetons but it was still a nice view. Not much in the way of population or vegetation in any direction but still inviting to sit and gaze. We ate some lunch, took some pictures and rested a while before starting back down.
The descent was free from the struggle for air and was very enjoyable. The change in position of the sun created some good shots with a little better light. Don and I stuck together on the way down and talked most of the way. Someone had set up a tent in one of the bivy sites and we stopped to rest at another. Don's knees were bothering him a little and my toes were jammed at the ends of my shoes. He was coming down the path on a switchback and jumped forward to an eight inch diameter branch that was about level with him. He couldn't hang on and fell about ten feet, landing on his rear on a rock. He said he didn't notice the pain in his knees after that! I found a stick which helped keep the pressure off my toes.
The temperature increased as we dropped and we were soon to the first saddle where we sat for a short break. We were all back to the cars and ready to head home by 6 p.m. The entire trip took about 11 hours with a little over six to climb (for those of us in the rear) and a about three to descend. We repacked and headed for home.
There's something inherently satisfying about climbing a mountain or taking a good hike-especially one that takes it all out of you. Don said it's like burning the excess carbon out of your spark plugs. To me it rakes away all of the petrifying plaque that seems to collect from a routine rut. It's like pulling the weeds and cultivating your soul for new growth. You drink in the pureness of the air, the intricate patterns in nature and purge the crystallizations that have formed from insignificant influences.
Looking forward to next year!